WHS senior has an interest in international relations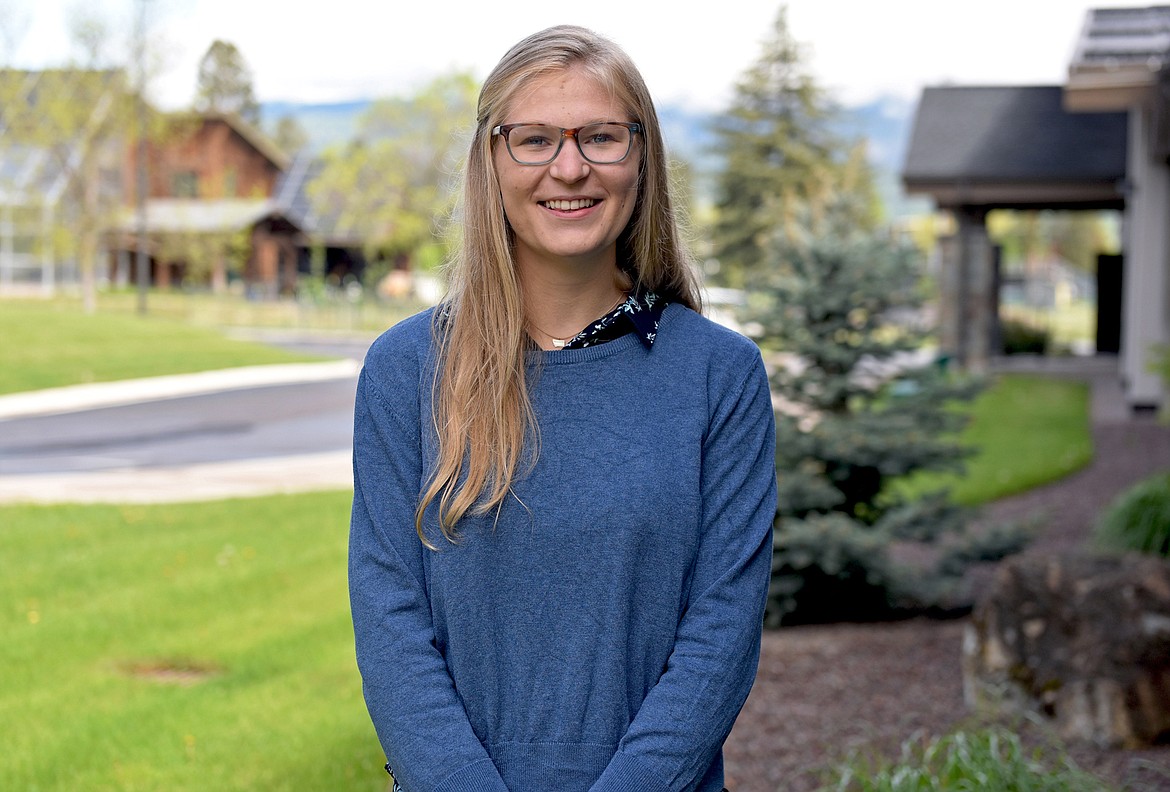 Whitefish High School senior Stacia Tremper. (Whitney England/Whitefish Pilot)
by
WHITNEY ENGLAND
Whitefish Pilot
|
June 2, 2021 1:00 AM
Stacia Tremper's passion lies within the feeling of community — and she is committed to doing whatever it takes in order to bring that sense of connectedness to communities all over the world.
The Whitefish High School senior will graduate on Saturday and soon embark on a new journey as she plans to attend Georgetown University in Washington, D.C. to study international politics.
Tremper's interest in international politics and relations stems partially from her involvement in the high school speech and debate team. Her freshman year she tried informative speaking because her older sister had participated in that category, but she soon found out that she had a different interest. She switched to public forum debate, which she says came naturally given that her family often talks politics and it's changed her perspective for the better.
"I actually learned to really love it because it was cool to have to know how to argue two sides of an issue on the top of a hat," she says. "There's often a lot of points you don't even realize, so it's kind of cool because it trains your brain to look at two sides of an issue automatically."
Debate also instilled a lot of confidence in a once reserved little kid and has helped her learn to communicate with a diverse range of people, a skill she will utilize often among her new field of international relations.
"Learning at first how to pretend to be a bigger person and a more confident person than you were and then eventually growing into that and being comfortable talking to others, and talking in front of people — it's probably one of the most important skills I've learned in school thus far," Tremper expressed.
Participating in speech and debate throughout high school not only brought her a new skillset, but it proved to her the importance of community. She says the WHS speech and debate team is the closest team she's ever been on.
Tremper also participated in drama, tennis and volleyball, student council and National Honors Society. She earned an academic award of a gold letter for seven semesters of achieving a 4.0 GPA and volunteers with several nonprofit organizations. She enjoys outdoor activities like backpacking, biking and skiing as well.
She also has played the french horn and participated in band since the sixth grade, an experience she values wholeheartedly.
French horn did not come naturally to Tremper. In the sixth grade she wrote it down as her third choice of instrument and alas was assigned the complicated instrument. She says because she was determined and also stubborn, she continued to pursue it despite the steep learning curve.
"I think the number one thing that band taught me was to stick with it because I really did struggle," she recalled. "I stuck with it and I was determined to learn how to do it, that's how I climbed the ladder to the top essentially."
Tremper says her reason for participating in these numerous activities throughout her life thus far wasn't necessarily to build up her resume but had more to do with community.
Her own personal friend group is also a source of inspiration for Tremper. She says without the core group of girls she has, she wouldn't be the same person she is today. She draws from each friend's strengths and uses them as inspiration to pursue her dreams.
"Those girls that I surrounded myself with are all girls that I look up to and that pushes me to be better in different ways," she said.
As graduation approaches and she anticipates the future, Tremper can hardly wait to be on the Georgetown University campus. She chose this school because she believes it to have the best academics for international politics, a great location and a way to open many doors for the future.
Her inspiration to enter the field of international relations not only stems from her passion discovered through debate, but also because of the way she was raised. Her parents are in the medical field and her stepmother and stepfather are in the field of education which has taught her to give back to her community.
"I've grown up always knowing that I need to figure out a way to give back," she said. "So taking the kind of person that I've become, I knew I wanted to do something to help benefit communities and use the skills I learned, which is peacekeeping and keeping the level ground between people."
After researching she discovered the United Nations and their mission; her heart is now set on dedicating her future to keeping peace throughout the world and hopefully doing that by working for the UN one day.
"Being able to help create peaceful structures around the world and maintaining peace between countries — I mean it's what I've been doing partially my whole life," she said. "So if I can use what I've learned to help other people and raise other communities to kind of be like this one that's supported me my whole life, I'll do it and I'm excited to."
---