Fire restrictions tightened for Northwest Montana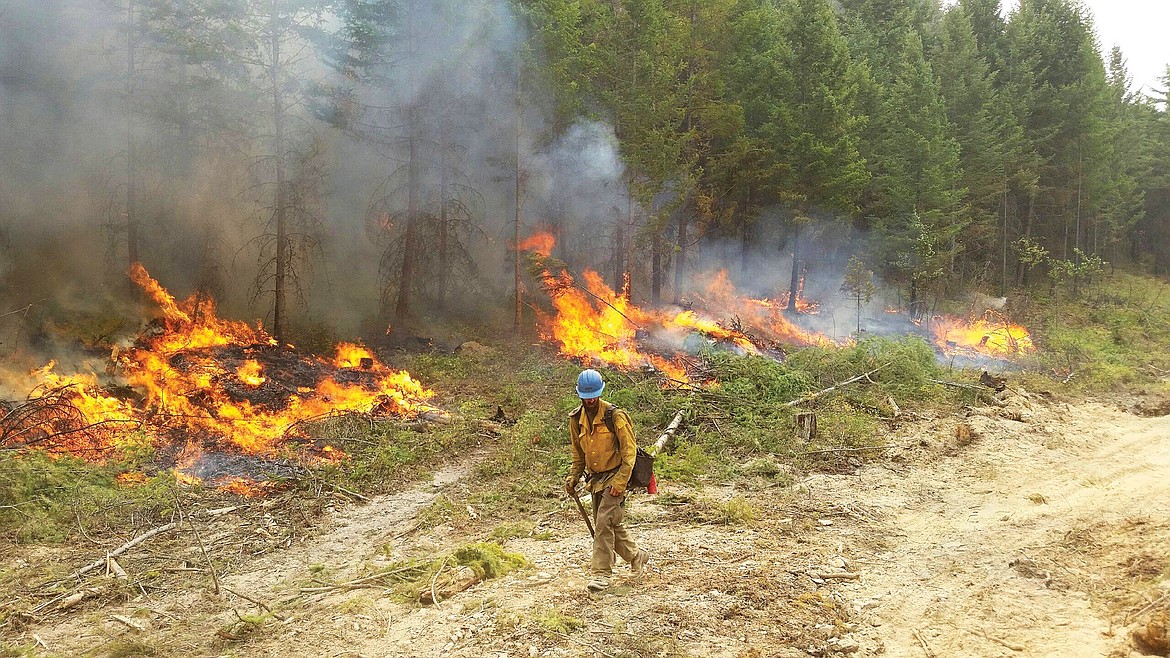 The Marston Fire north of Whitefish in this 2015 file photo.
by
MATT BALDWIN & SCOTT SHINDLEDECKER
Daily Inter Lake
|
July 15, 2021 3:00 PM
Dangerous fire weather persisted in western Montana on Thursday as multiple wildfires continued to expand their footprints across the region. In response to the worsening conditions, fire officials in Northwest Montana moved to tighten restrictions.
Stage I fire restrictions will begin Saturday across Flathead County, the Flathead National Forest, Glacier National Park, and the Montana Department of Natural Resources and Conservation's Kalispell, Stillwater and Swan units.
The rules prohibit campfires except for designated sites with approved fire rings.
"The rain we've had in the region previously has given us a 'green island' where conditions for wildfires have been minimal, but things are changing so rapidly, we decided to go ahead and begin restrictions," said Lincoln Chute, Flathead County Fire Area Manager. "With the forecast we're seeing for continued hot temperatures, breezy or windy conditions, we want to minimize the human-caused fires as much as possible."
Conditions are even more dangerous outside of the Flathead Valley.
Stage II restrictions will go into effect Friday in Lincoln, Sanders and Lake counties, meaning all campfires are strictly prohibited. Smoking is not allowed under Stage II rules except within enclosed vehicles or buildings, developed recreation sites, or while stopped in an area at least 3 feet in diameter that is cleared of debris. Operating motorized vehicles off designated roads and trails also is prohibited.
Chute added that even a gentle breeze accelerates vegetation drying out.
"The dead and dying fuels are ready to go and there's a lot of fuel out there," he said.
Chute said state and Forest Service fixed-wing planes have been flying patrols to find fire starts for a few weeks and it has been effective in quickly putting out several small fires in the region.
"But with the smoke we're getting from fires west of here, that's making it harder to detect small fires, so we really want to do what we can to keep fires from beginning that aren't lightning caused," Chute said.
THE NUMEROUS fires burning locally contributed to degraded air quality Thursday, with fires outside the area also sending smoke into the region.
Air quality in Kalispell and Whitefish was rated as unhealthy for sensitive groups at noon Thursday, while other locations in the valley and Glacier National Park saw moderate smoke impacts.
Conditions are expected to worsen over the weekend with high temperatures climbing into the upper 90s and 100s in some areas.
"Although well above normal through the next week, temperatures will be at their highest Sunday with some valleys flirting with triple digits," the National Weather Service warned in its Thursday forecast.
Good news is on the horizon, though. Forecasts suggest the stubborn high pressure that has plagued the area this month will finally move east, allowing significant moisture to infiltrate the region by the middle of next week.
"If this all pans out, it would surmount to our best chances for rain, albeit thunderstorm rain, in several weeks," the weather service cheered.
THE LIGHTNING-CAUSED Burnt Peak Fire in remote terrain west of Libby grew to about 1,361 acres Thursday morning. It is about 9 miles southwest of Troy in the Keeler Rattle drainage near the Montana and Idaho border. Approximately 110 firefighters were working the blaze, which was 10% contained and progressing eastward.
According to an update from Kootenai National Forest officials, retardant drops will continue on Pony Peak, in addition to crews working to build fire lines and protect structures in the area. Roads are closed in the vicinity of the fire and pre-evacuation notices are on pace for North Fork Keeler residents.
Crews also responded to a few other small fires burning on the Kootenai National Forest, including the 5-acre Coyote Fire and the 3.2-acre Waper Ridge Fire.
Kootenai National Forest lands remain in Stage I fire restrictions.
The West Lolo Complex of fires near St. Regis, Superior, Thompson Falls and Plains also grew slightly Thursday morning to 1,692 acres.
Hand crews and air attacks were focused on the Deep Look Mountain Fire within the complex, while crews on the Thorne Fire were falling snags along Thompson River Road. Fire growth was expected Thursday as both blazes move westward.
Meanwhile, fires burning around Lolo Pass west of Missoula also expanded their reach Thursday. The Granite Pass Complex grew by about 300 acres overnight, reaching 1,434 acres in size.
Hot-shot crews, helicopters and 42 ground personnel were assigned to the three fires burning between Montana and Idaho. An evacuation warning remains in place from the Idaho border to Lolo Hot Springs along U.S. 12.
Recent Headlines
---