Foundation provides mortgage-free home for veteran and his family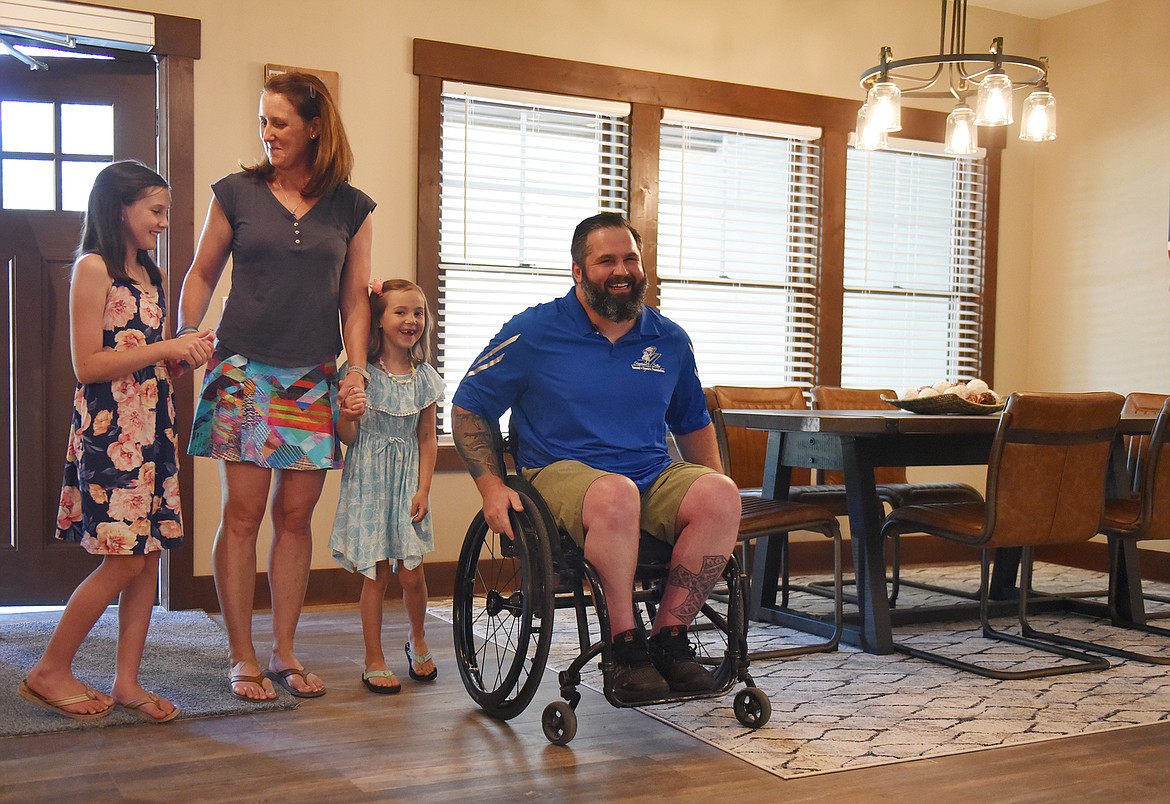 Austin Reese, along with his wife Charity and daughters Nadia and Aspen, enter their new home for the first time Thursday morning just outside Whitefish. The home was constructed by the Tunnel to Towers Foundation, which custom builds specially adapted mortgage-free smart homes to help injured veterans and first responders. (Heidi Desch/Whitefish Pilot)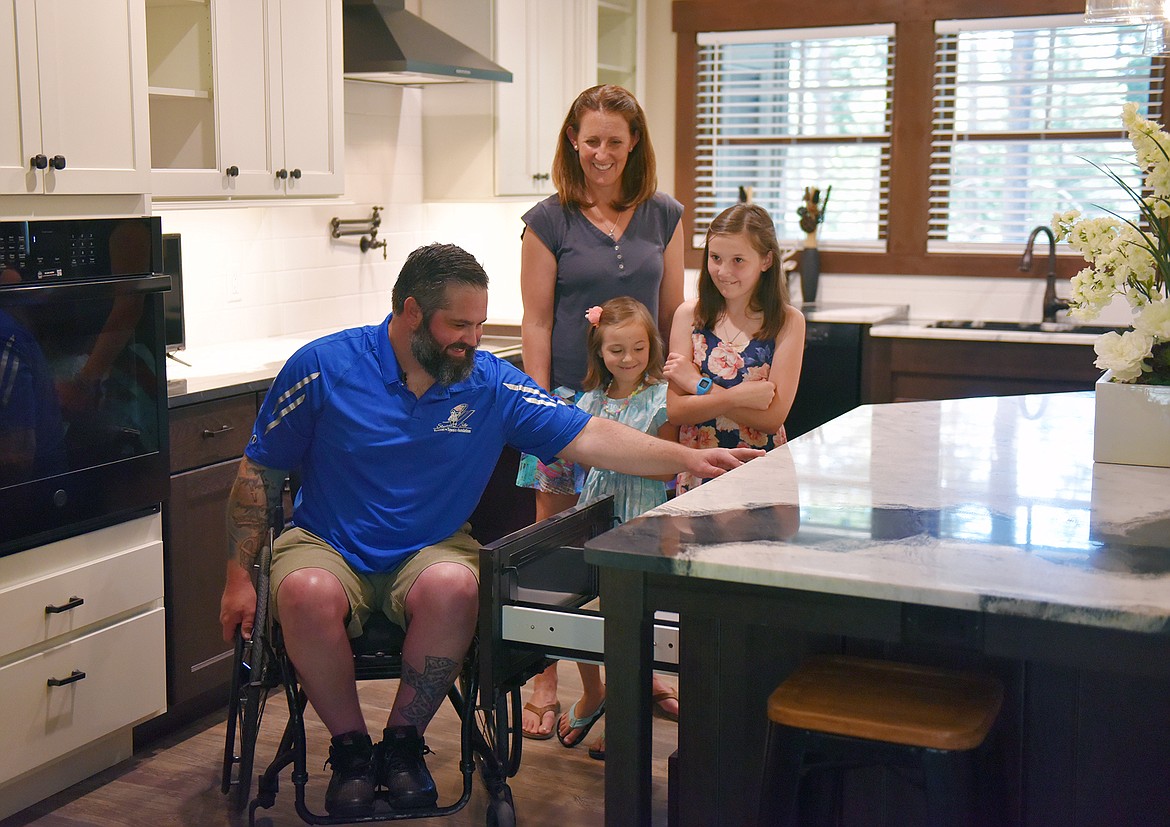 Austin Reese, while his wife Charity and daughters Nadia and Aspen watch, checks out the specially adapted microwave in his new home on Thursday morning. (Heidi Desch/Whitefish Pilot)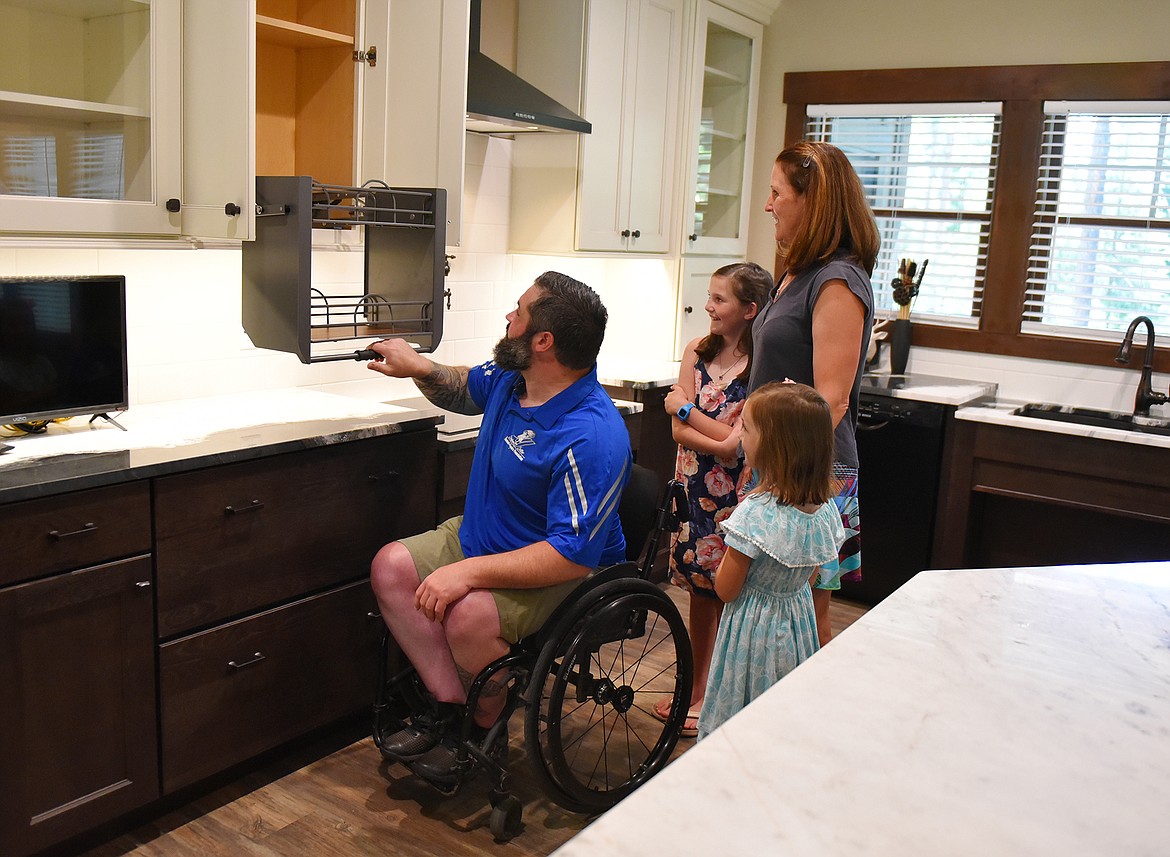 Austin Reese, while his wife Charity and daughters Nadia and Aspen watch, checks out the specially adapted cupboard in his new home on Thursday morning. The home includes several adaptive features, particularly in the kitchen and bathroom, along with voice-activated and touchless smart controls. (Heidi Desch/Whitefish Pilot)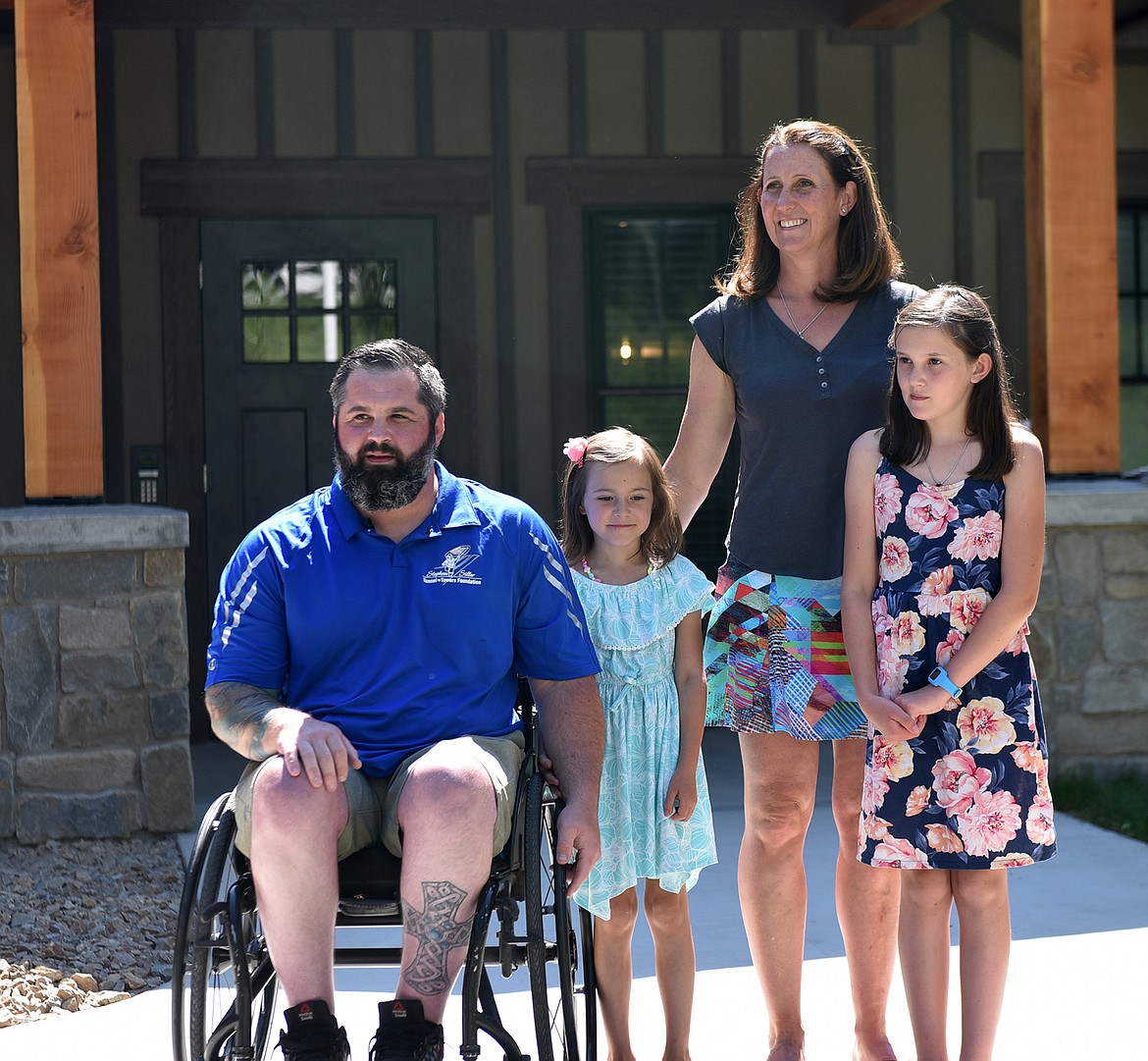 Austin Reese, his wife Charity and their daughters Aspen and Nadia, stand outside their new home Thursday morning. The home was constructed by the Tunnel to Towers Foundation, which custom builds specially adapted mortgage-free smart homes to help injured veterans and first responders. (Heidi Desch/Whitefish Pilot)
Previous
Next
by
HEIDI DESCH
Daily Inter Lake
|
July 7, 2021 1:00 AM
Veteran Austin Reese and his family passed through the front door of their new home last week while celebrating the freedom the home means for them.
Reese, a Senior Chief explosive ordnance disposal technician who served 13 years with the U.S. Navy, suffered a spinal cord injury during a training exercise in 2013 that left him paralyzed.. For two years the Tunnel to Towers Foundation has been constructing a custom specially-adapted home, and last Thursday the keys to the mortgage-free home were handed to the Reese family.
Andrew McClure, with the New York-based Tunnel to Towers Foundation, in welcoming the family to their new home pointed out that it was just a few days before the Fourth of July holiday.
"This is your personal independence and the freedom you deserve," McClure told the Reese family.
The Tunnel to Towers Foundation provides mortgage free homes to catastrophically injured veterans and first responders, and pays off the mortgages for families of first responders who are killed in the line of duty and for surviving spouses and young children of service members.
Reese, and his wife Charity, who is also a veteran, and their daughters Nadia and Aspen moved to Whitefish two years ago from Virginia. They have family in the Flathead Valley, but also wanted to live in a place where they could ski together.
"We are so grateful," Reese said to a group of folks gathered to celebrate the Reese family and their new home. "This has been such a phenomenal experience. Thank you to the community of Whitefish."
Reese, who is studying gunsmithing, deployed to Iraq three times while serving in the military. He also served as a military freefall instructor teaching sailors how to free-fall jump into tactical situations. In 2013, after making more than 2,000 skydiving jumps, during a routine jump at Joint Expeditionary Base Little Creek-Fort Story, Reese made a miscalculation of his altitude and hit the ground at 65 miles per hour. He broke his pelvis and ankle, and suffered a spinal cord injury that left him paralyzed. While he has some function in his legs, it's not enough to allow him to walk.
About four years ago, Reese was contacted by the foundation with the offer to construct an accessible home for him and they've been working with the family since then to make it happen.
"This is surreal," Reese said. "This has been a long process and to see everything completed, there's just no words — it's amazing."
After raising the American flag outside the front entrance, the Reese family entered their front door. Touring the living room and kitchen, the bathrooms and bedrooms, they experienced for the first time all the home's amenities that will make day-to-day just a little bit easier.
The home is completely accessible with automatic doors, wide hallways allowing Reese to move through the home easily in his wheelchair.
In the kitchen, the cabinet shelving is designed to be pulled down to easy access and the stove is on a mechanized lift so it can be lowered to wheelchair height.
"It's phenomenal," Reese said. "To be able to raise and lower the stove is amazing. I've struggled to be able to cook and now I won't."
The lights, thermostat, and security system in the home, can be controlled with a smart device or with touch screens built into the home.
"Some of it seems like small stuff," Reese said. "But it's the stuff that will give the extra help that I need and not have to worry about it all the time."
Since his injuries, Reese has become an avid adaptive sports enthusiast earning medals in swimming and hand cycling at the Department of Defense Warrior Games, and he also competed at the Warrior Games and Invictus Games.
Previously a snowboarder, he's also learned to monoski. Finding a place where they could ski and snowboard together was one of the reasons the Reese family chose to move to Whitefish.
Reese says the foundation worked to make it possible all the way through the process from finding land to picking out the fixtures for the home.
Reese praised Tunnel to Towers for their commitment to assisting veterans.
"They are a group of people that's just amazing," Reese said. "They do so much good for everybody."
Tunnel to Towers was founded to honor New York firefighter Stephen Siller who lost his life working to save victims of the terrorist attack on the World Trade Center towers on Sept. 11, 2001. Off duty that day, after hearing the news of the attack Siller drove to the entrance of the Brooklyn Battery Tunnel and strapped his 60 pounds of gear on and raced on foot through the tunnel to the Twin Towers where he gave up his life working to save others.
"For 20 years we've been doing good for service members and their spouses," Andrew McClure said. "We've provided 20 homes in 17 days with mortgage payoffs and we plan for 2021 to provide 200 mortgage payoffs and mortgage-free homes by the end of the year."
For more information on Tunnels to Towers, visit https://t2t.org/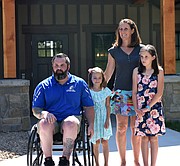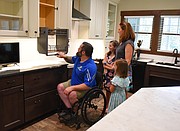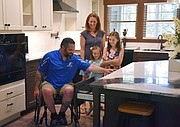 Recent Headlines
---