WHS retains Opportunity Wednesday, K-8 moves to early release schedule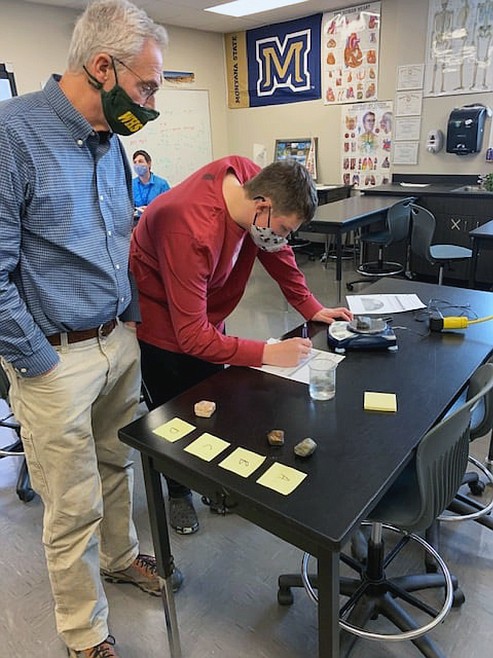 Whitefish High School freshman Brec Gibson works on Earth science with high school librarian Dan Kohnstamm on a recent Wednesday. (Photo courtesy of Whitefish School District)
by
WHITNEY ENGLAND
Whitefish Pilot
|
February 17, 2021 1:00 AM
Opportunity Wednesdays at Whitefish Schools have remained an academic day for students, however, the day sports an alternative design with students learning on their own schedule.
Since the beginning of the school year, the district has utilized Wednesdays in various ways including a day that teachers can reach students both virtually and in-person to offer one-on-one assistance and mentoring, a time for educators to connect some students with extra enrichment activities, and opportunity for teachers and school staff to collaborate.
When the Whitefish School Board voted in November for all grades K-12 to return to a more in-person model, the schools adopted a four-day per week schedule with regular classes onsite, but kept Opportunity Wednesdays.
After a few months passed and assessing the current COVID-19 indicators along with other data, the district recommended altering the Wednesday schedule for grades kindergarten through eighth. On Tuesday, Feb. 9 the school board approved the change for the younger grades. However, the district recommended to the board that Whitefish High School should stick with the alternative schedule on Wednesdays, which was also unanimously approved by the school board.
Muldown Elementary and Whitefish Middle School will now have an early release on Wednesdays instead of the opportunity block. Muldown students are set to finish their school day at 1:10 p.m. and WMS students will be released at 1:32 p.m. every Wednesday beginning Feb. 24. On four-day weeks shortened due to a holiday or other planned day off, Wednesdays will be a full day of school.
"We talked about increasing our schedule and structure of instruction for students, to really focus on increasing that engagement on Wednesdays," Whitefish Superintendent Dave Means said during the meeting. "We also know that we're still in a pandemic and we know we have remote learning needs throughout our district."
According to the district it was important, even when returning students to learning within the classroom on the mid-week day, to keep designated time for teachers and staff to prepare for continued remote learning and interventions, and also collaborate with other staff in their professional learning communities. The compromise was the early release schedule, which gives teachers two hours to prepare for remote instruction and collaborate with fellow teachers.
"A two-hour early release is very similar to other schools in the valley because of that remote learning need during the pandemic," Means said.
According to Whitefish Middle School Principal Josh Branstetter, the middle school has about 13% of students doing full remote learning, which is down from 20% prior to the holiday break.
Muldown Principal Linda Whitright said the percentage is about the same at the elementary level. However, remote instruction for teachers also includes students that are on quarantine for COVID-related reasons.
On the contrary, school administrators say the high school is better suited to continue with the opportunity block on Wednesdays throughout the remainder of the year. Since high school classes are scheduled quite differently from elementary and middle school, that would leave students cramming seven different periods, each one 27 minutes long, into a shortened early-release day. This makes the alternative schedule with asynchronous instruction, meaning students have assignments that are being worked on in different places at different times, a better use of time, the district notes.
"We know that the in-person experience cannot be replicated very well remotely and we recognize that the pandemic has caused us to think differently, it's caused us to stretch our flexibility and make opportunities from these challenges in front of us," Whitefish High School Principal Kerry Drown explained.
Opportunity Wednesdays have proven to benefit many high school aged students according to the district. The high school also distributed a survey to teachers, students and parents regarding the option to transition away from the alternative Wednesdays and an overwhelming response suggested sticking with the opportunity block.
Nearly half of the surveys were returned and the results showed 84% of parents were in favor of continuing with Opportunity Wednesdays; 97% of staff and 97% of students were also in support of the alternative scheduled day.
"There is no perfect schedule… they all have their strengths and all have their weaknesses," Drown said. "It was really reassuring to me to see those results come in and feel this sense of harmony and unity between our students, our staff, our parents as a whole recognizing the benefits of the Opportunity Wednesdays."
In the meeting the board discussed ways that sticking to this schedule could benefit students and different offerings the school could potentially provide for students, such as guest speakers, taking a college credit class on Wednesdays and increased opportunities to get involved in clubs.
"It does feel like each student has an opportunity for a meaningful learning experience on this day," school board Chair Katie Clarke said. "I just think you've done a really good job of flipping the script on this and creating an opportunity to have a different kind of experience."
Drown added that at the high school level, another aspect they are teaching is preparation for life after graduation. The opportunity block on Wednesdays encourages students to think for themselves, make their own schedules and build skill sets that are hard to teach within the walls of a classroom, he noted.
"One of the things that we've been constantly trying to work on is shrinking the gap of when a kid leaves us at the end of high school and enters their life outside of that," Drown said. "We're trying to set our kids up to live outside of the standard, traditional bell-to-bell thing where the bell tells them everything they need to do."
---