Whitefish boys fall against top conference foes
by
WHITNEY ENGLAND
Reporter
|
February 17, 2021 1:00 AM
The Bulldogs have a fight ahead of them as they work through hot-cold streaks and look to qualify for divisionals this week.
On Tuesday, Feb. 9 Whitefish traveled to Ronan to face the second-seeded Chiefs for the first time this season. The Bulldogs came out flat and lacked intensity from the get-go, according to head coach Scott Smith.
Combined with the Bulldog's poor first half effort, Ronan was riding an offensive wave. The Chiefs were knocking down shot after shot, making it hard for Whitefish to get anything going.
"I think they (Whitefish) got frustrated," Smith said. "And Ronan, I don't know what their shooting percentage was in the first half, but I bet you they shot 70-something percent from the field; they were on fire."
Whitefish never could catch up in the game. The Bulldogs dropped the outing to the Chiefs, 74-49.
"In the Ronan game our effort, intensity and just execution was not there," Smith said. "We made way too many mistakes and they were really hot, which didn't help matters out."
Two days later Whitefish was staring down another top-seeded opponent, the 11-1 Pirates.
Although the Bulldogs had a better effort over the top Northwest A seed this time around, it wasn't enough to defeat the Pirates.
"We definitely played better than the first time (facing Polson), it's just I don't know how many open shots we missed and from kids that are normally pretty reliable," Smith said. "But it's basketball, sometimes it goes in sometimes it doesn't. Unfortunately for us on that night it just didn't go in."
Polson got out to an 18-8 first quarter lead, but the Bulldogs hung with them down just 11 points at the half. But with the shots not easily falling for Whitefish, the deficit was hard to make up.
"We've got to shoot the ball better than we have if we want a chance at beating some of the better teams in the conference," Smith said.
Whitefish's Jayce Cripe led the Dogs with 11 points and Bodie smith added 10. For Polson, Colton Graham scored 14 points and Trevor Lake was right behind him with 13.
In the previous meeting with Polson, the Pirates had Whitefish reeling with a 28-point halftime deficit. Polson went on to beat the Bulldogs 72-52, and Whitefish had no answer for Graham's 26 points.
"Without a doubt I know we can play with them," Smith said. "Because there's stretches where we go toe-to-toe, and we played with them last year, kind of the same group of kids."
"In Polson if we had knocked down some of our shots it would have been a lot tighter of a game," he added.
After the games against Polson and Ronan last week, Whitefish is fifth in the Northwest A with a 5-7 overall record and 2-5 in league play.
This week the Bulldogs have a key three-game home stretch. In the final week of regular season play, Whitefish will host Ronan, Libby and Browning. The results of these games will be crucial in determining seeding heading into postseason play.
"We want to win all three games for sure heading into our play-in game," Smith said Monday afternoon. "And we get a chance to kind of redeem ourselves against Ronan"
Whitefish was set to play the Chiefs after press time on Tuesday.
Then the Bulldogs will face Libby on Thursday night at 7:15 p.m. and Browning on Saturday at 4 p.m., both at Whitefish High School.
"All three games are winnable and we're just trying to take one game at a time and not worry about our next opponent until we have to," Smith said. "We could go anywhere from third, honestly to sixth so it just depends on how this week goes."
Whitefish 8 11 11 12 – 42
Polson 18 12 16 13 – 59
WHITEFISH – Bodie Smith 10, Jaxsen Schlauch 3, Logan Conklin 2, Barrett Scott 3, Marvin Kimera 4, Trey Hunt 7, Jayce Cripe 11, Cody Berry 2.
POLSON – JC Steele 2, Xavier Fisher 6, Jarrett Wilson 12, Sam Fisher 2, Darian Williams 2, Colton Graham 14, Braunson Henricksen 8, Trevor Lake 13.
Ronan 74, Whitefish 49
Full stats were not available.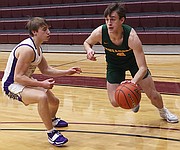 ---