Lady Bulldogs lose disappointing battle to CFalls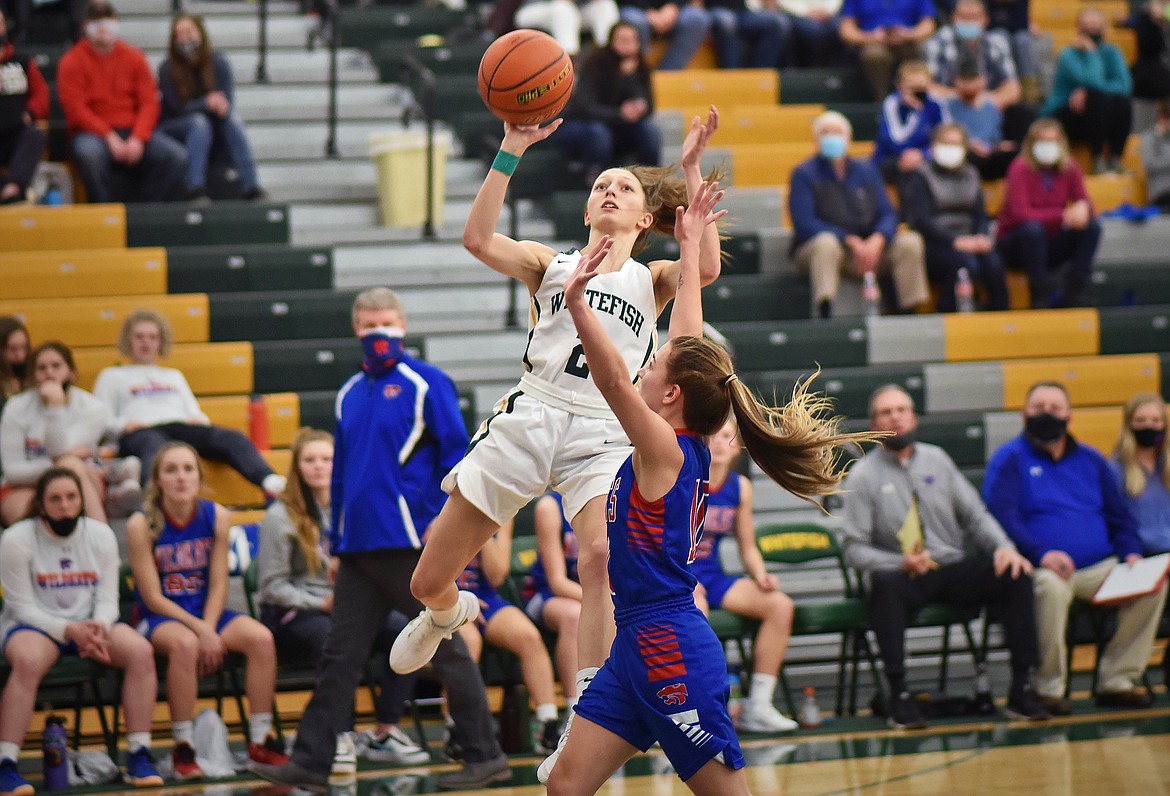 Whitefish's Erin Wilde creates a scoring opportunity against Columbia Falls at the Dawg Pound Friday night. (Whitney England/Whitefish Pilot)
by
WHITNEY ENGLAND
Reporter
|
February 10, 2021 1:00 AM
A lot of hype surrounded Whitefish's rematch with Columbia Falls Friday evening.
In addition to the normal rivalry emotions, just a few weeks ago the Lady Bulldogs lost to the Wildkats by just one point in Columbia Falls. Both teams had a lot to play for in this game.
Columbia Falls, who is undefeated and 12-0 overall this season, came out to prove they were the better team. Whitefish wanted to show they could not only play alongside the best in the conference, but also beat the Kats. Although, that didn't come to fruition for Whitefish as they fell to CFalls 52-34.
"They did play with a lot of emotion, I think that's from being as close as we were last time with them," Whitefish head coach Bob Bolam said. "It fired them up to prove that they were the better team, and it came out that way in the score."
"I still think we can compete with them if we play better the next time we see them, but they're still the best team that we see on the west side," he added.
Whitefish had its worst half of the entire season this time against CFalls. In the first half the Lady Bulldogs had shot 29 of 32 from the field and were in a massive 32-7 hole at halftime. Whitefish had plenty of good looks at the hoop, but the ball was not falling the home team's way early in the game.
"I thought we actually didn't play too bad in the first quarter, defensively we played alright and offensively we had plenty of good shots and just couldn't convert them," Bolam said "Going back and looking at it, if we could have hit a few of those shots it could have turned out differently."
Although the game was salvageable after the first quarter, being down just 9-3, after allowing a 25-0 run between the first two periods the Lady Dogs were facing a long night.
"The second quarter we kind of fell apart," Bolam said. "I think our girls probably got a little frustrated from the first quarter and we didn't keep our mental composure very well."
Columbia Falls also switched up some defensive components this time around, focusing efforts on shutting down Whitefish's two main outside shooters, Gracie Smyley and Ashton Ramsey. Their aggressive defense stunted the scoring from those two seniors in the first half, but Smyley found a way to work around it in the final two periods. She finished with 15 points in the game.
Whitefish had a much improved second half, though the chances of overcoming a nearly 30-point deficit were unlikely.
"You learn from that," Coach Bolam expressed. "I mean we were frustrated at halftime, we talked about what kind of team we wanted to be after the first half and came out and played a lot better in the second half. Shots started going and we started creating turnovers for them."
Whitefish's pride showed through as the girls played aggressively despite the score. The Lady Bulldogs cut down the Wildkats' lead to just 13 points early in the fourth quarter, 39-26, but that was as close as they managed.
Columbia Falls' Hannah Schweikert racked up several 3-pointers in the game and seemed to always stifle a Bulldog run with her outside shot. Schweikert finished the contest with 26 points.
For the Bulldogs, Jadi Walburn put together a nice game with 10 points and Brook Smith added five points.
This week the Lady Dogs were scheduled to play Ronan after press time on Tuesday. Whitefish and Ronan are battling it out for second place in the Northwest A conference.
"It's another big game for us, the girls know that but we have to come out and play really well," Bolam said Monday afternoon.
On Thursday Whitefish will host Polson for senior night at 7:15 p.m. at the Dawg Pound.
Col. Falls 9 23 7 13 - 52
Whitefish 3 4 17 10 - 34
COLUMBIA FALLS — Maddie Robison 2-7 0-2 6, LaKia Hill 3-6 0-1 6, Peyton Rhodes 0-1 0-0 0, Hannah Schweikert 8-15 5-8 26, Laura Falkner 0-1 2-2 2, Mady Hoerner 1-3 0-0 2, Clarissa erb 0-3 0-0 0, Grace Gadlaman 3-5 2-2 8, Alexis Green 1-1 0-0 2. Totals 18-42 9-15 52.
WHITEFISH — Jadi Walburn 4-14 1-3 10, Ashton Ramsey 1-10 1-3 3, Mikenna Ells 0-9 0-0 0, Gracie Smyley 5-11 4-4 15, Brooke Smith 2-5 1-2 5, Erin Wilde 1-3 0-7 2, Taylor Means 0-2 0-0 0, Jenny Patten 0-0 0-0 0. Totals 13-58 6-12 34.
---