FVCC names new reception hall after college president Jane Karas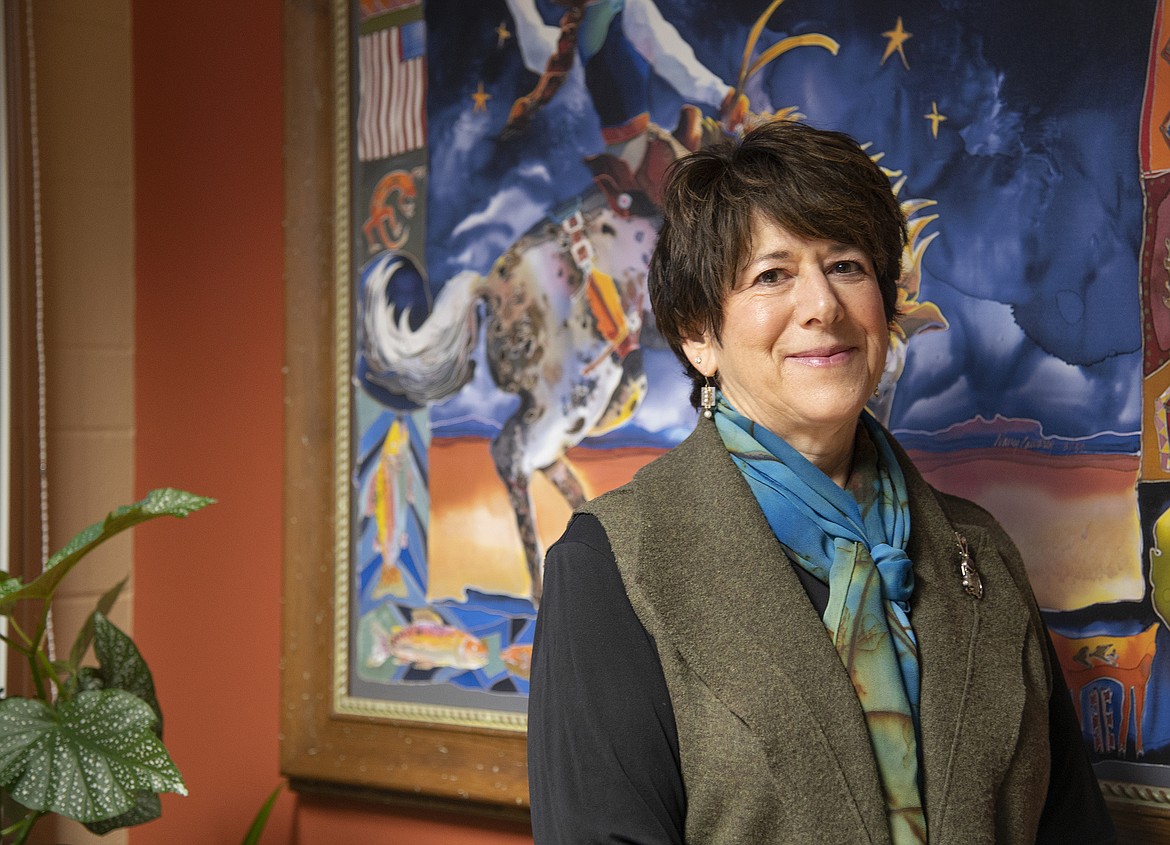 Flathead Valley Community College President Jane Karas. (FVCC photo)
|
December 29, 2021 1:00 AM
Flathead Valley Community College will name the reception hall of its new college center in honor of longtime college president Jane Karas.
The reception hall, located in the main entry of the currently under construction Paul D. Wachholz College Center, will be named the Jane A. Karas Reception Hall.
The Paul D. Wachholz College Center will be complete in late summer 2022. The center features a 1,000- seat performance and lecture hall, an art gallery, an outdoor amphitheater, a multi-purpose activity complex and gymnasium, and a reception hall.
"People believe in our mission, they believe in the outcomes we produce, and they believe in you, Dr. Karas," said Bob Nystuen, Regent for the Montana University System at the FVCC Board of Trustees meeting on Monday.
Karas began working at FVCC in 1999 as the vice president of Student and Academic Affairs, and was selected as the FVCC President in 2001.
"Jane has been an outstanding leader for Flathead Valley Community College and the entire community over the 20 years that she has been president," said Pete Akey, chair of the FVCC Board. "Our board is consistently amazed by Jane's dedication to students, employees, faculty and the community in every aspect of her role as President at FVCC. We're very happy about this recognition of her leadership and commitment to the college."
UNDER KARAS' leadership, FVCC has expanded from four buildings in 2001 to 12 buildings, including the College Center that is set to open in 2022.
The college has also added academic programs in health care and trades.
"When we look at the expansion of career and technical programs, we know that the training of local students for jobs here in northwest Montana is incredible. This place — FVCC — is all about jobs and getting jobs," said Nystuen.
In addition, Karas has served on local, state and national boards, currently on the Logan Health board and Kalispell Chamber of Commerce board, and previously as the chair of American Association of Community Colleges Board of Directors.
"Jane also oversaw and supported the development of specialty programs and new opportunities for students and the community, including the honors program, the first student housing, and expansion of scholarships to $1 million a year just as a few examples," Nystuen continued. "We're very fortunate here— because of Jane, this campus has over 200 acres today. We're so lucky to have this. It is because of the work Jane and her team have done."
Walter Kuhn, Chair of the FVCC Foundation Board, also explained that Karas has been a key part of fundraising for the FVCC Foundation, supporting four capital campaigns. Karas has raised over $30 million through partnerships with the FVCC Foundation.
"I am extremely touched by this recognition. Serving as President of Flathead Valley Community College has been an honor and a privilege. My focus has always been to meet the needs of our community and help our students succeed," Karas said. "None of this would have been possible without numerous partnerships and the hard work of so many others. I am grateful to the outstanding faculty, staff, visionary trustees and supportive community for helping to make FVCC the exceptional college that it is."
Recent Headlines
---