Whitefish Schools to lift K-6 mask mandate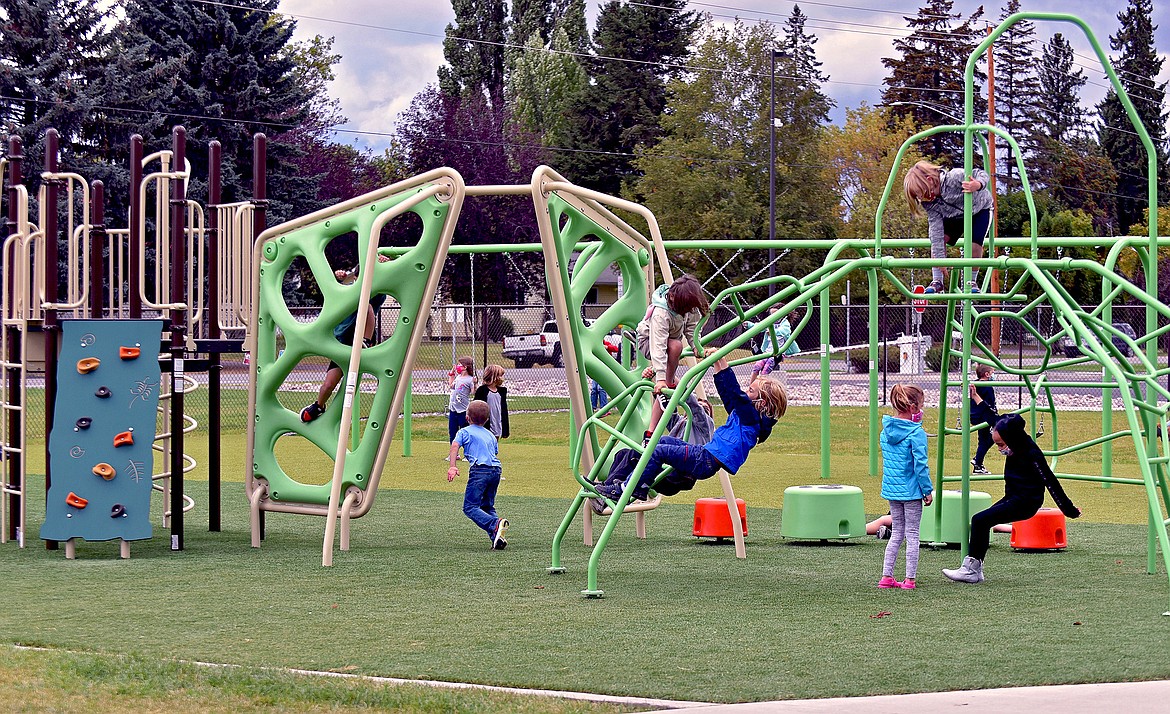 Muldown first graders play on the new playground outside of the elementary school. (Whitney England/Whitefish Pilot)
by
WHITNEY ENGLAND
Whitefish Pilot
|
December 16, 2021 8:00 AM
Face coverings will no longer be required in Whitefish Schools following winter break, the school board decided Tuesday night.
Since the start of the school year Whitefish School District has been following several COVID-19 mitigation strategies including requiring the wearing of masks while indoors for students in grades kindergarten through sixth. With a recent decline in positive COVID-19 cases in both the district and Flathead County as well as the recent availability of the vaccine for children ages 5 through 12, administration recommended the district no longer require masks for younger children. Trustees on Tuesday unanimously approved the change.
"These changes to our guidelines and procedures would mean that effective Jan. 3 we would be following our phase three guidelines and procedures for all grades," Superintendent Dave Means said to the board. "It would also state that face coverings are at the discretion of each individual."
The updated school district COVID-19 guidelines and procedures now state that face coverings are recommended for students, staff and visitors for grades K-12 while indoors, effective Jan. 3. Other mitigation measures include but are not limited to, asking students and staff to stay home if feeling ill, physical distancing, hand hygiene, daily cleaning, optional vaccinations for staff and students age 5 and older, high quality ventilation in the buildings and face coverings will continue to be required on school and activity busses as required by the current federal law.
In the meeting, board members discussed the district's current COVID-19 guidelines and procedures plan and heard from a handful of parents during public comment.
All board members agreed that lifting the mask mandate at this time made sense given the current metrics and the vaccine availability.
"It's exciting to see all those indicator lines going down, hallelujah," Board Chair Katie Clarke said. "It's great that we've reached this point."
During public comment, those that spoke all asked the board to lift the mask requirement for younger students at this time. Several parents said they wanted the freedom to choose whether to mask their children and spoke of how they believed wearing masks was negatively affecting the students' wellbeing and mental health.
A handful of parents also questioned why the district was waiting until Jan. 3 to lift the mask requirement, and requested the board approve the changes to be effective immediately.
In deliberation trustees agreed with the administration on waiting until after the holiday break to ensure families had ample time to get their children vaccinated if they should choose to do so.
"I think it's really important to note that, yes, the vaccine has been made available for kids 5 to 12, but it is a two-dose vaccine and it does take time for that to take effect," Trustee Darcy Schellinger said. "So really it's a five week process on the short end… so to me I think that is an important piece of that puzzle."
Means added that waiting until after winter break would give time for the vaccine to become effective and the schools would have a fresh start at the beginning of the calendar year.
COVID-19 testing will continue to be available at Logan Health — Whitefish as a cooperative agreement allows parents to have students tested if desired.
There are also walk-in appointments for the 5 to 11 age group available at Safeway in Whitefish on a limited basis. Vaccines are also available by appointment at Glacier Medical Associates and the Flathead City-County Health Department.
As of Dec. 12 there have been 105 positive cases among Whitefish students and 18 among staff. There are currently seven active cases in the district. Cases peaked in late October with 19 cases the week of Oct. 25-31.
The seven day average positivity rate for Flathead County has dropped from 12% to 7% in the last two weeks, according to the district's indicators.
There were 282 active COVID-19 cases in Flathead County on Wednesday with 31 new cases reported.
Recent Headlines
---