Bulldog wrestlers make championship match in Superior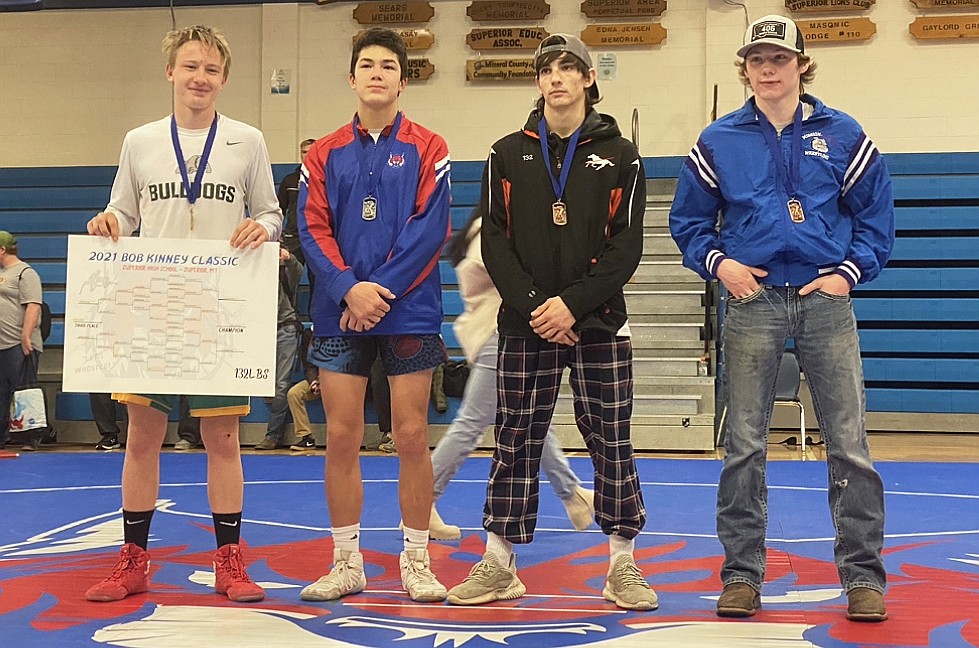 Bulldog freshman Logan Heyne wins the 132-pound division at the Bob Kinney Classic wrestling tournament in Superior on Saturday. (Courtesy photo)
by
WHITNEY ENGLAND
Whitefish Pilot
|
December 15, 2021 1:00 AM
The Whitefish wrestling team headed to Superior to compete in the Bob Kinney Classic on Saturday.
In the tournament several Bulldog athletes advanced to the later rounds with three making the championship match in their individual weight classes.
Two freshmen, Landree Aurund (120) and Logan Heyne (132) won the tournament in their divisions. Heyne also had four pins and won the "Quick Pin" award out of the entire tournament.
"Our smallest wrestler is a freshman, Landree Aurund, he's really showing his leadership on the mat…" Whitefish head coach Danny Neff said. "And who is really impressing me this year is Logan Heyne — he just brings a lot of technique to the room and uses it accurately. He ended up winning the tournament with four pins… that was really cool to see."
Senior Tanner Harmon also made it to the championship, but was pinned by Superior's Silas Acker which landed him second place in the 182-pound division. Harmon, though an experienced wrestler, hasn't competed with the high school team up until this year. Neff says Harmon was busy with school and football before, but the coach is pleased to have him on the squad this season.
"For his first tournament he ended up making it to the championship," Neff said. "It was nice to see Tanner get two pins into the finals. I'm excited to see what he can do later on this year."
In the 160 weight class, Whitefish's Henry Bennetts pinned Corvallis' Bodee Davis in 1:21 to take third. Bennetts lost a tough quarterfinal match by a 13-8 decision to Thompson Falls' Shane Reishus which set him up for a tiring tournament that consisted of wrestling in six matches total. He won all the consolation matches to have a chance at third place.
Whitefish senior Jack Akey, also in the 160-pound weight class, had a good quarterfinal round but was pinned in the semifinals and unfortunately injured. As a precaution, Whitefish pulled Akey from the consolation rounds.
Bulldog Carter Moran faced some tough wrestlers in the 152 division and dropped two matches in the tournament.
"He ended up losing both of his matches, but went out there with a lot of aggression," Neff said.
As a team the Bulldogs took fifth place, but were only four points away from third. Neff said he saw a lot of improvement from week one to last week, and is looking forward to the busy week ahead.
"Things are just kind of starting to all fall together and we've got a good team camaraderie — good group of kids, the coaches are super helpful."
He added that the coaching staff is bringing a lot of knowledge and technique to the room, including two former Bulldog wrestlers Nate Sproul and Angelo Castro that graduated last year.
This week Whitefish was set to compete in Ronan on Tuesday after press time. Then the team travels to Browning on Thursday and the Holiday Classic in Great Falls over the weekend.
Bob Kinney Classic
Superior, Montana
Team Results
1 Libby 152.5; 2 Superior 132; 3 Corvallis 100; 4 Thompson Falls 94.5; 5 Whitefish 94.0; 6 Plains/Hot Springs 85; 7 Saint Ignatius/Charlo 83; 8 Florence 50; 9 Arlee 40; 10 Shelby 12; 11 Powell Co. (Deer Lodge) 0.
Individual Results
1st Place Match
120 - Landree Aurund (Whitefish) 3-0, Fr. over Dillion Dwelle (Saint Ignatius/Charlo) 2-1, Fr. (Fall 0:50)
132 - Logan Heyne (Whitefish) 4-0, over Lucas Kovalsky (Superior/Alberton) 3-1, So. (Fall 2:52)
182 - Silas Acker (Superior/Alberton) 4-0, Sr. over Tanner Harmon (Whitefish) 2-1, (Fall 2:55)
3rd Place Match
160 - Henry Bennetts (Whitefish) 5-1, over Bodee Davis (Corvallis) 2-2, Jr. (Fall 1:21)
Semifinal
120 - Landree Aurund (Whitefish) 3-0 won by fall over Sean Davis (Corvallis) 3-1 (Fall 2:56)
132 - Logan Heyne (Whitefish) 4-0 won by fall over Drew Carey (Plains/Hot Springs) 8-1 (Fall 0:25)
160 - RJ Knoll (Arlee) 6-3 won by fall over Jack Akey (Whitefish) 3-4 (Fall 3:36)
182 - Tanner Harmon (Whitefish) 2-1 won by fall over Matthew Niemi (Libby) 4-1 (Fall 1:02)
Cons. Semi
160 - Henry Bennetts (Whitefish) 5-1 won by injury default over Jack Akey (Whitefish) 3-4 (Inj. 0:00)
Cons. Round 3
160 - Henry Bennetts (Whitefish) 5-1 won by fall over Jett Murray (Florence) 0-2 (Fall 0:44)
Cons. Round 2
132 - Ryland Larson (Shelby) 3-4 won by fall over Rylan McDaniel (Whitefish) 0-2 (Fall 3:53)
160 - Henry Bennetts (Whitefish) 5-1 won by fall over Lexi Lunceford (Powell Co. (Deer Lodge)) 0-2 (Fall 0:15)
Cons. Round 1
152 - Charley Adams (Saint Ignatius/Charlo) 5-5 won by fall over Carter Moran (Whitefish) 0-2 (Fall 3:48)
Quarterfinal
120 - Landree Aurund (Whitefish) 3-0 won by fall over Tyrel Thomas (Arlee) 3-5 (Fall 1:48)
132 - Logan Heyne (Whitefish) 4-0 won by fall over Ryland Larson (Shelby) 3-4 (Fall 1:43)
152 - Joey Wise (Libby) 3-1 won by major decision over Carter Moran (Whitefish) 0-2 (MD 15-1)
160 - Shane Reishus (Thompson Falls) 3-0 won by decision over Henry Bennetts (Whitefish) 5-1 (Dec 13-8)
160 - Jack Akey (Whitefish) 3-4 won by tech fall over Ryan Bucher (Thompson Falls) 1-2 (TF-1.5 3:59 (17-1))
182 - Tanner Harmon (Whitefish) 2-1 won by fall over George Ranney (Saint Ignatius/Charlo) 0-2 (Fall 1:33)
Champ. Round 1
132 - Logan Heyne (Whitefish) 4-0 won by fall over Seth Wilson (Florence) 2-2 (Fall 0:55)
132 - Isaiah Fields (Saint Ignatius/Charlo) 6-6 won by decision over Rylan McDaniel (Whitefish) 0-2 (Dec 12-6)
160 - Henry Bennetts (Whitefish) 5-1 won by fall over Wyatt Gregg (Libby) 1-2 (Fall 0:59)
Recent Headlines
---