Barron signs with Carroll for soccer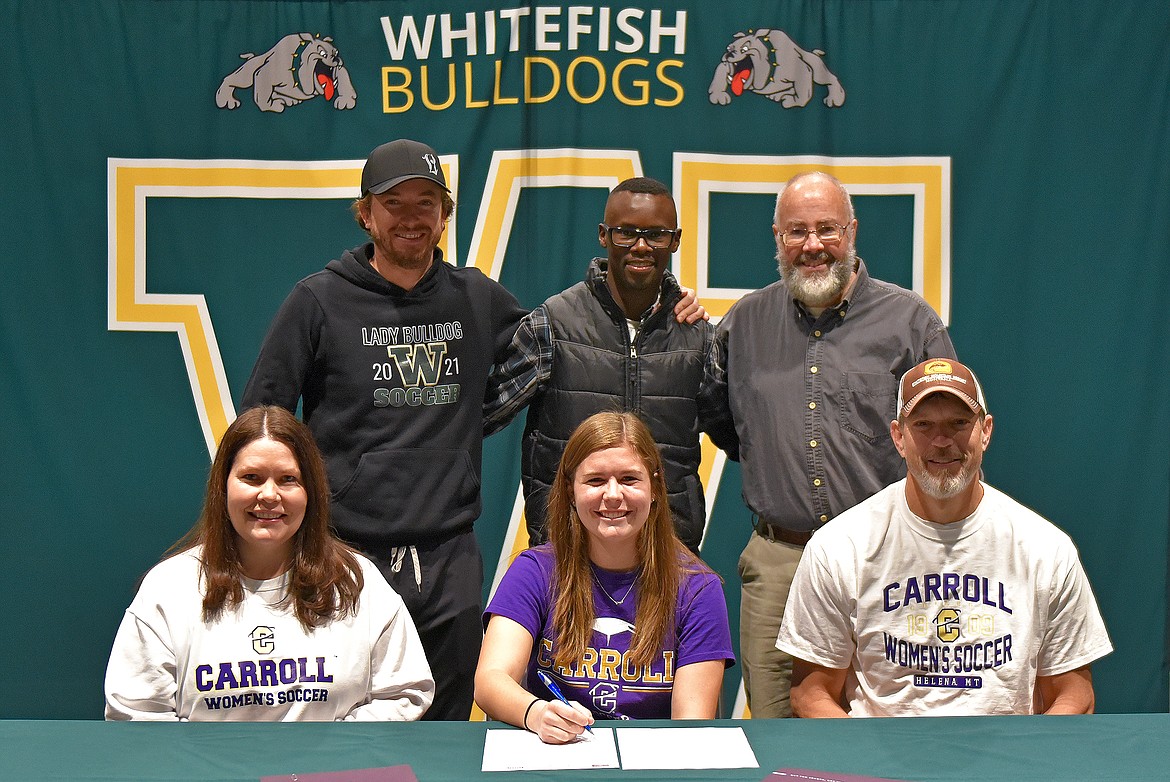 Whitefish senior Emma Barron recently signs a letter of intent to play soccer at Carroll College beginning next fall. Pictured is, top row from left to right, Whitefish soccer coaches Roland Benedict, Victor Kimera and John Lacey; bottom row, Laurie, Emma and Daniel Barron. (Whitney England/Whitefish Pilot)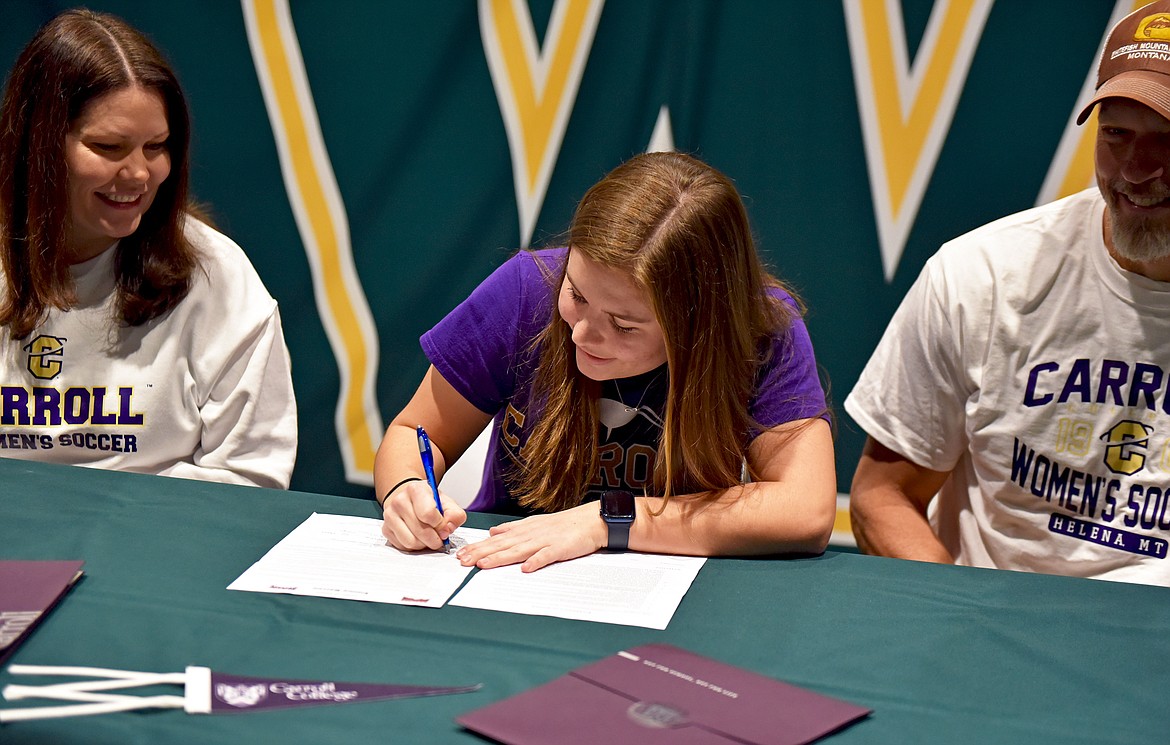 Whitefish senior Emma Barron recently signs a letter of intent to play soccer at Carroll College beginning next fall. (Whitney England/Whitefish Pilot)
Previous
Next
by
WHITNEY ENGLAND
Whitefish Pilot
|
December 15, 2021 1:00 AM
Whitefish senior Emma Barron has been playing soccer since she was little and now she will fulfill a longtime goal of continuing on playing at the collegiate level.
Last week she signed a letter intent to play for Carroll College beginning next fall.
"It's kind of surreal," Barron expressed after signing the papers in front of family and friends at WHS on Dec. 8. "It's kind of a dream come true now being able to put it on the paper and make it official. It just feels very cool to say that I get to go play at the next level because I've been working for this for a while."
Barron, who is clearly dedicated to the sport, is a three-time Class A All-state player and was co-captain of the Lady Bulldogs team that advanced to the state semifinals this season. She led her team in scoring statistics this season by scoring 27 goals and she had 11 assists; she finished at No. 4 among the Class A girls soccer scoring leaders for 2021.
Last season Barron also led her team to a Class A State Championship game where Whitefish narrowly lost to Laurel 3-2 in overtime.
Barron says as a senior she realized her soccer career would soon come to an end and didn't want to be done on the pitch just yet. She sent a recruiting email to the Carroll College women's soccer program with a highlight video attached. She talked with them, visited the campus and stayed in contact with the coaches throughout the high school season. Just over two weeks ago Carroll College called to offer her an athletic scholarship to play with the team next year.
Barron is interested in Carroll College because it is close to home as well as having several great programs to offer her.
"I didn't want to get too far from home," she said. "I like to ski and raft and just be outside so I knew that Montana was going to be for me. After visiting Carroll I just felt right at home and the physician assistant program also kept me connected there; I really am excited."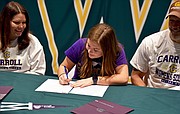 Recent Headlines
---