Writing Coaches gets new Flathead coordinator as it plans to return to in-person coaching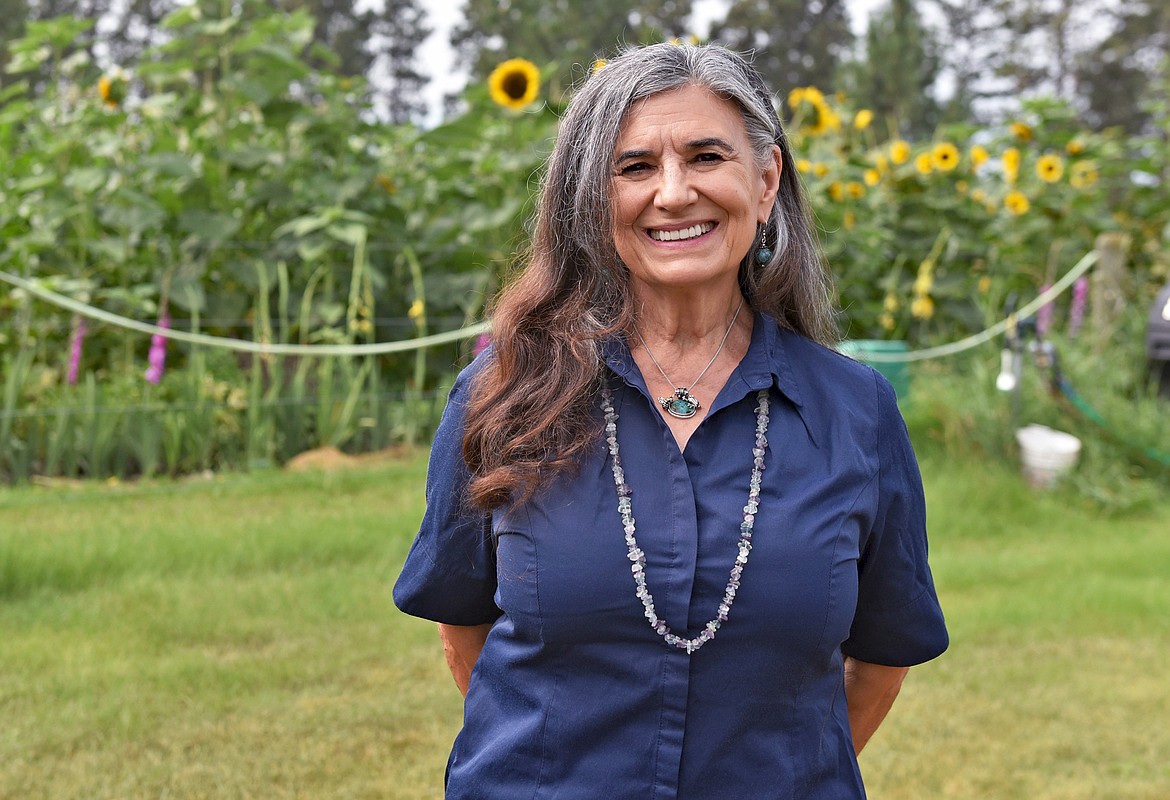 Jeanne Wdowin, the new Flathead Coordinator for Writing Coaches of Montana, outside her home in Kalispell. (Whitney England/Whitefish Pilot)
Last year Writing Coaches of Montana completely altered its business model to keep showing up for students throughout the height of the COVID-19 pandemic with a virtual format.
As fall rolls around, the nonprofit organization is preparing to continue offering online services to classes as well as returning to in-person coaching. The organization also recently announced hiring a new Flathead County coordinator to continue the strong connections with local school districts.
Kalispell resident and writing coach volunteer Jeanne Wdowin took over as the Flathead Coordinator last month. The previous coordinator, Rita Braun, retired after serving for two years in that position as well as coaching prior to that. Though Braun will stay with the organization as she moves to a spot on the board of directors.
"We're excited to have Jeanne join our team," Writing Coaches of Montana Executive Director Cassie Sheets told the Pilot. "I think she's really going to help us move forward and be really robust. And Rita just joined the board, so we just added and we didn't really lose anything."
Wdowin has more than 40 years of experience in the field of education. She spent the majority of those years as a middle school science teacher in upstate New York and then later in Tempe, Arizona. After leaving the classroom she worked for several years as the district assessment specialist for the elementary grades in Tempe.
She holds a master's in education and when she began working as an assessment specialist, she says that's when she really became involved in the teaching and implementation of writing.
"A lot of times there's so much focus on reading that they cast writing aside," Wdowin said. "So I was emphasizing the connection of the English language arts as a combination of reading and writing."
Wdowin also manages her artist husband's woodturning business, Natural Nook Wooden Vases. She retired and moved to the Flathead Valley in 2019, and she enjoys working the land of the 15 acres the couple lives on just to the south of Kalispell.
After retiring Wdowin says she had no intention of pursuing another job as she stays busy writing a novel of her own and caring for the garden. But last summer she saw an advertisement in the newspaper looking for volunteer writing coaches that caught her eye and soon she began working with students virtually through Writing Coaches of Montana.
"I thought, you know I'd really like to do that — because writing is a passion of mine," Wdowin said. "I like the whole idea of the community of writers, the fact that they immerse themselves in public education. You have community members that are sharing their gifts."
She volunteered throughout the entire school year and later Braun approached her with the opportunity to become the local coordinator. Although she wasn't looking for a job, she thought this part-time assignment would allow her to stay involved in the field of writing and education.
"I'm keeping a connection with people that are passionate about writing," she said.
Currently, her main focus is reaching out to a variety of people including those that coached before and recruiting more volunteers for the upcoming school year. She believes that her prior experience will help her in the new role that involves effectively communicating with volunteers.
"I'm kind of keeping my thumb on the pulse in a way because when people commit to being a coach it's so important that they are ready to go at the moment that the student is waiting," Wdowin said.
As the new school year approaches and Wdowin settles into her role, she is delighted to be involved with the organization as so many developments are on the horizon.
Last year Writing Coaches of Montana had overwhelming success with the new online programming and are hoping to keep it as a permanent option for districts in addition to in-person coaching. The organization also just launched a new website that will streamline the process for those signing up to volunteer.
Also, the Montana Office of Public Instruction has been in contact with Writing Coaches and the two parties are beginning talks of the potential for the coaching program to become a statewide resource.
"Slowly but surely we might be opening up to additional partner schools outside of the three counties that we've historically worked with," Sheets explained. "So that's exciting for the organization, and frankly, for schools, because we believe in the mission of what we do."
In the 2020-21 school year, Writing Coaches of Montana assisted students in 970 coaching sessions, which Sheets says was a great accomplishment in the chaos and unpredictability of last year. Over 400 of those sessions were with the Whitefish School District.
The close working relationship between Writing Coaches and Whitefish was essential last year as both tried to navigate the muddy waters of balancing health and safety with the importance of quality education. In Whitefish, Writing Coaches also trialed a program for fourth grade students for the first time and the teacher, students and coaches all agreed on its success, Sheets noted.
"Overall we were thrilled with how it turned out and Whitefish, they were the ones who let us set up two pilot programs specifically to make sure the virtual coaching worked," Sheets recalled. "Whitefish was the leader in helping us know that we could actually do it, which was wonderful."
For more information on Writing Coaches of Montana visit writingcoachesofmontana.org and for volunteer opportunities email Jeanne Wdowin at jeanne@writingcoachesofmontana.org.
Recent Headlines
---