Police Chief Bill Dial suddenly retires from his position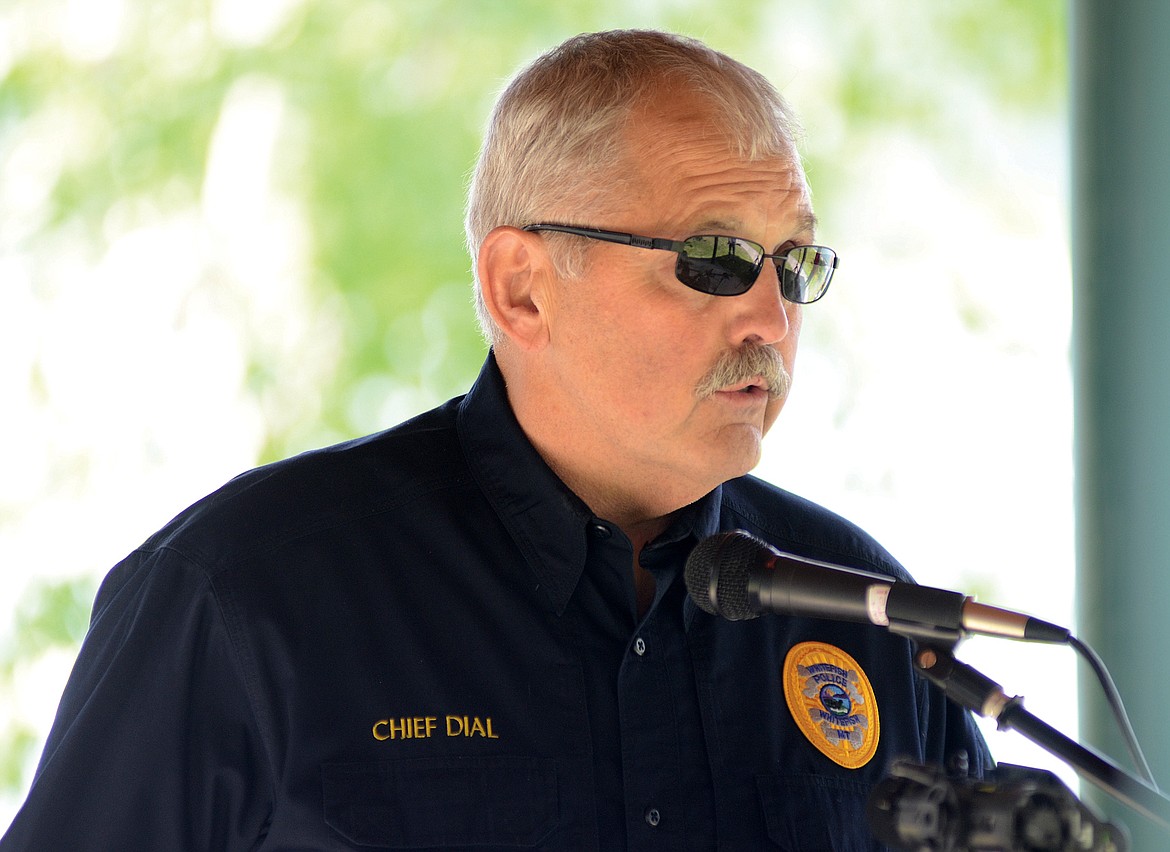 Whitefish Police Chief Bill Dial speaks at an event in 2015. (Pilot file photo)
by
HEIDI DESCH
Daily Inter Lake
|
August 5, 2021 5:00 PM
Whitefish Police Chief Bill Dial abruptly retired from the police department on Wednesday.
Though Dial had mentioned at recent city meetings that he planned to retire this year, his departure was seemingly sudden. He had served in the position since 2001.
City Manager Dana Smith announced the retirement late Thursday afternoon in a press release, but offered no explanation for the timing. Smith told the Pilot that the release is the city's official statement on the matter.
"I was notified yesterday of his retirement," she said.
Smith has appointed Assistant Police Chief Bridger Kelch as interim Police Chief while the city prepares to fill the position permanently.
"We have the full faith and confidence in Bridger Kelch's ability to lead the department and ensure a seamless transition for our officers and the city," Mayor John Muhlfeld said in a statement. "Our citizens and residents are fortunate to be served by such a distinguished, well trained, and professional department."
Dial has served in law enforcement for more than 30 years, according to his biography on the city's website, starting his career with the Illinois State Police where he worked as a patrol officer, undercover drug agent and criminal investigator. There he commanded two drug task forces and the Bureau of Training for the Illinois State Police. He became the Administrative Commander of a suburban Chicago Patrol District.
Dial has a master's degree in education from Northern Illinois University and is a graduate of the Illinois State Police Command College. Prior to becoming a police officer, he taught high school for nine years.
During his tenure in Whitefish, Dial in 2007 was granted a leave of absence to serve a year in Afghanistan as a contractor teaching modern policing.
Dial in 2019 personally filed a lawsuit against Whitefish businessman and philanthropist Michael Goguen. In the lawsuit in Flathead District Court, Dial claims that Goguen attempted to derail a 2017 criminal investigation and also have Dial fired from his job.
Goguen, in court documents, has denied the claims saying the complaint was an attempt to retaliate against Goguen for making complaints about Dial's performance as a public servant.
Recent Headlines
---