Recent WHS graduate excels at national speech competition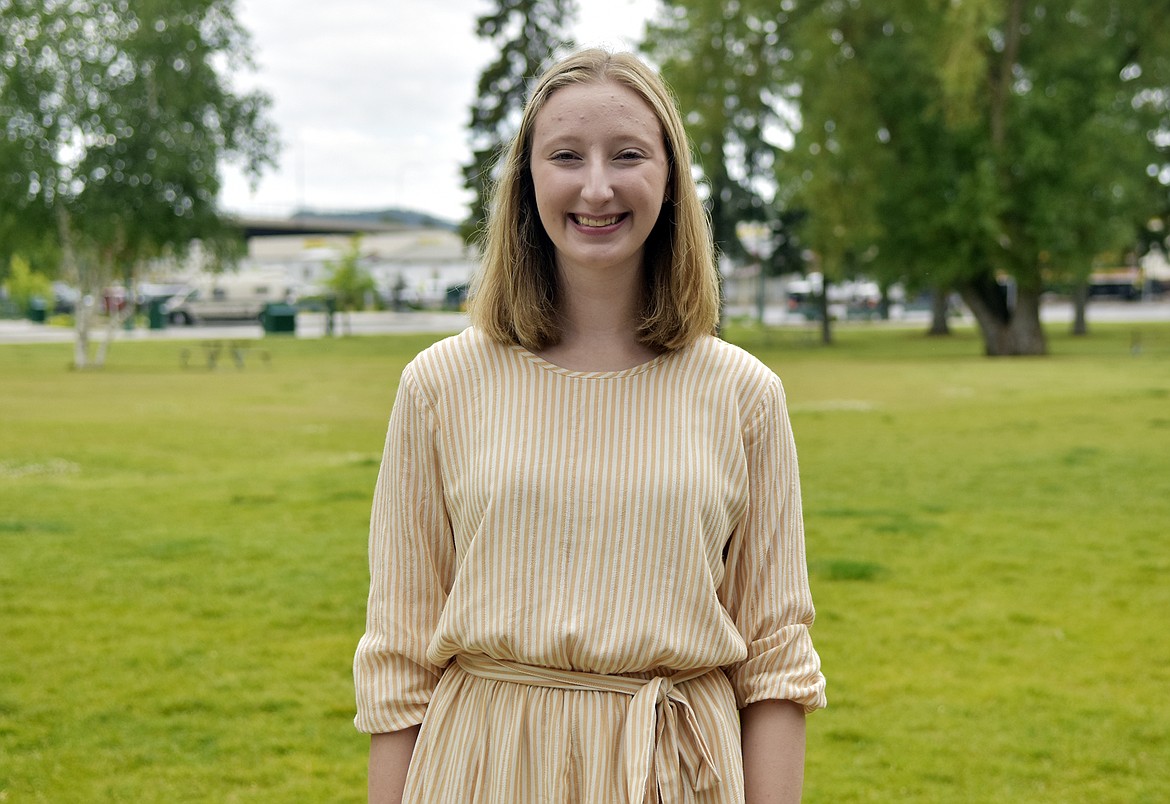 Abigail Bowden, a 2021 graduate of Whitefish High School, recently finished in the top 60 in international extemporaneous speaking at the National Speech and Debate Association national tournament. (Heidi Desch/Whitefish Pilot)
by
HEIDI DESCH
Whitefish Pilot
|
August 4, 2021 1:00 AM
Abigail Bowden's career in competitive speaking has taught her not to be afraid to speak her mind.
Even when the audience or her fellow speakers aren't receptive to her or her point of view.
"My voice matters," she said. "Even if you don't think so, you always have something to say that matters."
Bowden, who graduated this spring from Whitefish High School, says she faced misogynistic comments from judges and fellow competitors during her high school speaking competitions, but being a female in the male-dominated space of competitive speaking meant she had to push that aside.
"I can wear pink and still be an influential and talented speaker," she said.
To those who might not like what she has to say, Bowden points out she's a three-time state champion in speaking. And she most recently placed in the top 60 at the National Speech and Debate Association national tournament for international extemporaneous speaking.
Also competing in the national tournament from Whitefish, was Adrienne Healy in informative speaking, Paetra Cooke in poetry and Bethany Barnes in expository speaking.
Whitefish speech and debate coach Sara Mueller said she's proud of the Whitefish students for holding their own against the top 6% of speakers in the nation at the tournament.
In extemporaneous speaking, Bowden was required to give a speech on current international events with limited preparation time. Competitors draw topics, then have 30 minutes to prepare a seven-minute speech.
Bowden likens it to writing a five paragraph essay in 10 minutes in which she has to formulate and defend a thesis, and then spends the remaining 20 minutes memorizing the speech before giving it to a judge.
During high school, Bowden also competeted in extemporaneous speaking where her topics focused on both national and international topics. She also competed in impromptu speaking, which requires speakers to come up with a three-minute speech with five minutes of preparation.
To prepare for extemp speaking, Bowden had to keep up on domestic and international politics, conflicts and events. Saying she's a naturally curious person, Bowden is often listening and reading the news to keep current on what's happening, and she's also researching topics further to prepare.
"I like public speaking," Bowden said. "I also like educating people with the things I talk about. I like being able to share my knowledge about topics that most people haven't heard about and I like it when a judge says they had never heard of something before, but after my speech they are glad they learned about it."
The national competition and most recent high school season of speech and debate tournaments were held virtually due to the COVID-19 pandemic. Bowden says while she's grateful to be able to compete, it was tough not being able to attend tournaments in person.
"I miss that person to person connection that comes when you're speaking," she said. "But I really miss meeting people from the other teams and hanging out with the other competitors from my team."
Beyond speaking, Bowden competes in equestrian show jumping, plays the flute, likes to bake and is a voracious reader.
This fall Bowden plans to attend Mount Holyoke College in Massachuessetts majoring in political science and chemistry. Right now she's enjoying summer and savoring her impressive finish in the national competition where many of her competitors have been training with professional coaches since elementary school.
"I never imagined I'd make the top 60," she said. "I knew going in that I wouldn't win, but I wanted to have fun."
---