Annual trail challenge raises funds for Whitefish Trail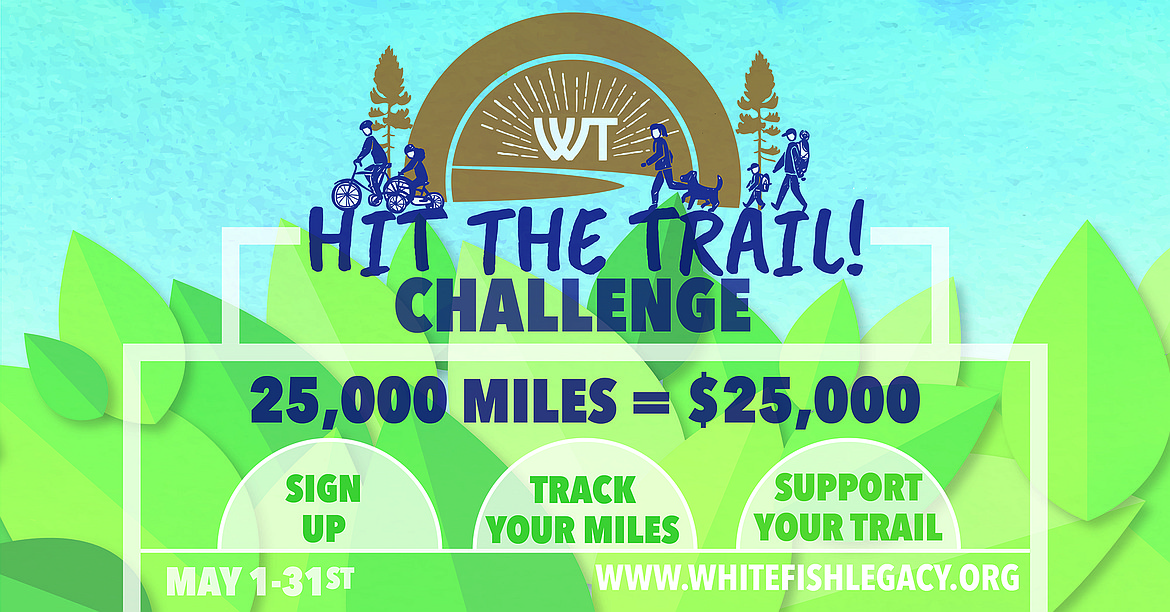 The third annual Hit the Trail Challenge that raises funds for Whitefish Legacy Partners when recreationists get out on the trail is returning in May.
For every mile logged on the Whitefish Trail during the month of May, $1 will be donated in support of the Whitefish Trail and surrounding local protected lands.
Health and wellness sponsors High Stakes Foundation, BlueCross BlueShield of Montana, North Valley Hospital, and Tailwinds Charitable Foundation have pledged $25,000 in matching funds for miles logged on the trail.

"The Whitefish Trail and surrounding open lands are so incredibly important to our community. Local trails are one of our greatest free health and wellness resources, and our Hit the Trail Challenge encourages the community to improve physical and emotional health through spending time outside," said Alan Myers-Davis, Director of Development for Whitefish Legacy Partners.
Participate as an individual for free or participate as a Workplace Team for a fee. School groups, community groups, and nonprofits can participate as Workplace Teams for free. Miles can be logged with an online form, by joining the Hit the Trail Challenge Strava Club, or by paper log sheet. Awards will be given to top participants.
Sign up and log miles during May at www.whitefishlegacy.org/hitthetrail
Last year's Hit the Trail Challenge engaged 985 unique individuals including 11 Workplace Teams and 365 middle school students to log 26,072 miles on the Whitefish Trail during the month of May.
Using average levels of intensity, participants spent approximately 7,080 hours recreating outside burning more than 3 million calories during the month of May.
Because each mile was matched by $1 from sponsors, $26,072 was donated back last year to the trail and protected lands.

The Whitefish Trail is the anchor project of Whitefish Legacy Partners and the result of collaborative partnerships providing public access and recreation while protecting clean water, thriving forests, and prime wildlife habitat on open lands located in the urban interface of Whitefish Montana. 
To date, Whitefish Legacy Partners and City of Whitefish have established 43 miles of a recreational trail system accessed by 14 trailheads.
---