Bulldog tennis aims for top of conference this season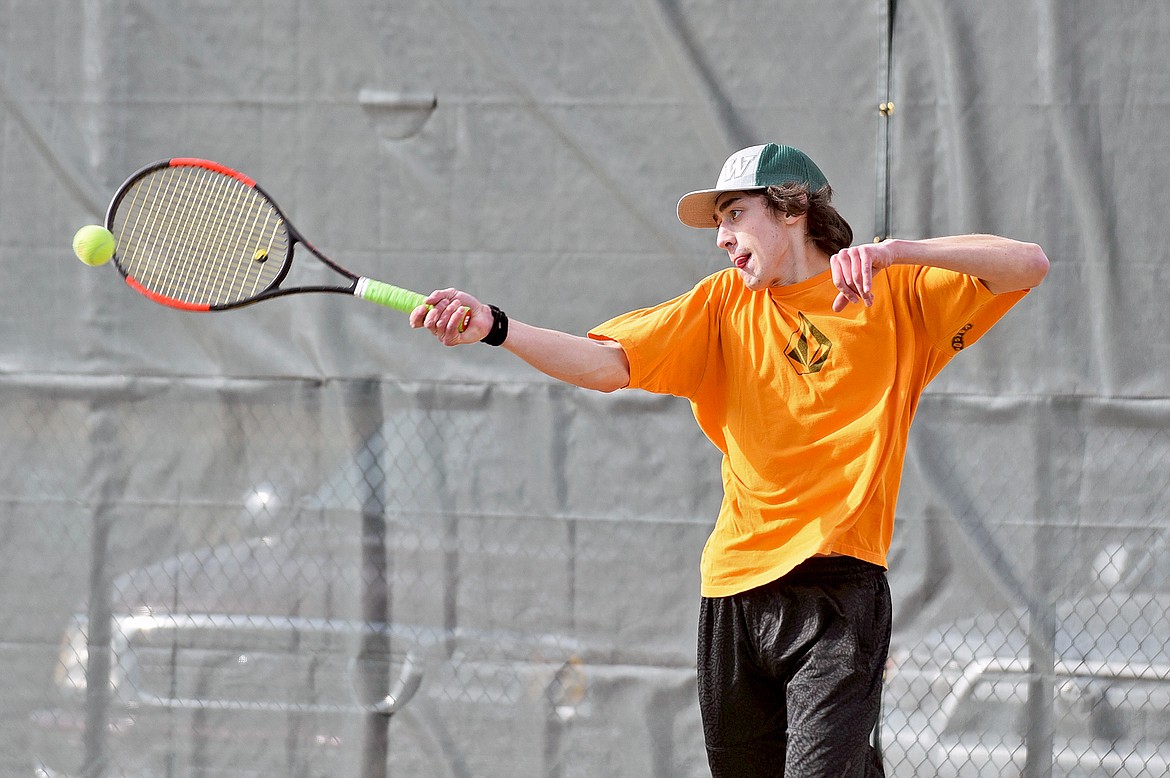 Whitefish senior Jayce Cripe plays against his teammates during the boys high school tennis practice on Thursday. (Whitney England/Whitefish Pilot)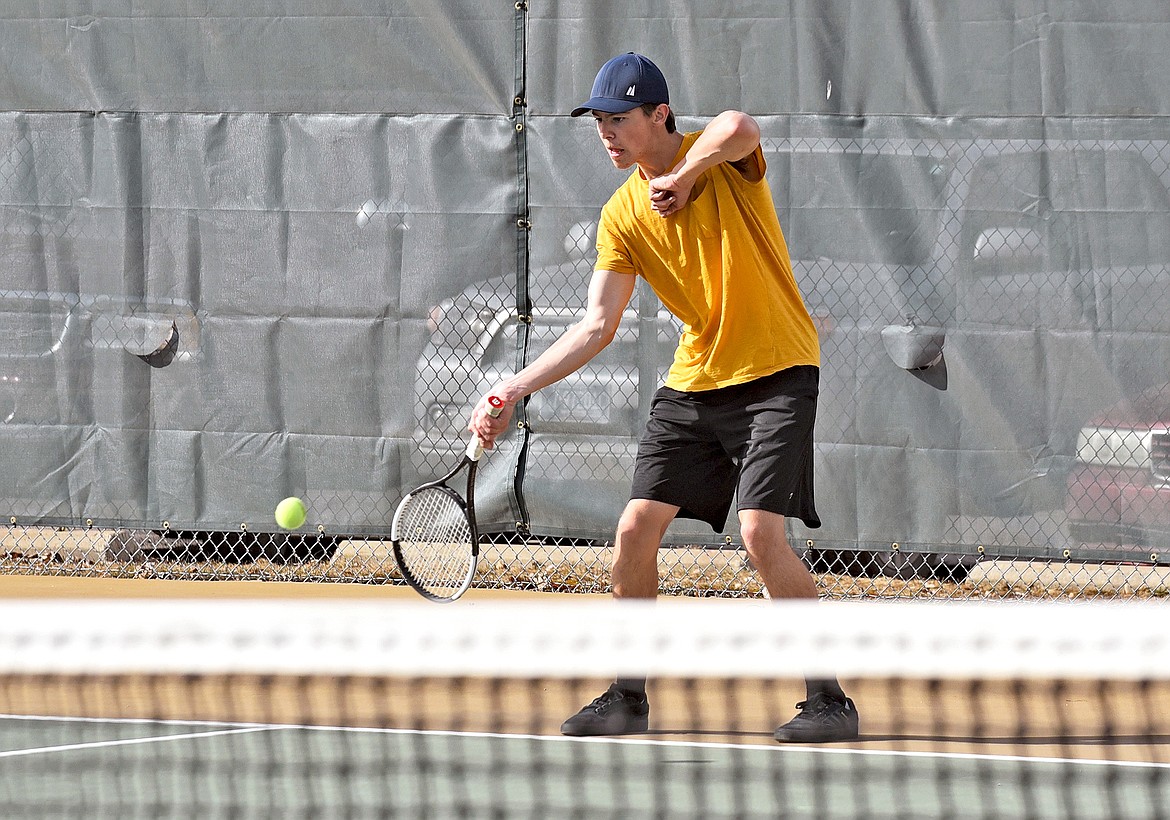 Bulldog Jack Robertson lines up a shot during the boys high school tennis practice on Thursday. (Whitney England/Whitefish Pilot)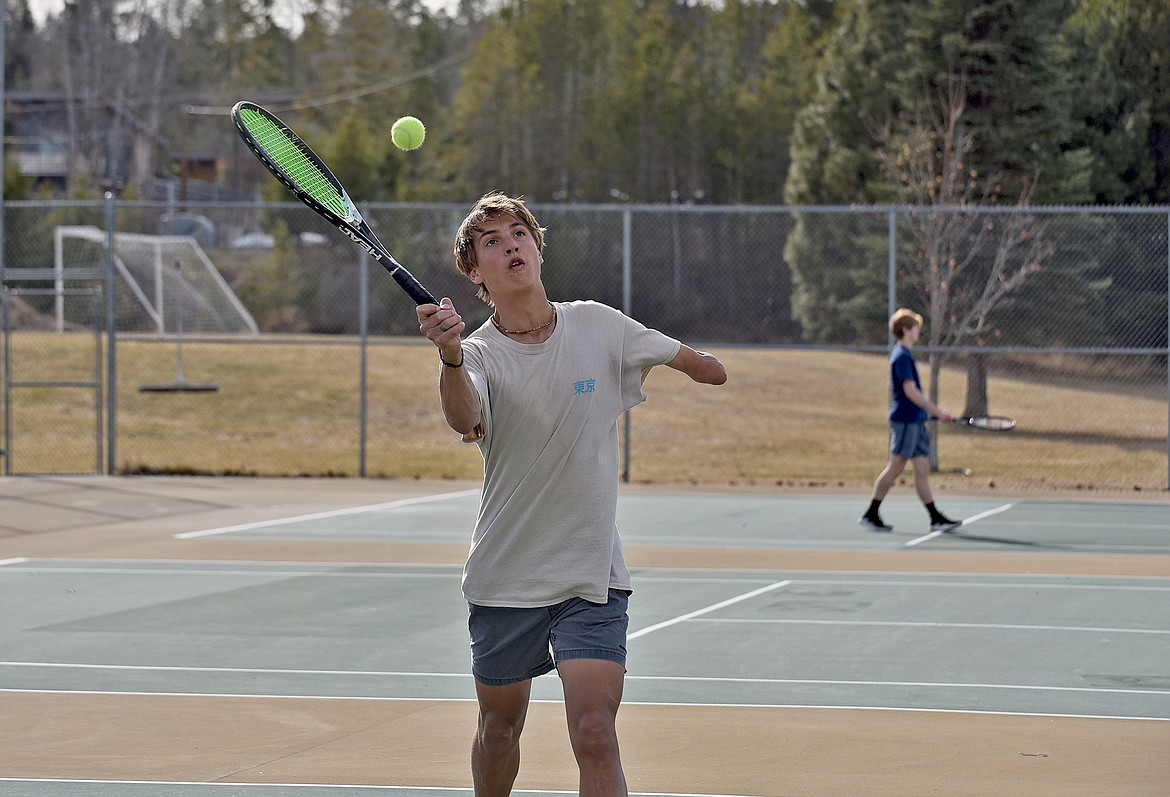 Whitefish's Joe Brandt lines up a volley during the high school boys tennis practice on Thursday. (Whitney England/Whitefish Pilot)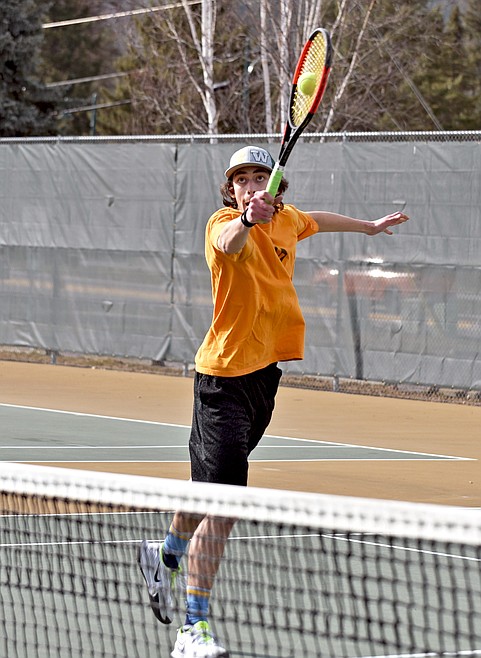 Whitefish senior Jayce Cripe hits a volley at the net during the high school boys tennis practice on Thursday. (Whitney England/Whitefish Pilot)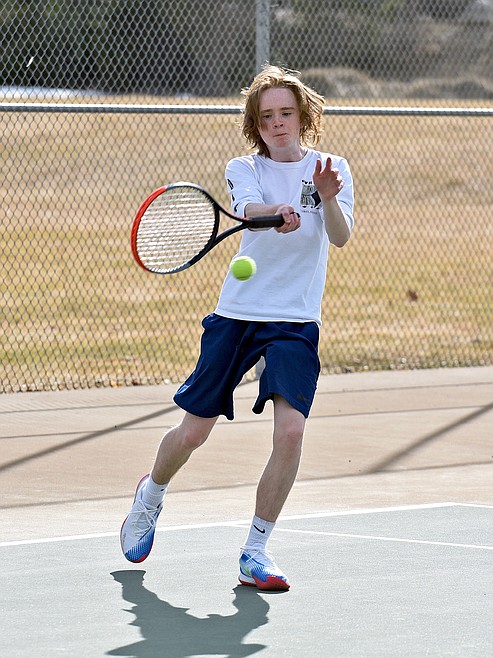 Whitefish's Connor Kelly plays against his teammates during the boys high school tennis practice on Thursday. (Whitney England/Whitefish Pilot)
Previous
Next
by
WHITNEY ENGLAND
Whitefish Pilot
|
April 7, 2021 1:00 AM
As the Whitefish boys tennis team approaches this season, it's an odd task for head coach Chris Schwaderer to put together a line up going off of what his players did two years ago.
Because last year's tennis season was canceled due to COVID-19, the last time the Bulldogs competed was in 2019 when their large class of now juniors were just eager freshmen. Schwaderer expressed he was really looking forward to that class having a breakout sophomore season, but alas that wasn't able to happen.
"It's a strange year for everybody of course," the coach said, noting that there are only a few players still with Bulldogs that were on the second-place state championship team in 2019.
"We still have some of those players, and this year we've got a nice junior class that's coming up that two years ago was really promising as a group of freshmen," he added. "They're all really close friends and they push each other. So they're in a new position, more of a leadership position, and pretty much make up the backbone of the team."
Of those juniors Joe Brandt, who's older brother played tennis for the Bulldogs a few years ago, is poised to play No. 1 doubles most likely with fellow junior Aaron Dicks. According to Schwaderer both are two-sport athletes, also playing soccer, and have good chemistry as a team.
"They're both very athletic and aggressive, I think that they would make a really nice number one doubles team," he said.
Schwaderer said other juniors to keep an eye on include Fin Stagg, Austin Gunset and Highland Lee-French — all of which have improved dramatically since they last competed.
"They've worked hard over the last couple of years, in offseason work and they've just moved up a lot," he said of Stagg and Gunset. "They've both made really incredible improvements and they've got a pretty solid spot."
The coach added that Lee-French will probably play No. 2 doubles for the Bulldogs this year.
"Highland, he is a three sport athlete… He's also gotten bigger, stronger and worked hard over the last couple of years from his freshman year to his junior year. I think he's going to be a really strong doubles player," Schwaderer said.
But, the coach says, eyes will definitely be on senior Jayce Cripe who will be at the No. 1 singles spot. Last year Cripe was set to have a breakout season on a double's team that those close to the program say would have been highly competitive at state. However, Cripe's doubles partner from last year graduated, and thus he will return to compete in singles.
"He's a three sport athlete and he's worked really hard," Schwaderer said. "He comes from a tennis family and I think this is a great opportunity for him to have a big senior year. He's kind of the face of the team right now."
The coach complemented Cripe on his dedication to the game and improving as an all-around athlete. Cripe played singles for Whitefish in 2019 and qualified for state though wasn't in the top tier of singles players. Schwaderer believes he'll be one of the best in the state this season, though.
"I just think he's bigger, he's stronger, he's more skilled than he was and I'm excited to see what he's able to do," the coach expressed.
Although it's difficult to know what to expect after a whole season was canceled, Schwader says the team's goal is always the same — to be one of the best teams in the division. That will be a challenge though as talent and seniority is aplenty within the Northwest A conference this year.
"It's always competitive — Polson is always tough, Libby's tough and Columbia Falls is getting stronger," Schwaderer said. "We want to be at the top there and get as many kids to qualify for the state tournament. It used to be where we just wanted to get to state, and now in the last few years we've had success so we want to get to state and win some matches, score some points."
That's the goal, but first the boys tennis team will need to put in the work on the court throughout the regular season, and hopefully have a little fun in the process, according to Schwaderer.
The team kicks off the season on Thursday at 1 p.m. against Columbia Falls at Flathead Valley Community College.
"These kids just love playing tennis," Schwaderer concluded. "I just enjoy the enthusiasm and the camaraderie that they've all got; they just love being on the tennis court and can't wait to get out there and start playing again."
---