Farmers market turns to composting to meet zero waste goal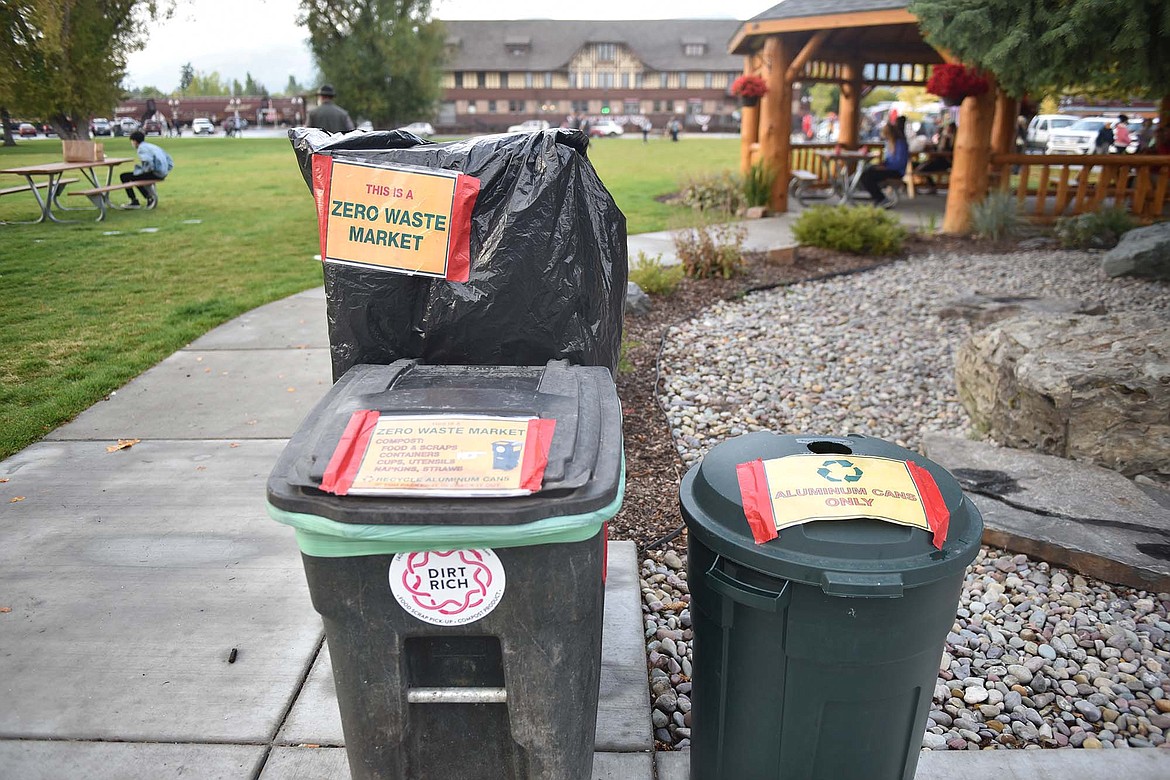 Recycle and compost bins at the Whitefish Downtown Farmers Market. (Heidi Desch/Whitefish Pilot)
by
HEIDI DESCH
Whitefish Pilot
|
September 30, 2020 1:45 AM
The Whitefish Farmers Market this summer adopted a zero waste policy, and organizers say the concept has been embraced by vendors and market goers.
Market organizers worked with Farm Hands — Nourish the Flathead to get the program up and going after several years of looking for ways to make it work.
Zero waste means that food vendors at the market can no longer use single-use plastics. Instead they are using compostable food containers, cups and utensils, and selling reusable water bottles. Garbage cans for the market at Depot Park have been covered and recycling and composting bins have been placed beside them.
"We've been talking about this for a while now and wishing we could do it," said market organizer Rhonda Fitzgerald. "Our first step was to get recycling bins, but then we had to look farther at our waste management."
Gretchen Boyer, with Farm Hands, said while farmers are the center piece of the market there's many food vendors and that means single-use food containers.
"Prepared food and carryout is a large part of the market for many people," she said. "We wanted to make sure that the products would work, be compostable and that we could find a place that would take them for compost."
On larger market nights about 500 gallons and on smaller market nights about 200 gallons of what would have been trash is now headed for compost rather than the landfill.
"It's a tremendous feeling to say that we're as sustainable as possible," Boyer said. "It really feels good."
Organizers attended a talk on plastics at Flathead Valley Community College and discovered Eco Montana, a business that could provide biodegradable and compostable single-use food containers. The company was already providing its products to the farmers market in Bozeman.
Fitzgerald said all the vendors at the market are required to use compostable products, and they all quickly came on board to the idea once they realized they could get products similar to what they had previously had been using.
"Most of them are now using those same compostable products at their other events," she said.
The market also purchased refillable water bottles that are made of recycled plastic and are recyclable, which it provided to vendors who now sell them to customers. There are water bottle filling stations at Depot Park.
To handle the food containers and food for composting, organizers brought in Dirt Rich, a Columbia Falls business that picks up commercial and residential food waste for composting. The Heart of Whitefish merchants organization is paying for the cost of the composting.
"We had to make sure that the containers were compostable, but that wasn't enough, we also had to make sure that they weren't going to be going to the landfill," Boyer said.
Organizers said making all the pieces of the puzzle come together to allow for a zero waste market was the first step. Then education became the next key placing signs on the compost bins at the market letting folks know that aluminum cans go in one bin for recycling and then the others are for food, containers, cups, utensils, napkins and straws.
Boyer said the hope is that the zero waste model will spread beyond the market.
"We've created the tool kit that can be used at other events and for businesses," Boyer said. "We really hope others embrace this."
---