Whitefish Review releases 'Metamorphosis' issue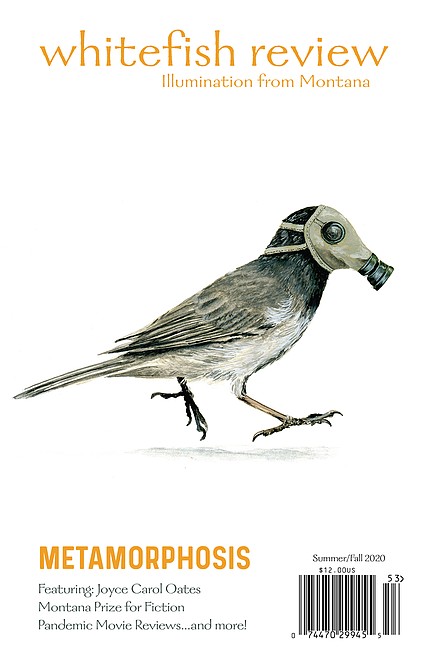 |
September 16, 2020 1:00 AM
Whitefish Review launched its 25th issue "Metamorphosis" last weekend at The Montana Book Festival, held virtually this year.
The cover of issue No. 25 features Bigfork, Montana artist, Barbara Schelling. The nonprofit literary journal showcases fiction, essays, poetry, cultural commentary, interviews, art, and photography.
Across 208 pages, the new issue features 52 contributors, including an essay and short interview with renowned author Joyce Carol Oates. In May 2020, Oates won France's coveted Cino del Duca World Prize for her body of literary work. The Cino del Duca is often seen as a forerunner to the Nobel Prize. Now 82-years-old, Oates has written 60 novels and teaches writing at Princeton University.
"These are hard times, but at Whitefish Review we will look for beauty in every place we can find it," says founding editor Brian Schott. "Writers and artists help us understand what is happening, deepen our compassion, and dream what can be. What kind of metamorphosis can this pandemic bring? How can art help awaken us? Will COVID-19 mark the beginnings of new ways of being and of thinking?"
In mid-March, after already three months of reviewing submissions, the journal scrapped many of its editorial plans and put out a call for new work, trying to use art as a guidepost for where we are as a society and what the path forward might mean. Within a span of two weeks, 800 new submissions came in from around the world.
The riots after George Floyd's death, combined with a photo taken by local Whitefish High School student Grace Jensen of a confrontation at a local protest also created another shift.
"A semi-annual literary journal certainly can't expect to stay current on every social and cultural issue, but this was clearly a landmark moment," says Schott. "So we sat down with local Samantha Francine to ask her about systemic racism in small towns and the world beyond."
Other notable features include contributions from several famous married literary couples, with essays by Terry and Brooke Williams, as well as "pandemic movie reviews" by Andrea and Doug Peacock.
The journal also showcases a conversation with authors Betsy and David Quammen surrounding the pandemic, science, conspiracy, public lands, and the environment.
Additional literary stars include author Pam Houston, who contributes an essay on these conflicted times, an essay by Marcelo Gleiser, a professor at Dartmouth College and the 2019 Templeton Prize winner for his work blending science and spirituality, as well as new fiction by John Keeble, a past winner of an O. Henry Award.
The winner of the "Montana Prize for Fiction" selected by Rick Bass is another notable work in this largest and most carefully crafted issue ever produced by Whitefish Review. Minnesota author Steve Fox was awarded the $1,000 prize for his short story, "Then it Would be Raining."
Staying true to its roots, the Review also publishes the first work of two previously unpublished writers, including Grace Benkelman of Whitefish and Siobhan Harrity of Missoula.
Short story writer Callie Anne Atkinson, from a small farm outside of Belfry, Montana, makes her second appearance in the journal. The Review ran her first published work in 2011 when she was 17-years-old.
As a recognized non-profit corporation created for the public good, Whitefish Review is supported by generous donations, grants, and subscriptions.
Copies of Whitefish Review is available in local and national bookstores and for order online at www.whitefishreview.org.
---