Organizers cancel Whitefish Trail Legacy Run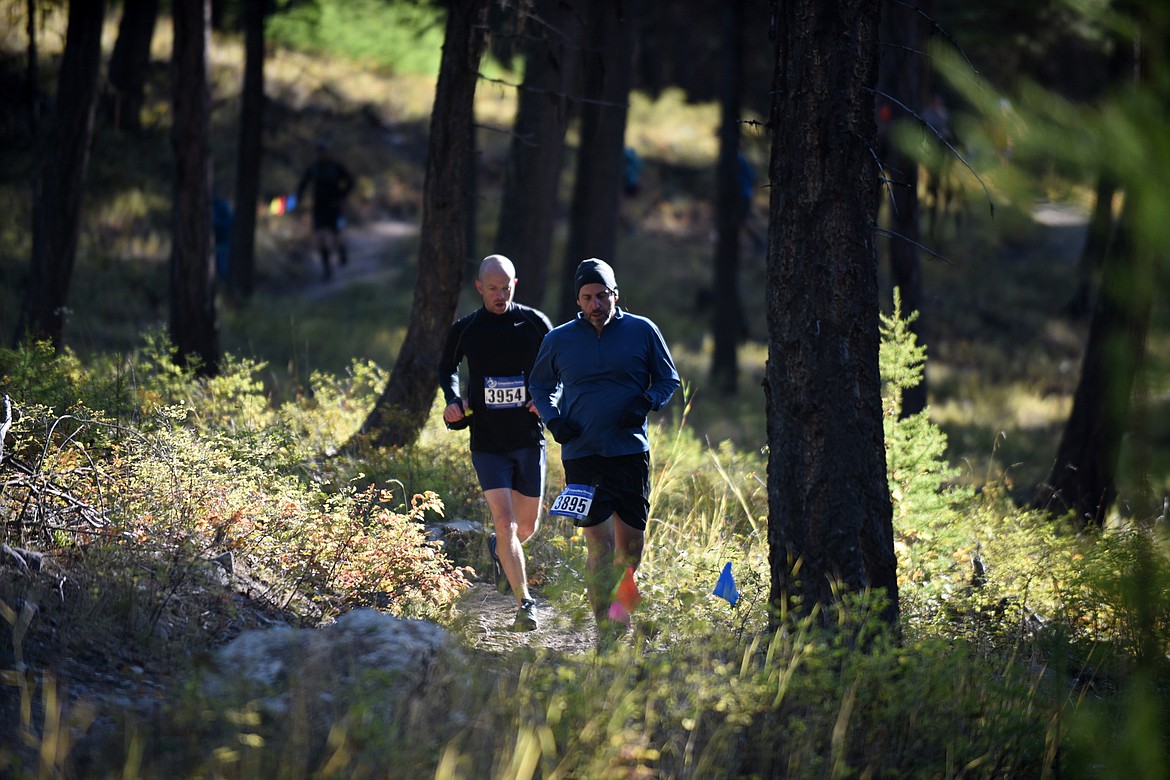 Steve Qunell and David Slette run along the Whitefish Trail near the start of the half marathon during the Whitefish Trail Legacy Run. (Heidi Desch/Whitefish Pilot file)
by
HEIDI DESCH
Editor
|
September 9, 2020 1:00 AM
Whitefish Legacy Partners has decided to cancel the Whitefish Trail Legacy Run as a result of the COVID-19 pandemic.
It was a tough decision to make, race organizers said, noting that WLP looks forward to celebrating the Whitefish Trail with the community and relies on the event as a staple source of income.
The Legacy Run had been scheduled for Oct. 3 for a 50K run up Big Mountain and for Oct. 4 with a half marathon, 5K, 10K and fun run on the Whitefish Trail.
"This year is just not the right year to host community events with hundreds of participants," said Alan Myers-Davis, WLP Director of Development. "We miss seeing so many of our donors, volunteers, and partners, and hopefully next year, things will get back to normal."
WLP is offering, along with sponsor Whitefish Credit Union, a do-it-yourself Legacy Run for the entire community for free.
WLP plans to announce five different segments on the Whitefish Trail for runners to complete independently between Oct. 1-18. The DIY run through Strava, an exercise tracker, will include prizes, raffles, and even fun independent scavenger hunts each week.
"The DIY Legacy Run will be a great option for those still looking for a competitive experience on the Whitefish Trail this October," Myers-Davis said. "We would like to thank everyone from race registrants to event sponsor for understanding."
Participants can sign up for free at www.whitefishlegacy.org.  
For those still wanting to support Whitefish Legacy Partners and the Whitefish Trail this fall, donations can be made through the Great Fish Community Challenge through Sept. 18 or patrons can become a Whitefish Trail Friend or Family by the end of 2020. Participating non-profits in the Great Fish Community Challenge receive a percentage match on gifts received during the Challenge.
Donations can be made at www.whitefishcommunityfoundation.org.
The Whitefish Trail is currently 43 miles accessed by 14 trailheads. 
For more information, visit www.whitefishlegacy.org or call 406-862-3880 or email info@whitefishlegacy.org.
---