Great Fish T-shirt winner uses graphic design skills in contest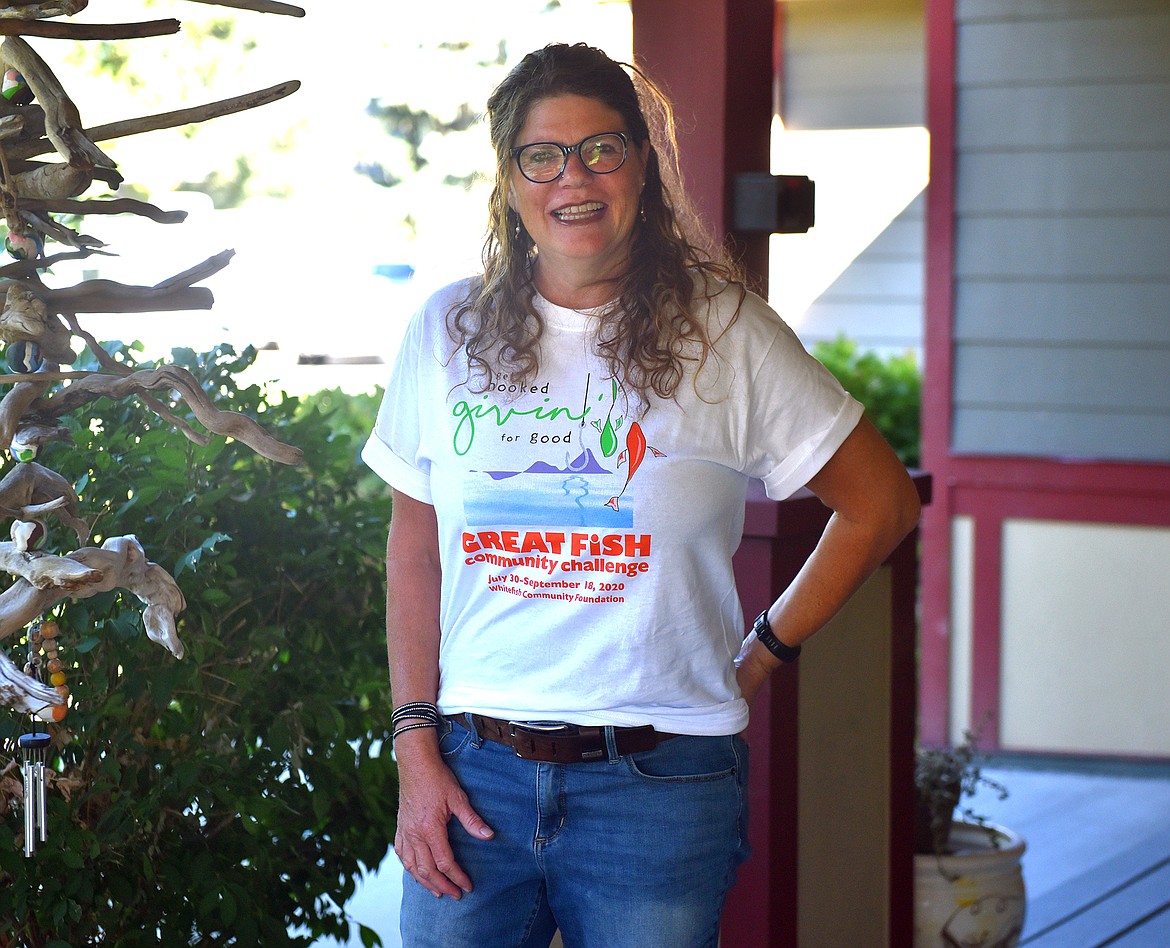 Hannah Plumb won the T-shirt design contest for this year's Great Fish Community Challenge hosted by the Whitefish Community Foundation. (Heidi Desch/Whitefish Pilot)
by
HEIDI DESCH
Editor
|
September 9, 2020 1:00 AM
Hannah Plumb admits that she's not an artist, but that she does seem to have a creative talent for combining words and graphics. 
It's probably her background in English and the three years she spent working as a graphic designer that allows her to seamlessly match the two together. 
"I like the creativity of it," she says. "I'm not an artist or a painter. As a graphic artist I get to express my creative and artist side in a way that I wouldn't otherwise. I like taking words or a message and tying those together with art — that's really the fun of graphic design."
Plumb won the T-shirt design contest for this year's Great Fish Community Challenge hosted by the Whitefish Community Foundation with her design "Get Hooked Giving for Good."
The design features two fishes swimming beside a hook with a lake and mountain in the background. 
The design is meant to create a Montana feel with the fish and mountains, and using her focus on words, Plumb had to bring in some alliteration. 
"I wanted to capture what happens with the Great Fish," she said. "I wanted to have some layers with Montana and also what the Great Fish is about."
Plumb earned a $500 incentive grant for the nonprofit of her choice participating in the Great Fish. She selected the Nate Chute Foundation because of the nonprofit's work to prevent suicide and made the donation in memory of a friend of hers who recently committed suicide.
For herself, Plumb also earned a $250 prize. She kept $50 to splurge on new sheets and then gave the rest away to friends telling them to spend the money treating themselves. 
Plumb works as the development coordinator at the Flathead Youth Home, a group home that provides short and long-term care for children ages 10 to 18. She served on the home's advisory board as a volunteer before taking over in her current role about 16 years ago. 
She primarily handles fundraising and grant writing, but has also had the opportunity to use her graphic design skills to create posters, newsletters and she also for many years designed the T-shirts for the Glacier Challenge, a multi-sport race fundraiser. 
"When I'm out on the Whitefish Trail I like to spot one of my old designs," she said. "It's neat to see someone wearing my creativity."
The Flathead Youth Home is one of the nonprofits participating in the Great Fish Challenge, so Plumb also was able to lend her talents to the fundraiser that benefits the nonprofit she's personally connected with. 
"The Community Foundation has been amazing, they've brought donors to us who have a heart to give to organizations that work with kids," she said. "In a year when all of our event fundraisers have been canceled [due to the coronavirus pandemic] we're especially grateful for the Great Fish."
T-shirts for the Great Fish Community Challenge are available to donors at the Pop-Up Donation Booths that move around the Flathead Valley on Thursdays or at the Whitefish Community Foundation office. For more information, call 863-1781 or visit https://whitefishcommunityfoundation.org/.
---