Whitefish boys keep win streak alive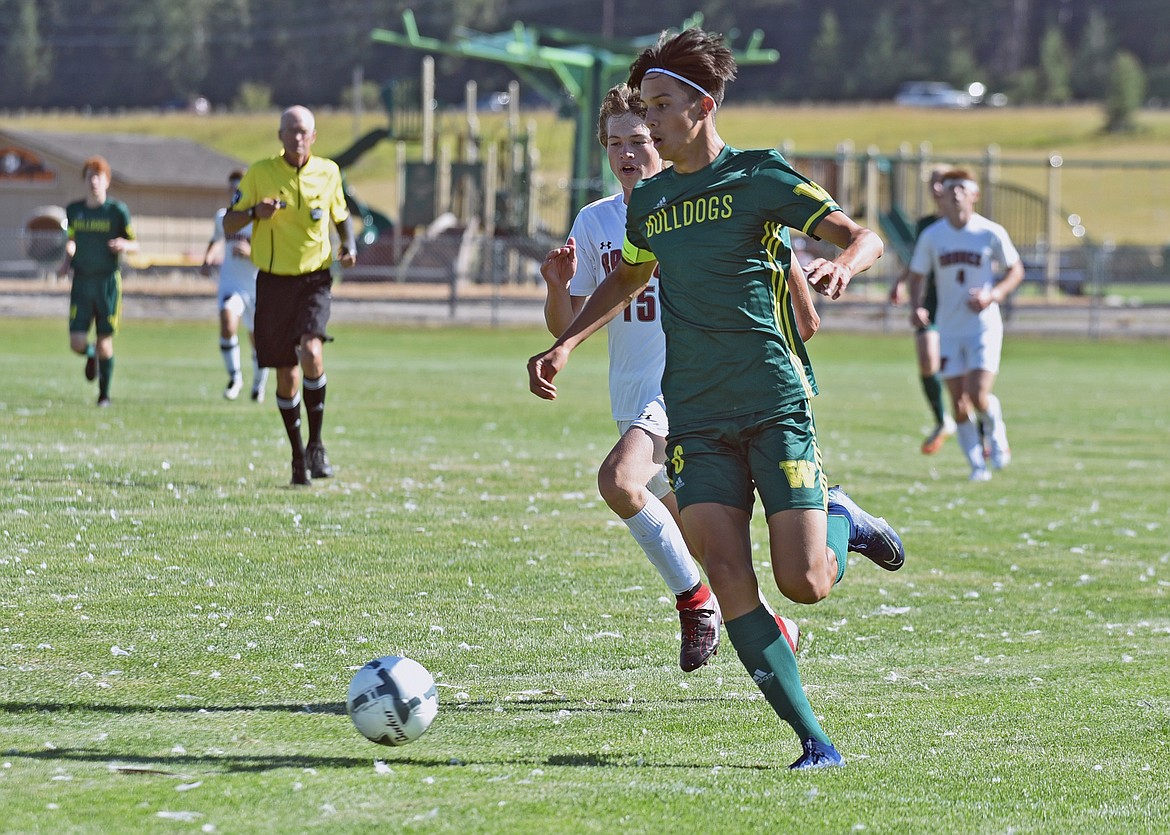 Whitefish midfielder Brandon Mendoza takes the ball down the field against Hamilton. His hat trick helped the boys soccer team to a 5-0 victory over the visiting Broncs Friday afternoon at Smith Fields. (Whitney England/Whitefish Pilot)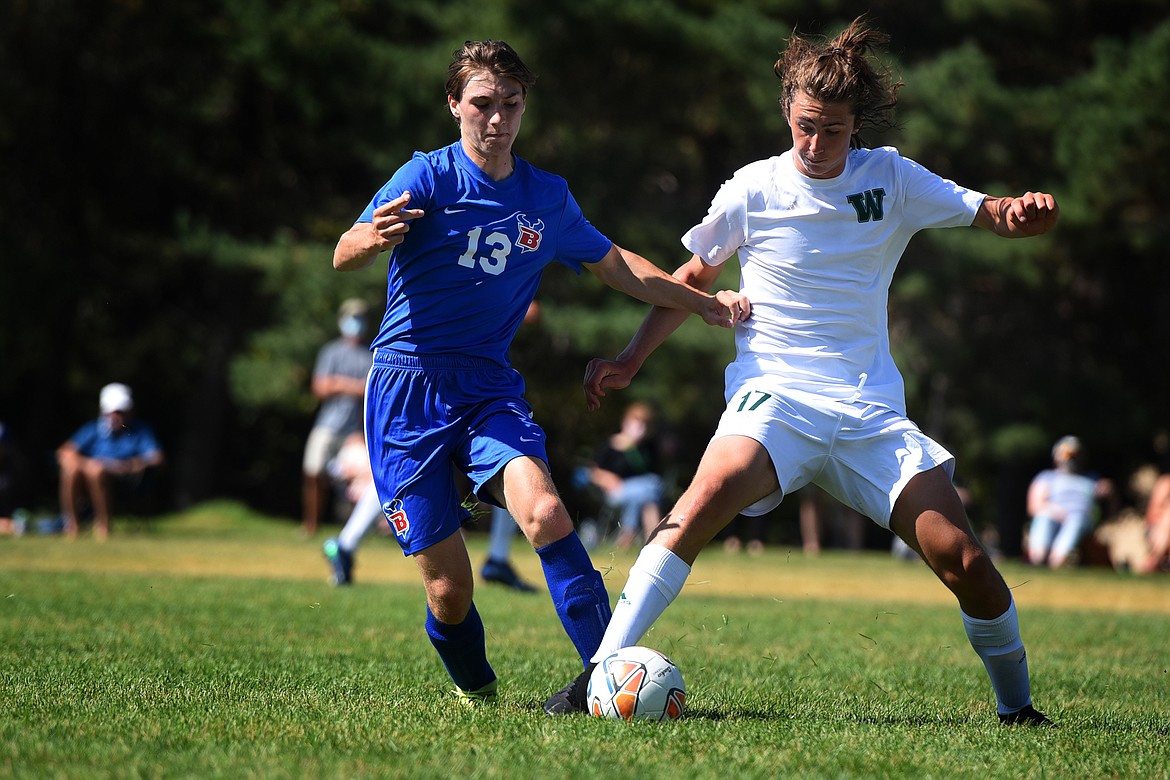 Whitefish midfielder James Thompson takes the ball from Bigfork's Levi Peterson Saturday. (Jeremy Weber/Daily Inter Lake)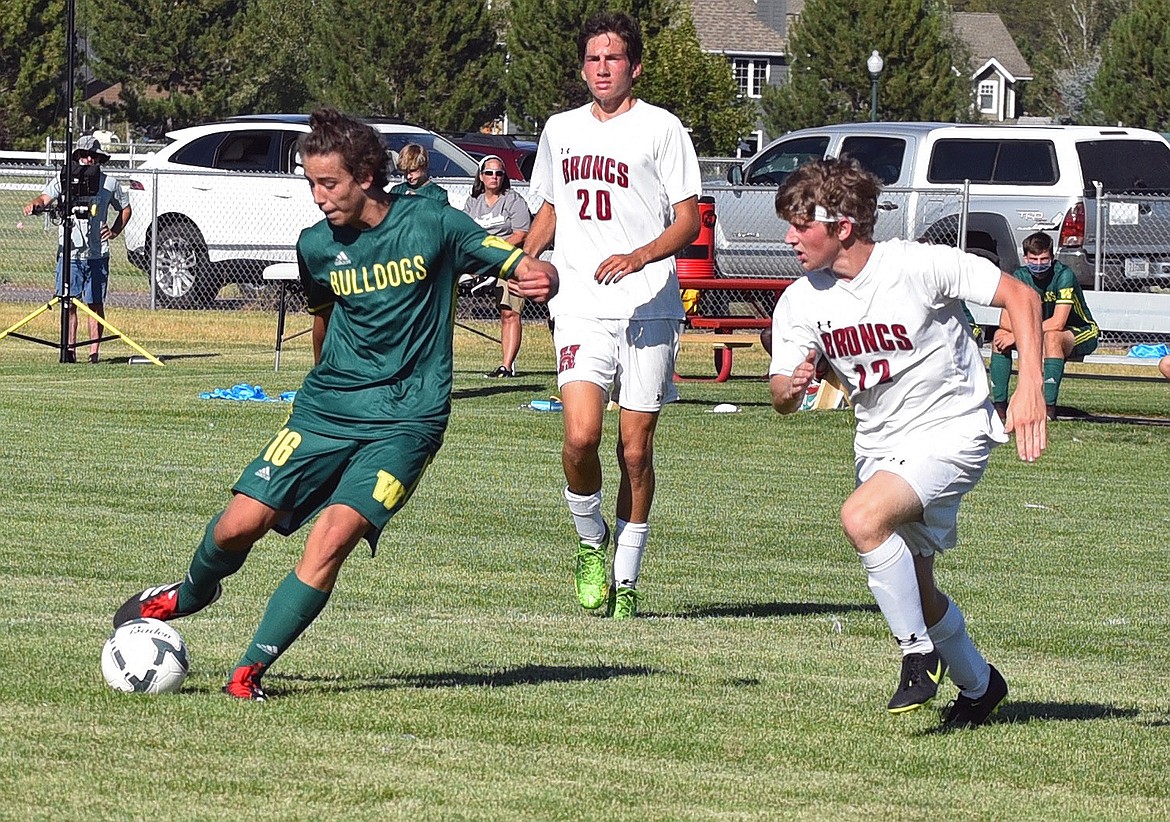 Whitefish junior midfielder Luke Roberts lines up a shot during the boys soccer 5-0 victory over Hamilton Friday afternoon at Smith Fields. (Whitney England/Whitefish Pilot)
Previous
Next
by
WHITNEY ENGLAND
Reporter
|
September 2, 2020 1:00 AM
The Bulldog boys soccer team has launched into a new season with two wins continuing the momentum the team has earned the past two years with undefeated seasons.
Whitefish hosted Hamilton blanking them 5-0 in its season opener at Smith Fields on Friday, Aug. 28. The following day the Bulldogs traveled to Bigfork where they won again, 3-1.
Bulldog senior midfielder Brandon Mendoza scored off an assist from Gabe Menicke in the fourth minute to put his team up early against Hamilton. The Bulldogs didn't look back as Mendoza put in two more by the 45th minute to increase the lead 3-0 and complete his hat trick. Menicke assisted two of Mendoza's goals before netting one of his own.
"A couple guys stepped up right where they left off last fall," Whitefish boys soccer coach John Lacey said. "Gabe Menicke and Brandon Mendoza, we expect big things out of them and they did great."
Whitefish capped its scoring escapade off when the Thompson brothers connected in the second half on a James Thompson goal, assisted by Ford.
Whitefish out shot Hamilton 12-2, and had 14 corner kicks to the Broncs lone chance. The Bulldogs also nearly recorded an assist for every goal, with the lone exception being Menicke's low ball to the right-hand corner of the net.
Lacey said that is a testament to the way Whitefish soccer strives to play everytime they walk on the pitch.
"There's a very specific way we want to play in the front third, so we would expect that most of our goals are going to come off assists," Lacey said. "And that's affirming, again it's affirming about what we've done in the past and about what the guys are prepared to do."
Although Whitefish easily handled the Broncs, when the Bulldogs traveled to Bigfork on Saturday the story had a slight twist. Whitefish took a two goal lead early in the first half when Menicke and Niath Edland scored a goal each. However, the Bulldogs allowed Bigfork's Ben Piskalns to score before halftime, cutting the lead to 2-1.
According to Lacey, his team struggled to play as a team and ended up making poor decisions with the ball. Brandon Mendoza on an assist from Chase Sabin finally netted one in the 68th minute to give Whitefish a bit of breathing room.
Despite getting the "W," Lacey said the guys were disappointed with how they played. Whitefish had 12 good looks on goal compared to two shots from Bigfork. And also had a whopping 17 corner kicks, giving the team plenty of chances.
"Our offense — we left a lot of goals out there," Lacey said.
The coach also acknowledged that Bigfork is a young, improved team and that their keeper Caden Riedesel played well. But he hopes the Bulldogs can learn from their mistakes in this game.
"That's a good reminder to us that stuff can happen in soccer, if we're not going to be tallying the goals and we're keeping games close at 2-1, that's a dangerous place for us," he said.
After a few game cancellations, Whitefish is not scheduled to play again until Sept. 15 when they face Bigfork again. Administrators and coaches are working to try to schedule more games.
In the meantime, Lacey said his team will buckle down in practice and work on bringing more intensity to the field.
"Frankly if the performance at Bigfork is going to teach us anything, it's that we need to be able to push ourselves in practice a little bit more so that we don't fall into this false complacency in games. Again 3-1 was a good result, but it didn't satisfy many people," Lacey said.
Whitefish 5, Hamilton 0
Hamilton 0 0 — 0
Whitefish 2 3 — 5
W - Brandon Mendoza (Gabe Menicke) 4:00
W - Mendoza (Chase Sabin) 21:00
W - Mendoza (Menicke) 45:00
W - Menicke 51:00
W - James Thompson (Ford Thompson) 67:00
Shots on goal — Hamilton 2, Whitefish 12; Goalie saves — Hamilton 7 (Sam Duerr), Whitefish 2 (Will Peppmeier); Corner kicks — Hamilton 1, Whitefish 14; Fouls — Hamilton 3, Whitefish 6.
Whitefish 3, Bigfork 1
Whitefish 2 1 — 3
Bigfork 1 0 — 1
W — Gabe Menicke 04:00
W — Niath Edland 28:00
B — Ben Piskalns 34:00
W — Brandon Mendoza (Chase Sabin) 68:00
Shots on goal — Whitefish 12, Bigfork 2; Goalie saves — Whitefish 1 (Will Peppmeier), Bigfork 9 (Caden Riedesel); Corner kicks — Whitefish 17, Bigfork 3; Fouls — Whitefish 5, Bigfork 5; Cards — Bigfork 1.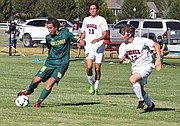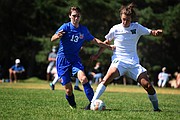 ---