Bulldog boys golf on top again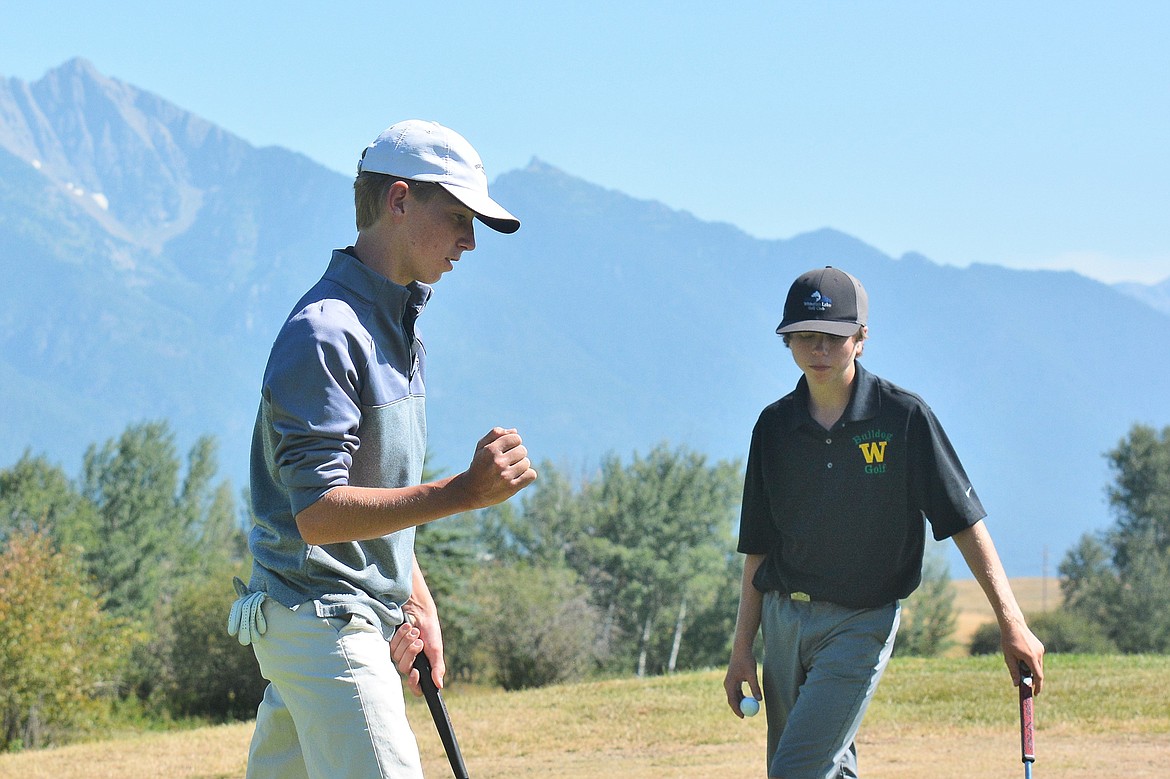 Bulldog golfer Billy Smith reacts to making his fifth birdie of the day to finish with a winning score of 67 at the Ronan Invitational Thursday, Aug. 27. (Jeff Doorn photo)
by
WHITNEY ENGLAND
Reporter
|
September 2, 2020 1:00 AM
The Whitefish boys golf team recorded two more first-place team victories last week, first in Columbia Falls on Wednesday, Aug. 26 and Ronan the following day, Thursday, Aug 27.
At the Columbia Falls Golf Invitational, senior Cameron Kahle led the Bulldogs with a score of 75 which was good enough for first in the boys individual results.
Billy Smith was not far behind with a score of 78, coming in third overall behind Hamilton's Tanner Hanson with a 77.
On the girls side, Anyah Cripe shot 96, which was the best score of the day among the Lady Bulldogs and good enough for fourth place overall.
Maddie Sramek scored 109 for sixth overall.
The next day in Ronan, the boys team finished on top of the pack again. This time led by Smith who shot five under par 72, which placed him as first overall. This time Smith beat out Hanson from Hamilton who came in second with a score of 73. Bulldog golfer Marcus Kilman came in third for the boys.
The Whitefish girls took fifth in the team scores in Ronan, led by Kendall Reed with a score of 94. Reed placed seventh in the girls individual results.
The Bulldogs host the Whitefish Triangular at the Whitefish Lake Golf Club on Thursday, Sept. 3 at 3:30 p.m.
Columbia Falls Golf Invitational
Aug. 26
Boys — Team scores
Whitefish 407; 2. Hamilton 461; 3. Columbia Falls 524; 4. Frenchtown 529; Corvallis 536.
Individual
1 C. Kahle (Whitefish) 75
3 B. Smith (Whitefish) 78
4 B. Olson (Whitefish) 82
6 M. Kilman (Whitefish) 83
8 J. Nix (Whitefish) 89
Girls
Team scores
Hamilton 588; 2. Frenchtown 641; 3. Columbia Falls 684
Not fielding a full team: Whitefish, Corvallis
Individual
4 A. Cripe (Whitefish) 96
6 M. Sramek (Whitefish) 109
11 A. Elm (Whitefish) 125
Ronan Golf Invitational
Aug. 27
Boys
Team scores
Whitefish 309; 2. Hamilton 345; 3. Ronan 353 4. Polson 354; 5. Columbia Falls 376; 6. Frenchtown 393; 7. Libby 402; 8. Browning 510.
Individual
1 B. Smith (Whitefish) 67
3 M. Kilman (Whitefish) 76
5 B. Olson (Whitefish) 81
6 G. Gilman (Whitefish) 85
23 M. Peschel (Whitefish) 99
Girls
Team scores
Ronan 400; 2. Polson 401; 3. Hamilton 415; 4. Frenchtown 412; 5. Whitefish 432; 6. Browning 439; 7. Columbia Falls 472
Individual
7 K. Reed (Whitefish) 94
19 M. Woody (Whitefish) 108
20 T. Workman (Whitefish) 110
28 M. Sramek (Whitefish) 120
---