Whitefish volleyball looks ahead to postseason play-in game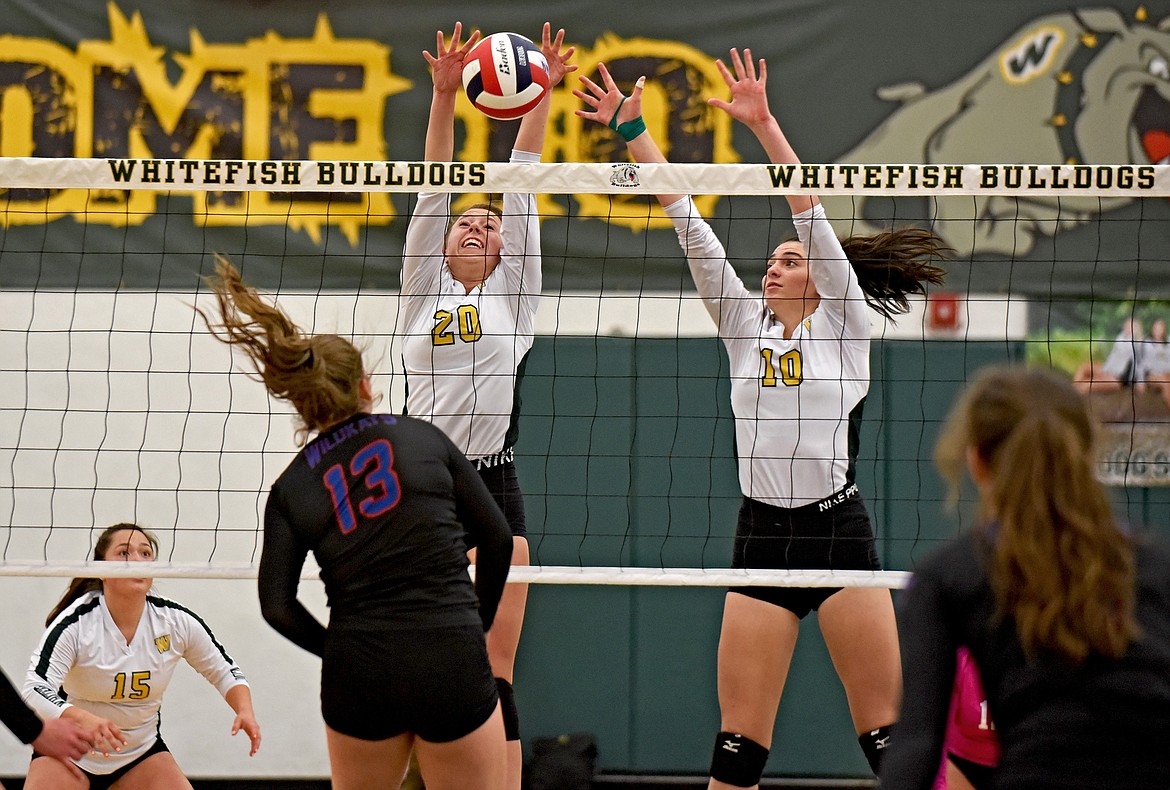 Lady Bulldogs Mikenna Ells (20) and Jadi Walburn (10) block Wildkat Grace Gedlaman's spike in a match Thursday in Whitefish. (Whitney England/Whitefish Pilot)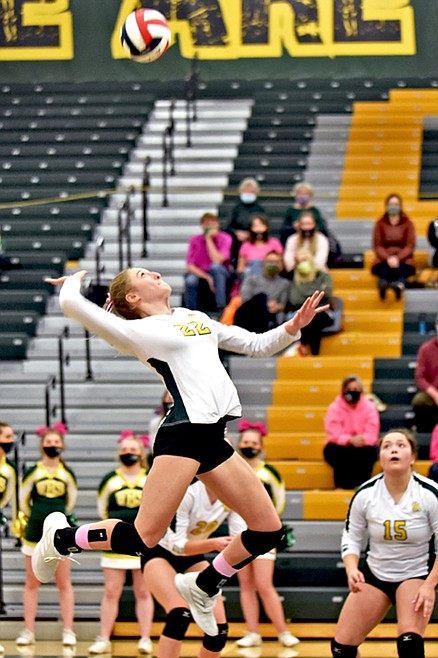 Whitefish freshman Brooke Zetooney lines up her attack against Columbia Falls Thursday at the Dog Pound. (Whitney England/Whitefish Pilot)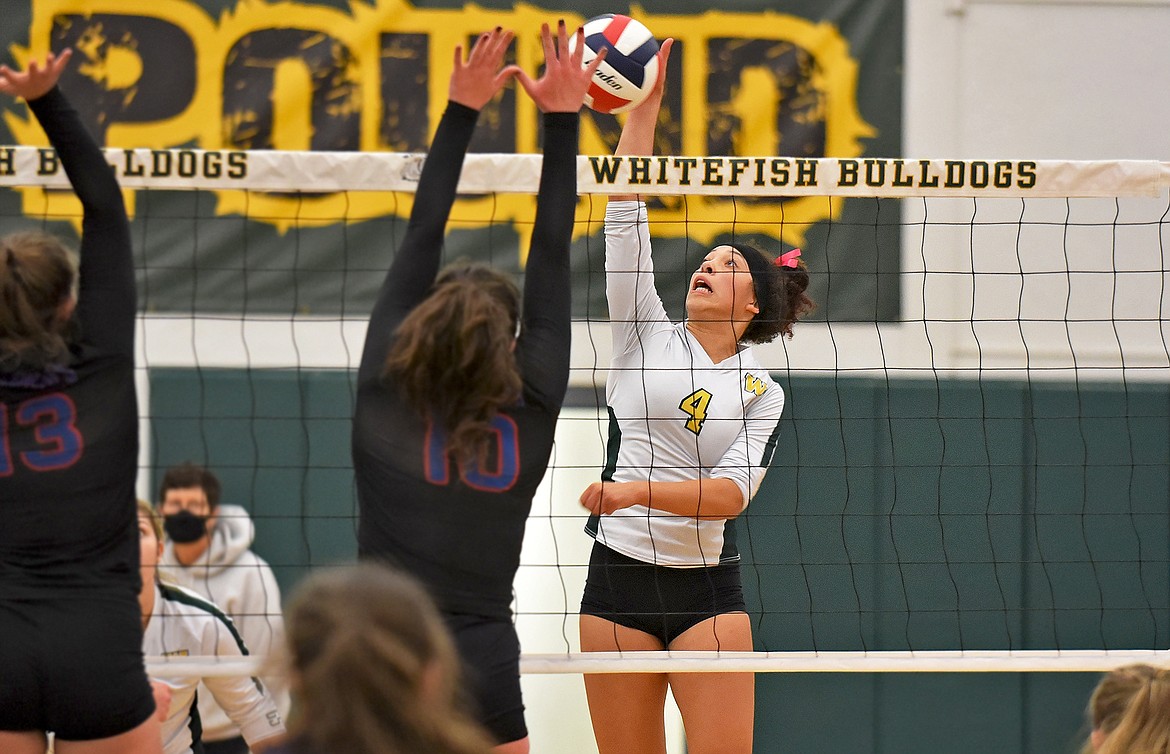 Whitefish's Emma Trieweiler rises above the net to spike the ball past Columbia Falls' Madeline Stutsman in a match on the Bulldog's home court Thursday evening. (Whitney England/Whitefish Pilot)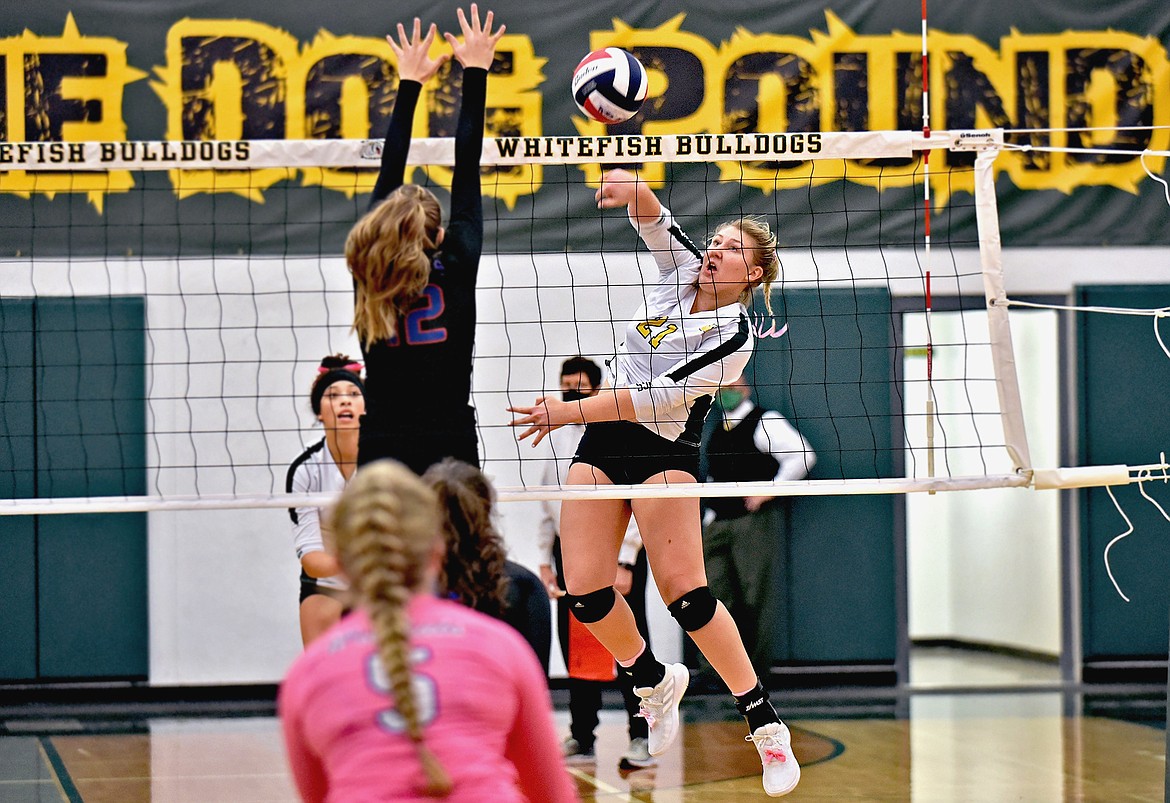 Lady Bulldog Brook Smith strikes the ball powerfully past a Columbia Falls blocker during a match in Whitefish Thursday evening. Smith led her team with eight kills. (Whitney England/Whitefish Pilot)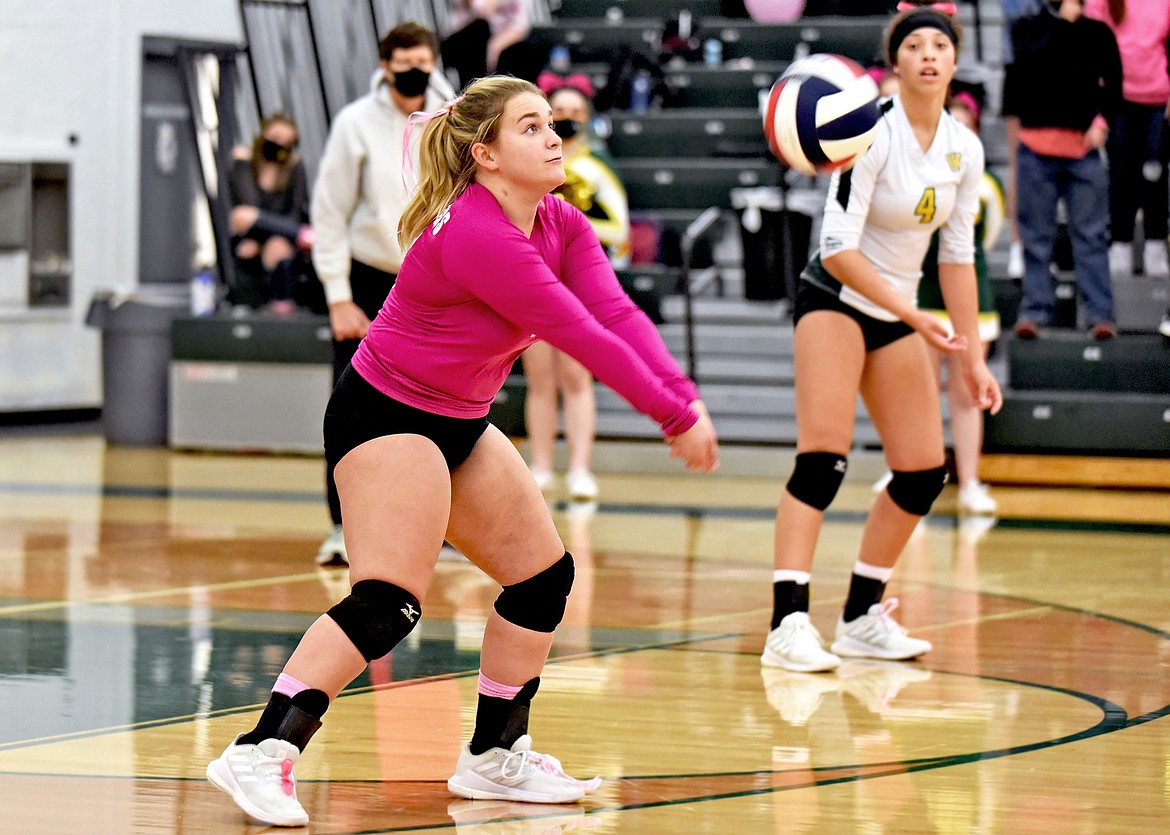 Whitefish libero Ashton Ramsey calmly recieves a serve from Columbia Falls in a match Thursday evening at the Dog Pound. Ramsey had 20 digs on the night. (Whitney England/Whitefish Pilot)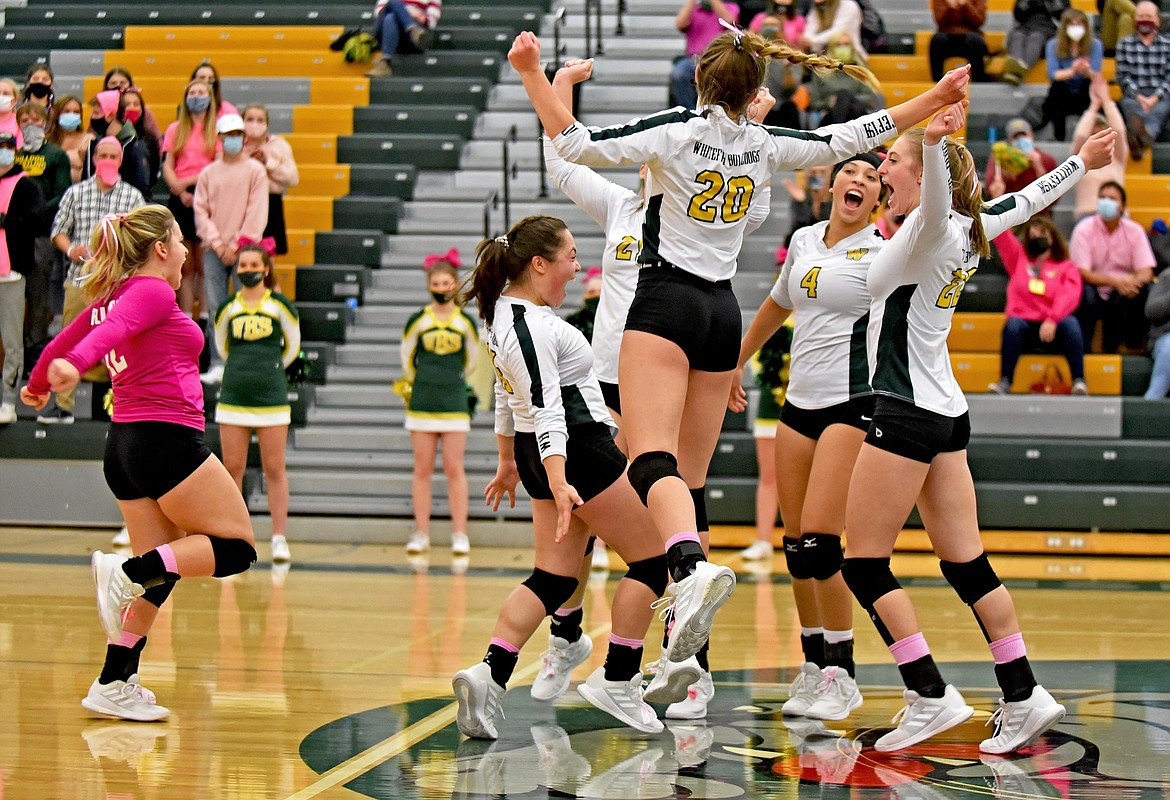 Whitefish volleyball players celebrate winning a point in a game against Columbia Falls Thursday in Whitefish. (Whitney England/Whitefish Pilot)
Previous
Next
by
WHITNEY ENGLAND
Reporter
|
October 28, 2020 1:00 AM
Last week the Lady Bulldog volleyball team jumped up into the third rank in the Northwest Conference after beating Ronan, but Whitefish could not defeat Columbia Falls which sent them back into fourth.
Despite the ups and downs in the postseason seeding, head coach Addy Connelly said her team played some of the best volleyball she's seen out of them this season. On Tuesday, Oct. 20, Whitefish traveled to Ronan to take on the Maidens which resulted in a 3-1 win.
Whitefish lost to Ronan earlier this season in four sets as well, but made sure to shore up previous mistakes in this one. Connelly said the Whitefish girls made sure to focus on what was working for them in the match and continually fed the hitters that were taking care of the ball.
"Our serving in the previous game was really off, and they were able to just focus and take care of their serving," Connelly said. "So we didn't have a lot of serving errors which allowed us to control the ball when we had that opportunity, and take them out of their game a little bit."
"We kept going outside to Brook Smith and she was able to put the ball down; Brooke Zetooney and Jadi Walburn did a nice job of slowing down their middle…" she added.
Smith finished the match with 17 kills, 21 digs and three aces; Zetooney recorded three blocks while Walburn had four.
Whitefish ended up defeating Ronan 26-24, 24-26, 25-12, 25-20, and then Thursday, Oct. 22 Whitefish hosted the undefeated Columbia Falls Wildcats. Although Whitefish lost in straight sets, the games were close and mostly only determined by a couple of points.
"Against Columbia Falls they played really well, we had some leads and just weren't able to stay with that momentum," Connelly said. "We kind of went up and down a few times, but it was probably some of the better volleyball that these girls have played."
She was impressed with the mental energy her team came out with and was not intimidated by Columbia Falls as they were in a previous matchup this season. They kept the sets close, but in the end Whitefish made major hitting errors on three of four game points which made it difficult to get the "W."
Last week Connelly was impressed with the play from Smith and Zetooney, who both showed great strength on the court. But she also called out Mikenna Ells for being a solid leader on the team all season. She went on to explain that Ells was previously a left-handed hitter, but her shoulder was troubling her and she was able to switch to doing everything on the court right-handed.
"She can serve right handed over the net which is insane, and hits the ball right handed and puts it down on the other side of the court," Connelly said. "So just an incredible athlete all the way around, but she's just a leader, a solid kid on top of everything, and she's just been steady all season for us."
Whitefish will need that steady play and leadership with a complicated schedule on the horizon. As the postseason nears, Whitefish finishes out regular season play this week with games against Bigfork, Eureka and Browning. The girls will then compete in a play-in game on Monday, Nov. 2 to determine the top four teams from the Northwest A. Connelly is expecting to face Libby who is the fifth seed right now and Whitefish is fourth.
If Whitefish wins the play-in game, they will advance to divisionals. The tricky part though is that there will not be a standard divisional tournament as in previous years. Whitefish will have to travel to matches at different sites across western Montana Nov. 5-7, whichever team has the higher seed will host the games, potentially playing in a new city every day.
Whitefish was set to play Eureka at home on Tuesday after press time and Browning at home on Friday at 5 p.m.
"We're excited to have made it this far and healthy for the most part," Connelly concluded.
Whitefish def. Ronan 26-24, 24-26, 25-12, 25-20
Kills — Whitefish 30 (Brook Smith 17, Brooke Zetooney 4), Ronan 34 (Madeline McCrea 17); Digs — Whitefish 93 (Ashton Ramsey 30, Smith 21), Ronan 62 (Rylie Lindquist 15, Lareina Cordova 15); Blocks — Whitefish 9 (Jadi Walburn 4, Mikenna Ells 3, Zetooney 3), Ronan 8 (McCrea 5); Assists — Whitefish 24 (Ells 13, Jenny Patten 10), Ronan 32 (Leina Ulutoa 18); Aces —Whitefish 10 (Smith 3, Patten 3, Walburn 3), Ronan 8.
Columbia Falls def. Whitefish 25-20, 25-23, 26-24
Kills — Whitefish 20 (Brook Smith 8), Columbia Falls 39 (Mady Hoerner 9, Dillen Hoerner 9); Digs — Whitefish 64 (Ashton Ramsey 20, Smith 17), Col Falls 46 (Jazzy Marino 13); Blocks — Whitefish 4, Col Falls unspecified; Assists — Whitefish 19 (Ells 9, Jenny Patten 10), Col Falls 27 (Maddie Stutsman 27); Aces —Whitefish 4 (Patten 3), Col Falls 6.
---