Whitefish to meet rival Columbia Falls in state championship game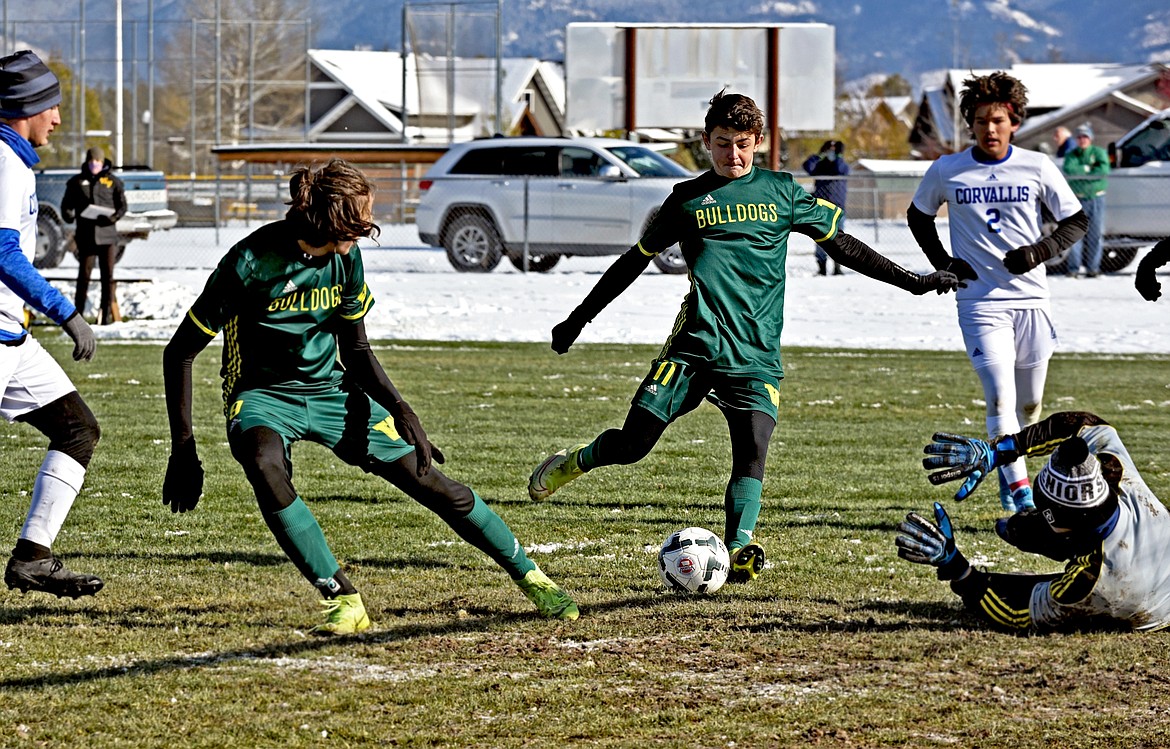 Whitefish freshman Collin Lyman scores a goal in the first half against Corvallis in a Class A semifinal match Saturday at Smith Fields. (Whitney England/Whitefish Pilot)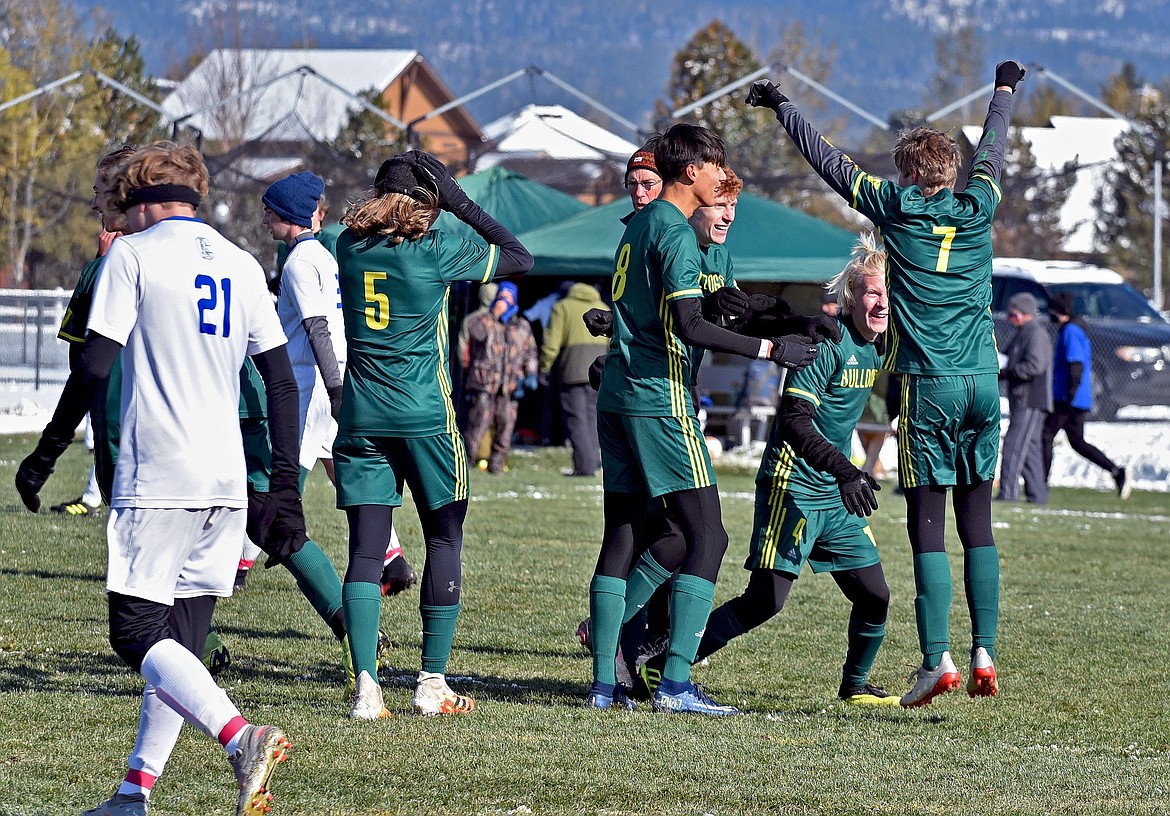 Whitefish's Aaron Dicks (7) celebrates his first-half goal with his teammates as the Bulldogs defeat Corvallis 6-0 in a Class A semifinal match Saturday. (Whitney England/Whitefish Pilot)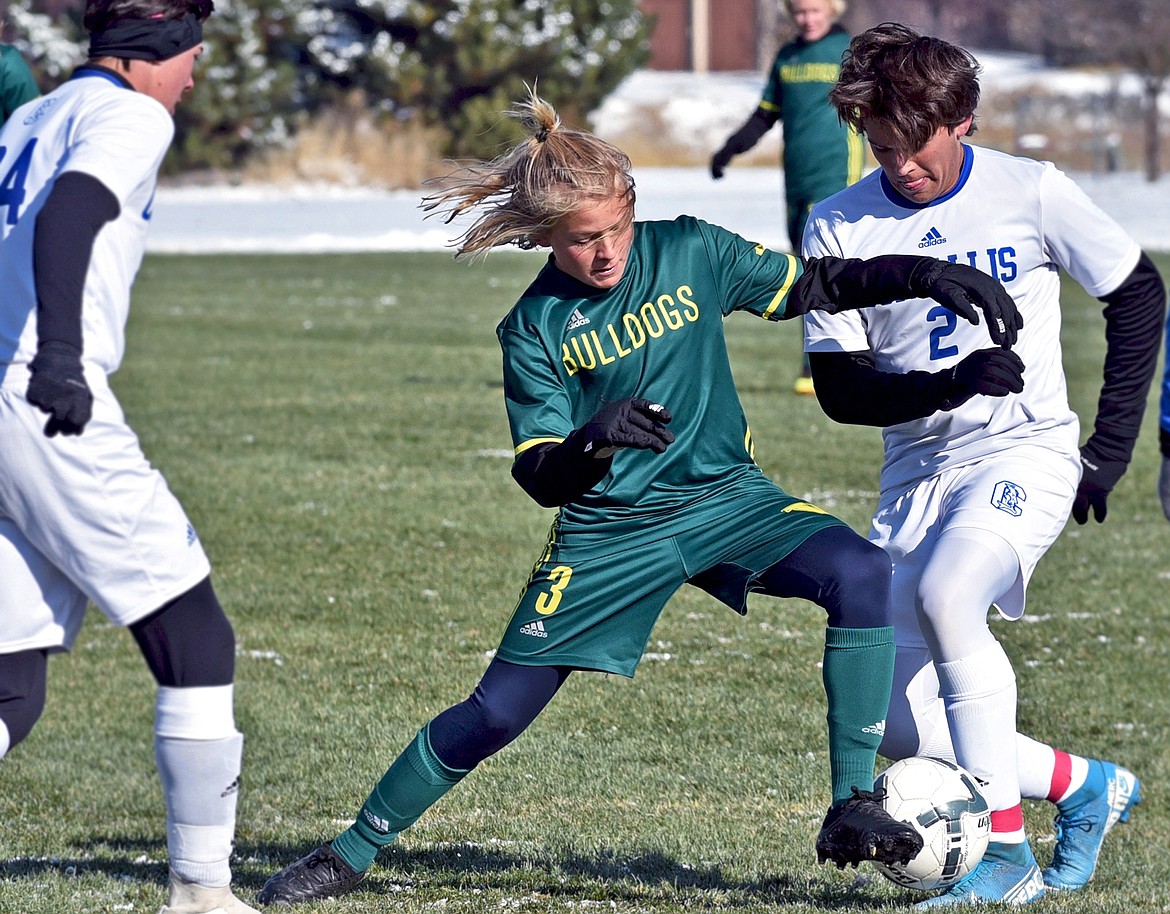 Whitefish's Chase Sabin tries to dribble around a Corvallis defender during a Class A semifinal game at Smith Fields on Saturday. (Whitney England/Whitefish Pilot)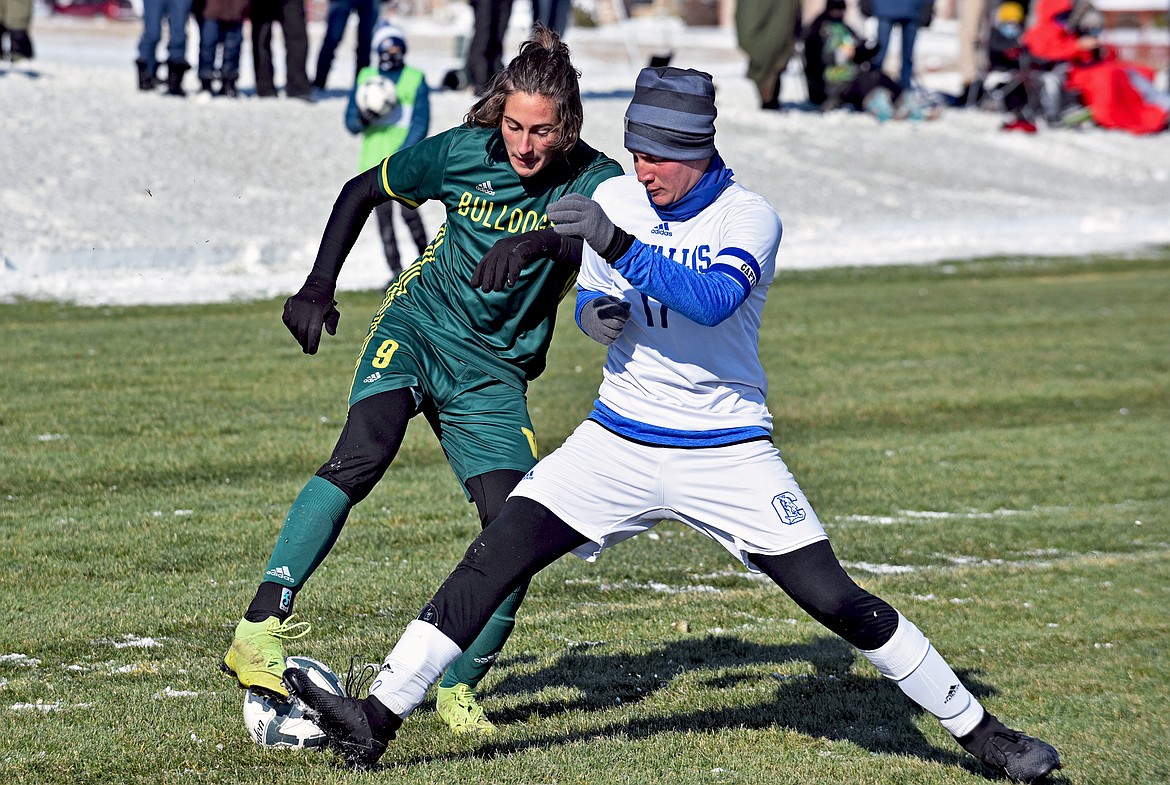 Whitefish midfielder Gabe Menicke cuts the ball back behind a Corvallis defender during a Class A semifinal game at Smith Fields on Saturday. (Whitney England/Whitefish Pilot)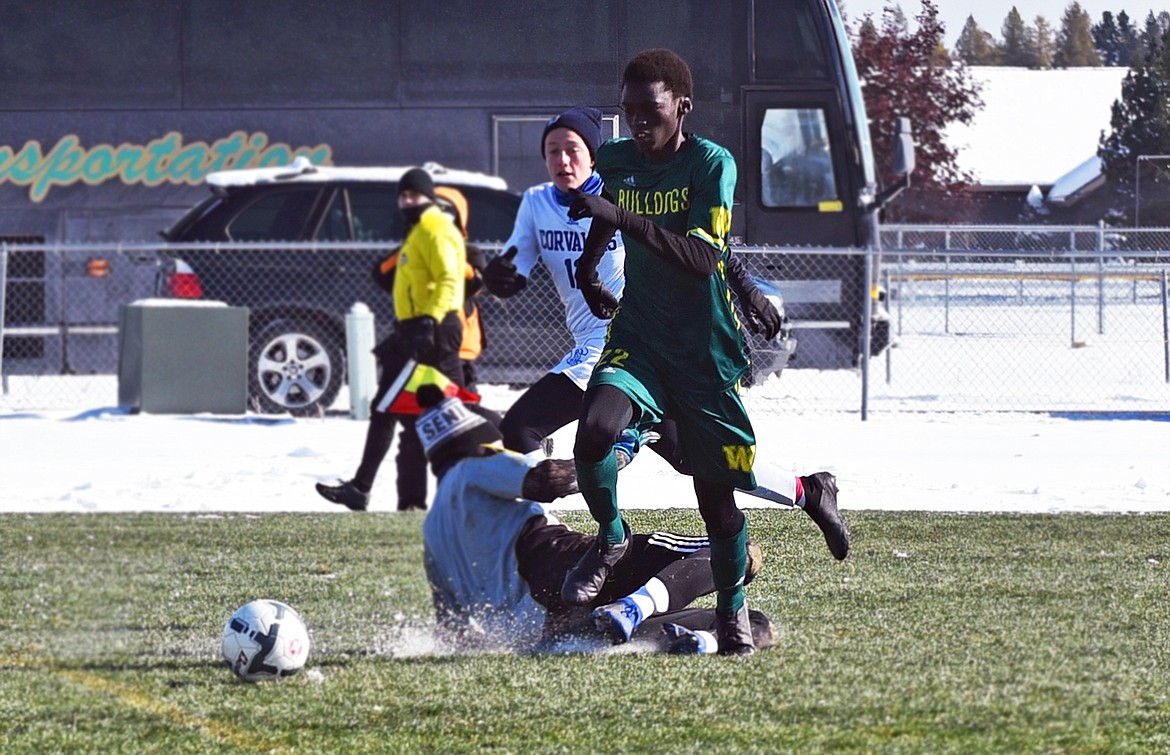 Whitefish senior Marvin Kimera beats Corvallis' goalkeeper on his way to scoring in the second half of a Class A semifinal Saturday at Smith Fields. (Whitney England/Whitefish Pilot)
Previous
Next
by
WHITNEY ENGLAND
Reporter
|
October 28, 2020 1:00 AM
Few teams have actually challenged the Whitefish boys soccer team this season.
Even in the first two rounds of the playoffs, the Bulldogs managed to win by a margin of at least three goals and keep their opponents scoreless. But the team that's come the closest to knocking a game off Whitefish's 43-game undefeated streak is Columbia Falls. Now the Wildcats are the last obstacle in the way of Whitefish soccer becoming three-peat state champions.
"We know them, they certainly know us," Whitefish soccer head coach John Lacey said regarding preparing to face the Wildcats for the third time this season.
In order to earn this trip to the finals, last Saturday during an extreme October cold snap, Whitefish defeated Corvallis 6-0 in a semifinal playoff match. The Bulldogs left no doubt that they deserved to move on after piling on three goals in each half.
Whitefish dictated the play early on and the scoring started flowing when senior James Thompson fired a shot from the top of the box that put his team up 1-0 in the 18th minute.
Bulldog midfielder Aaron Dicks added a goal in the 33rd minute and just two minutes later freshman forward Collin Lyman found himself in perfect positioning to tap in a goal after Corvallis' goalkeeper came out to challenge Dicks driving into the box yet again.
"Getting the two goals at the end of the first half again was a big step for us because coming back from a 3-0 deficit is going to mentally be very challenging for any team," Lacey said. "Going into halftime that really helped, it allowed us to come back out and play a little more free and go at them still in the second half."
Whitefish's Gabe Menicke and Marvin Kimera each scored in the second half off assists from Dicks and Lyman added one more to cap the scoring in the 78th minute. Although Corvallis got few looks at the goal, when they did the shots were on target. Whitefish keeper Will Peppmeier saved all six of the Blue Devils shots to maintain the clean sheet.
Conditions Saturday were challenging as a bitter cold wind consistently blew throughout the day. Prior to the game, community members came together to form a plan to plow5 inches of snow from the field that fell overnight and prepare the playing surface.
"First and foremost, I'm just super appreciative of our whole community," Lacey said. "We saw what was coming in the weather… Plans were in place and equipment gathered so that by the time the cold and snow was really on us that Saturday morning everybody was ready to go and we ended up with a fantastic facility because of all that volunteer help."
Lacey also mentioned that although it was definitely cold, the conditions actually favored the way his team plays. The pitch was fast and the Bulldogs like to keep the ball on the ground moving it quickly between players, because of that the cold was actually an advantage for Whitefish.
"We felt really comfortable about (the conditions), again we embraced the moment and were pretty pleased with the way it turned out," he said.
Just seven miles away, the Columbia Falls boys team beat Billings Central 2-1 in a second-half comeback victory which set up the ultimate final match between two rivals. Whitefish will host the championship match because it has the better record over the Wildcats.
Lacey admitted that there will be an extra mental battle in facing Columbia Falls in this significant game, but he believes the Bulldogs are up for the challenge.
"What we like is that as the stakes go up, we've seen this over the years, our boys tend to get crisper, they tend to get sharper," Lacey said. "The fact that it's against Columbia Falls, again it's going to allow us to really focus our preparation this week… They've given us strong games throughout the years and this year again, three out of the four halves we've played them this year we've been equal.
"I think that the focus of playing someone we know and we know is good enough to beat us if we don't play well, that's a source of confidence for our boys. They're going to prepare, they'll be ready," he added.
Whitefish has won 12 games this season and has not lost a game since the state final in 2017, winning 41 games and tying two during that stretch. One of the ties came against Columbia Falls earlier this fall, and recently on Oct. 3 the Bulldogs had a big second half to defeat the Wildcats 5-0.
Whitefish will host Columbia Falls in the Class A State Championship match Saturday at 11 a.m. at Smith Fields.
Corvallis 0 0 — 0
Whitefish 3 3 — 6
WF - James Thompson (Gabe Menicke), 18:00
WF - Aaron Dicks (Brandon Mendoza), 33:00
WF - Collin Lyman (Mendoza), 35:00
WF - Menicke (Dicks) 44:00
WF - Marvin Kimera (Dicks), 56:00
WF - Lyman (Niath Edland), 78:00
Shots on goal - Corvallis 6, Whitefish 12. Goalie saves - Corvallis 6 (Hunter Linnewah), Whitefish 6 (Will Peppmeier). Corner kicks - Corvallis 3, Whitefish 6. Cards - Corvallis 2, Whitefish 1.
---