City limits operations for bars, restaurants for Halloween weekend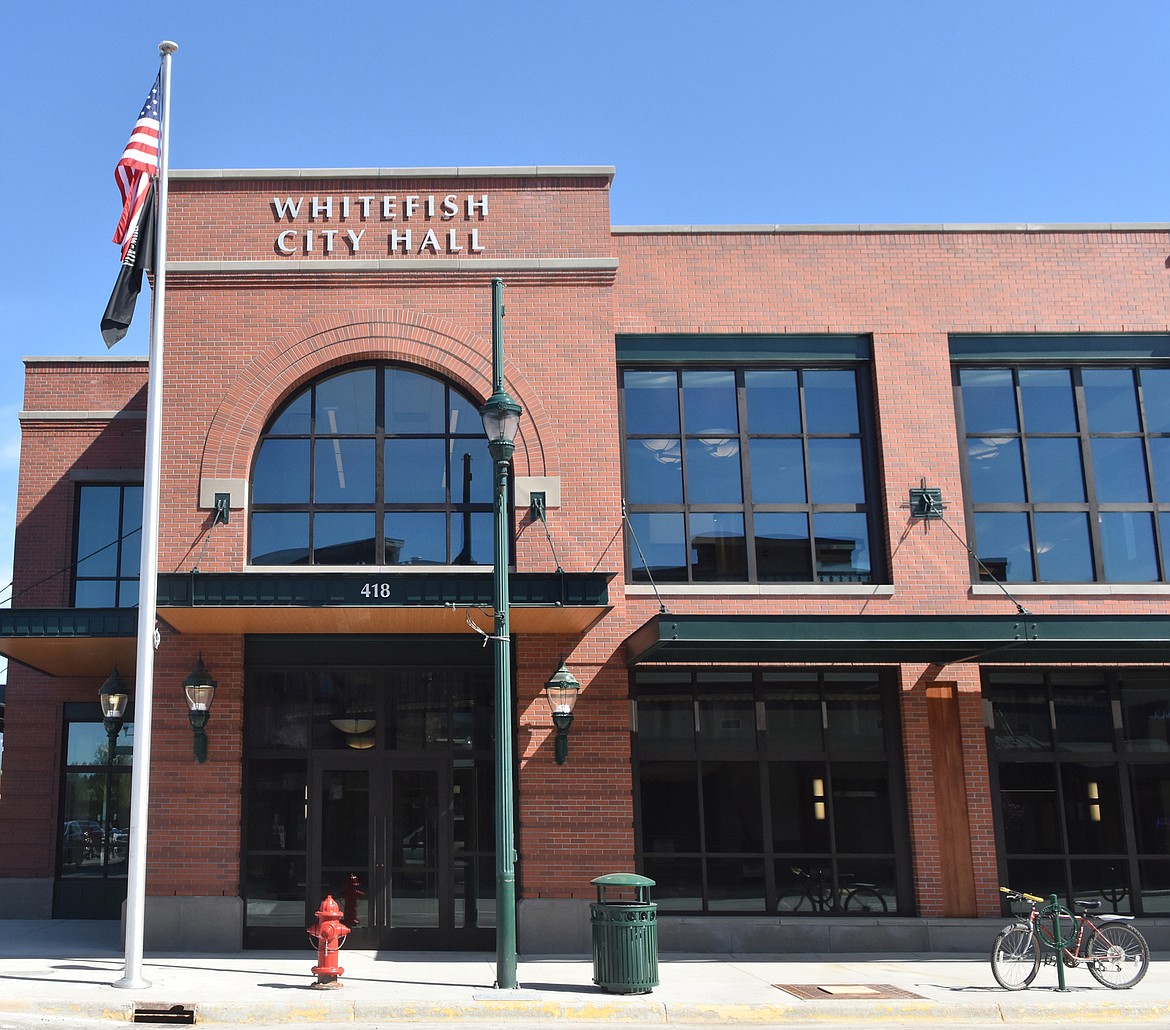 Whitefish City Hall at the corner of East Second Street and Baker Avenue. (Heidi Desch file photo/Whitefish Pilot)
(Heidi Desch file photo/Whitefish Pilot)
by
HEIDI DESCH
Daily Inter Lake
|
October 27, 2020 2:00 PM
Whitefish is restricting operations at bars and restaurants, as well as limiting gatherings, for the Halloween weekend saying the measures are an attempt to slow the spread of COVID-19.  
City Council on a split vote of 5-1 during a special meeting Monday night approved an emergency ordinance that requires bars and restaurants to close at 11:30 p.m. on Friday, Oct. 30 and Saturday, Oct. 31.
In addition, only a maximum of six people can also be seated at a table and individuals are prohibited from sitting or standing at bars and counters. Public and private gatherings are also limited to no more than 10 individuals, unless it's possible to maintain social distancing.
Councilor Ryan Hennen was the only vote against the ordinance saying that businesses are already trying to comply with state regulations. 
"There's a lot of businesses doing a great job, unfortunately we have a few businesses who feel they don't have to follow regulations," he said. "This is a tough decision because all the people who work in bars and restaurants rely on tips and if they don't get those they can't make rent or put gas in their cars. I think bars and restaurants are becoming the scapegoat here."
Councilor Andy Feury said there has been overwhelming support for tougher restrictions for the upcoming weekend.
"Halloween presents a clear and present danger to our community," he said.
The Halloween holiday is known to be a busy one at Whitefish restaurants and bars, and Council has expressed concern that the weekend could become a "superspreader" event for COVID-19. Council in a letter to the Flathead City-County Health Board also expressed dismay at the board's recent denial of tighter restrictions on businesses as the county sees a spike in cases.
The annual trick-or-treating event for children that takes place downtown during the afternoon of Halloween at businesses has already been canceled.
Whitefish had originally proposed limiting operating capacity to 50%, but some Councilors felt that would be too restrictive for all businesses covered under the ordinance so chose to place the number at 75%, which follows state regulations that are already in place. However, the city officials say by enacting its own ordinance that gives the city the ability to enforce regulations that it doesn't have as state regulations are enforced by Flathead County.  
Mayor John Muhlfeld said encouraging businesses to voluntarily follow safety measures is important.
"I still hang my hat on the fact that we can accomplish a lot and have businesses help keep the spread down," he said. "Most business owners are very well interested in this community and want to do the right thing."
The limitations don't apply to the gatherings in the schools and at daycares, but it does restrict the size of gatherings at churches.
During the meeting, Councilor Ben Davis said some businesses are already complying with state regulations that restrict operations and limiting that even further makes it tough for businesses to operate.  
"The bar packed at 75 percent is very different than the restaurant that is trying to seat people for an evening meal," he said.
Violation of the emergency ordinance could result in the suspension or revocation of any business license.
Those found to be in violation also could face a fine of up to $300 for the first offense and up to $500 for the second.
Police Chief Bill Dial said that those standing outside bars and restaurants will be asked to disperse rather than gather. Officers are expected to walk through bars and restaurants and those not in compliance will be turned over to the city attorney's office.
"The requirement to wear masks and social distance is hard to enforce, but we will do our best," he said. "The important part is to get the word out about this, which is a daunting task. We don't want to have people show up with no place to go."
About 60 people attended the remote special Council meeting Monday. Roughly 50 emails were sent to the city regarding the ordinance with 73% in favor of the ordinance, according to the city.
A handful of people spoke during the meeting with most saying they supported the emergency ordinance.
Lauren Oscilowski, who owns Spotted Bear Spirits, said she supports the city's efforts to slow the spread of COVID-19, but also asked them to take into consideration that businesses are struggling. She said her business was down 50% in July over the previous year.
"As a business owner, I'm a little concerned that there's a difference between implementing further restrictions and those not being enforced and whether that's going to make a difference," she said. "There's not a huge spread happening if bars and restaurants are following the guidelines."
Tamalee St. James Robinson, Interim Health Officer with the Flathead City-County Health Department, said right now the county is doubling the number of positive cases of COVID-19 roughly every 28 days and hospitals around the state are being forced to send patients here making it taxing on the local health care system. The county has about 650 active cases and a total of more than 3,000 confirmed cases of the virus. There have been 26 deaths in the county related to COVID-19.
Robinson said she supports Whitefish's restrictions on businesses.
"I appreciate your efforts to stop the spread with reasonable approaches and safeguard our community and businesses in ways that will help keep businesses and schools open," she told Council. 
She noted that incidents of spreading the virus are coming from social gatherings outside of schools and businesses. The largest group for those testing positive for the virus, she noted, is the 20 to 40 age range, and that comes often from those who are in the service industry and are gathering socially outside their work at bars and restaurants.
"Those folks who work together, but then also hang out together after hours," she said. "That's the big outbreak we're seeing is in that age range for what they do outside the walls of work."
Also on Monday, the Mayor and Council sent a letter to the county health board regarding its recent decision not to enact restrictions on gatherings and bars and restaurants as recommended by the health officer based upon increasing confirmed cases of COVID-19 in the county.
"Your decision was in disregard of the health and well-being of the citizens you purport to represent," Council said. "We ask you to reconsider and support our city in preventing the spread of this disease."
In the letter, Council says COVID-19 is "real, and its implications are devastating our county."
"We ask for leadership and compassion as you make county-wide decisions," the letter says. "Your inability to enact vital ordinances to keep our county healthy puts communities such as ours in the position of having to consider enacting restrictions to slow the spread of COVID-19 without any county support. Again, we must unify. We need a clear, coordinated approach to bring this surge under control rather than a patchwork of regulations and enforcement."
The Montana Department of Public Health and Human Services last week filed complaints against four Flathead County businesses alleging the entities violated COVID-19 directives by failing to ensure employees and patrons wore masks. Gov. Steve Bullock has also pointed to Flathead and Yellowstone as COVID-19 hot spots saying county officials needed to do their part to curb the virus.
Robinson said she supported the state filing lawsuits against the businesses.
The county health department on Monday issued another reminder asking citizens to modify Halloween celebrations to include COVID-19 precautions. It recommended that folks celebrate the holiday with lower risk activities such as carving pumpkins with members of your household, decorating you house, having a virtual Halloween costume contest or having a Halloween movie night at home.
The U.S. Centers for Disease Control and Prevention considers traditional trick-or-treating to be a higher risk activity for COVID-19 transmission.
The city is also asking for public comment at its Nov. 2 meeting for a public hearing on COVID-19 measures, including restrictions and guidelines in the state's Phase 1 directive.
Those could include limiting bars, restaurants and casinos to 50% capacity and closing no later than 11:30 p.m., avoid gathering in groups of more than 10 with proper social distancing, encouraging telework, close common areas, accommodate alternate work schedules and make special accommodations for members of a vulnerable population.
Muhlfeld said he would like more information about the city's ability to enforce such restrictions before implementing them beyond the Halloween weekend.
"We really need to look at the enforcement end of things," he said. "I'm not a fan of legislating just for the sake of legislating, and it has to be meaningful at the end of the day and target our main purpose to protect the safety of our residents and tourists."
Council is meeting remotely through WebEx, for more information on logging in to the meeting visit the city's website at www.cityofwhitefish.org or call 863-2400. Comments can be sent by 4 p.m. on Nov. 2 via email to mhowke@cityofwhitefish.org.
Recent Headlines
---