Coco, Brooks top runners at LeGrizz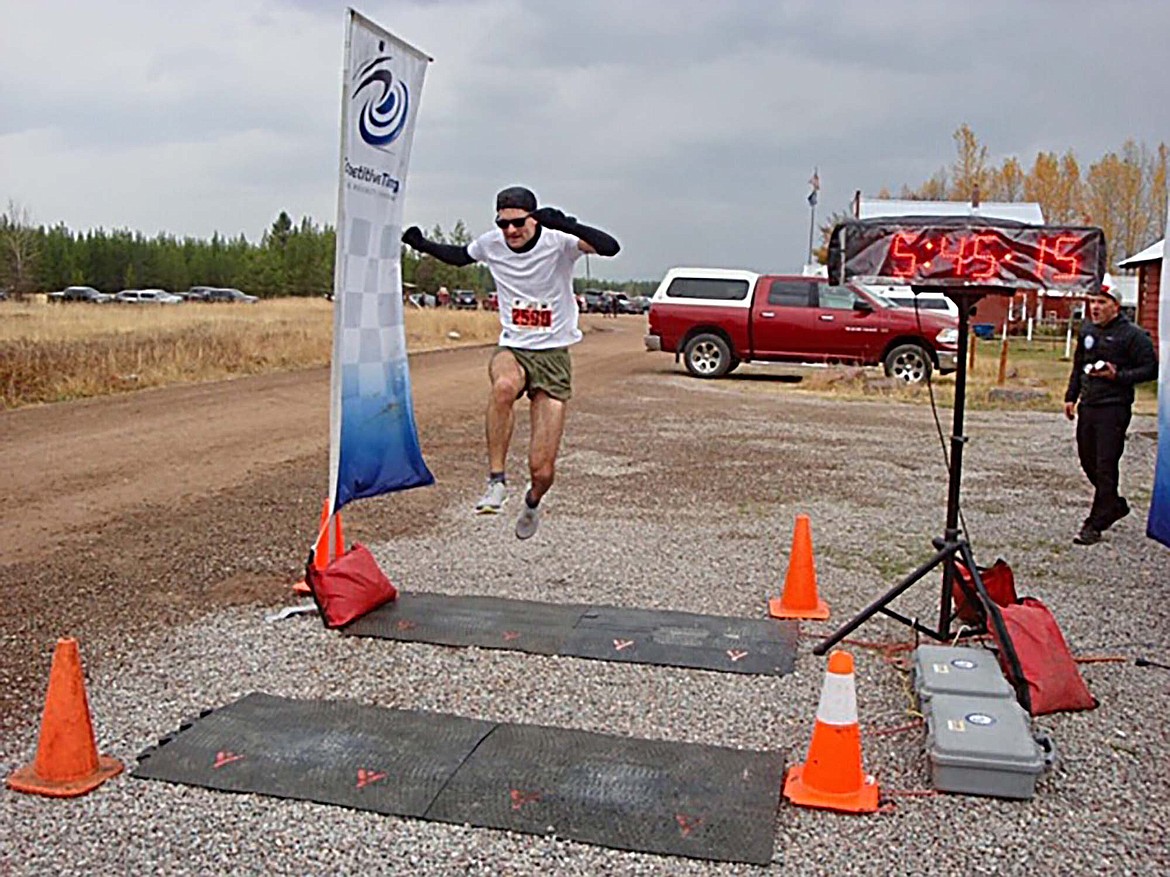 Drew Coco of Whitefish jumps into the finish line of the LeGrizz 50-mile ultra marathon on Saturday at Polebridge. (Courtesy photo)
|
October 21, 2020 1:00 AM
The 39th running of the LeGrizz 50-mile ultra marathon on Saturday, Oct. 10 had a decidedly local flavor with several of the finishers calling the Flathead Valley home.
Whitefish runner Drew Coco, 29, was the overall winner for the men with a time of 5 hours and 45 minutes. Heather Brooks, 32, of Missoula was the top female runner with time of 7 hours and 57 minutes.
There were 57 racers who completed the race, which meanders along the North Fork of the Flathead River starting and finishing at the Polebridge Mercantile.
Others who topped the leader board were Hannah Palmer, 35, Kila, who earned second place for women with time of 8 hours and 12 minutes; Somer Treat, 42, of West Glacier, finished in first place in the women's masters category with a time of 9 hours and 43 minutes; and Suzanne Hildner, 65, of Whitefish who earned first place in the senior women division finishing with a time of 13 hours and 31 minutes.
On the men's side other local finishers included Cody Moore, 25, of Kalispell, was third overall, and Tristin Scott, 38, of Whitefish, was fifth overall.
The men's masters winner was Jason Delaney, 40, of Polson, with time of 6 hours and 7 minutes, and the senior winner was Kevin Simpson, 54, of Birmingham, Alabama, with a time of 9 hours and 2 minutes.
Other local finishers included Anie Gustafson, Beth Steele, Nolan Ball, Adam Sommers, Jim Baker, Jeff Metsky, Matt Sedlacek, Jon Blankenship, Kevin Miller and Richard Hildner.
Somer Treat also received the Pat Caffrey Spirit of LeGrizz award for her support of trail running in the Flathead and specifically for her dedication to the LeGrizz Ultra-marathon.
The race sponsor, the Polebridge Mercantile, donated $500 to Montana Special Olympics. In a normal year Special Olympians run one of the aid stations but this year, due to COVID-19, they were unable to participate, noted Race Director Flannery Coats. 
The North Fork Land Owners Association was once again the host for the race providing volunteers and on course support.
Coats also noted the generous support provided by the Flathead's own Hammer Nutrition who kept runners fueled. Competitive Timing of Whitefish was responsible for tracking runner's times.
Coats said she is expecting a large turnout next year when LeGrizz celebrates its 40th anniversary.
The race is always held the second Saturday in October. LeGrizz is one of the oldest continuously run 50-mile events in the world. 
---