Bulldogs eying playoff first round as No. 1 seed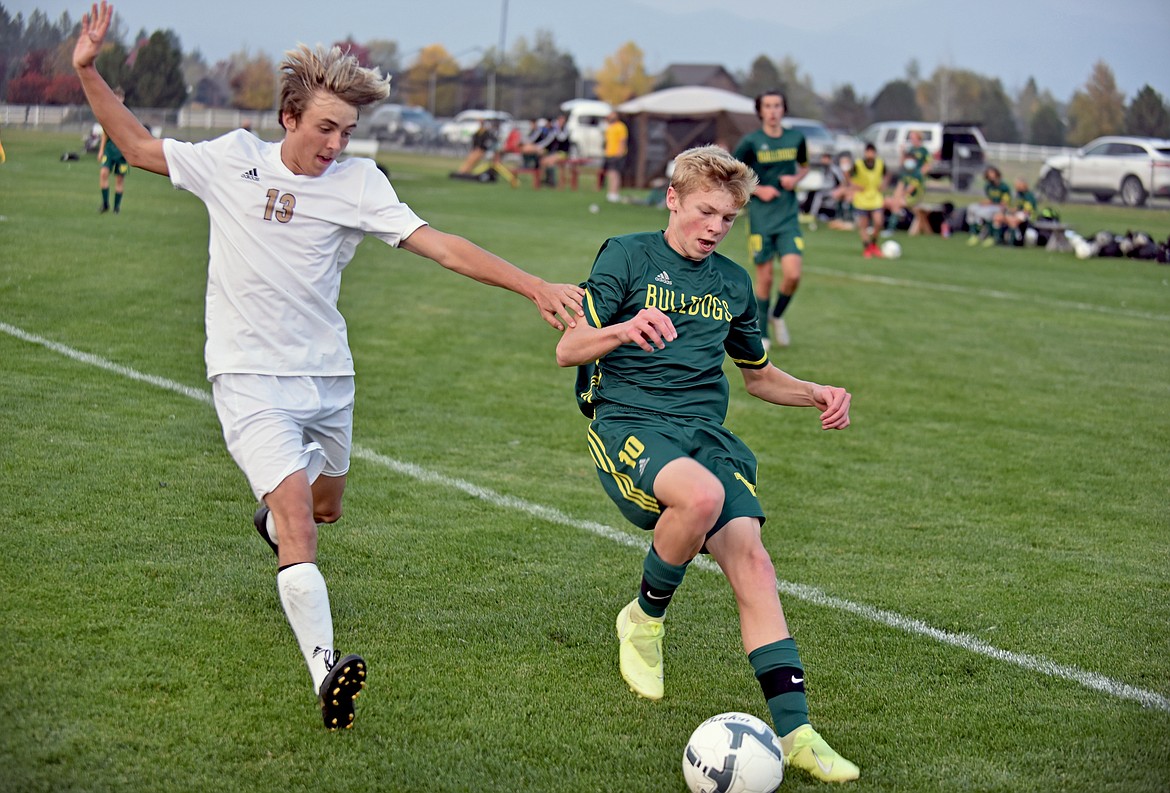 Whitefish freshman Jackson Dorvall saves the ball from going out of bounds during a game against Polson at Smith Fields on Thursday, Oct. 8. (Whitney England/Whitefish Pilot)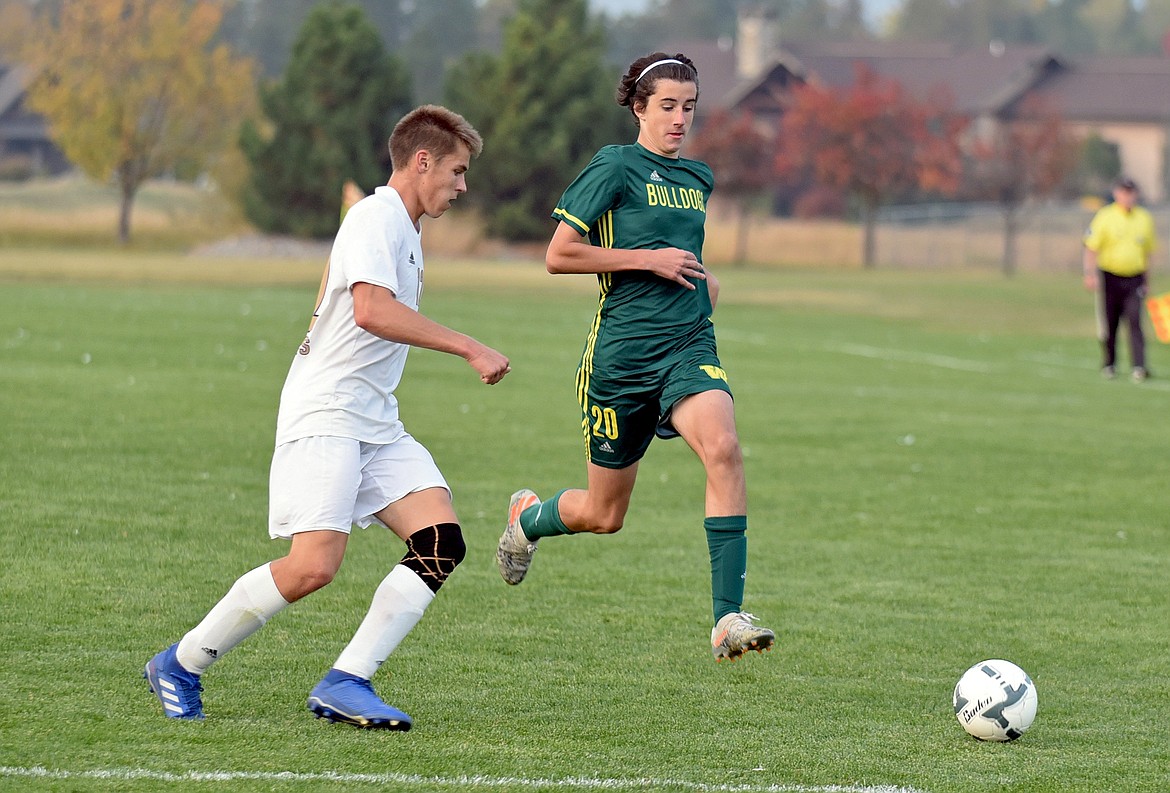 Whitefish midfielder Ford Thompson takes the ball into the Pirates box during a game against Polson at Smith Fields on Thursday, Oct. 8. (Whitney England/Whitefish Pilot)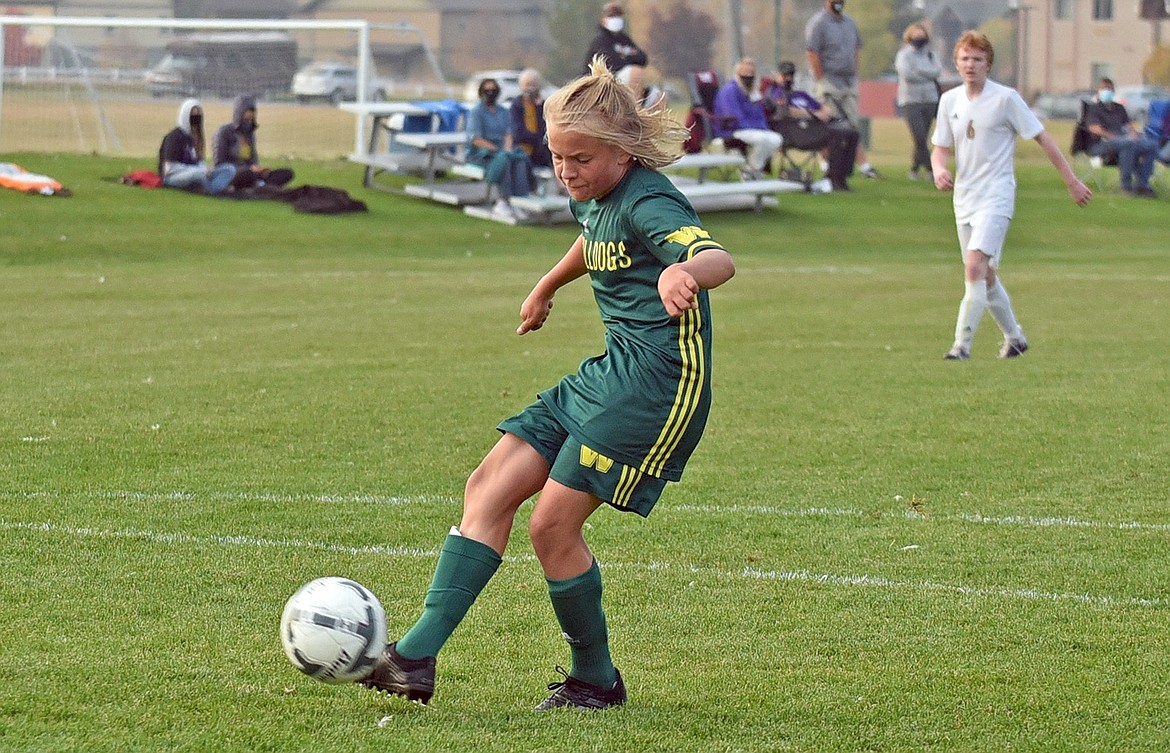 Bulldog Chase Sabin drives a shot toward the goal in a game against Polson at Smith Fields on Thursday. (Whitney England/Whitefish Pilot)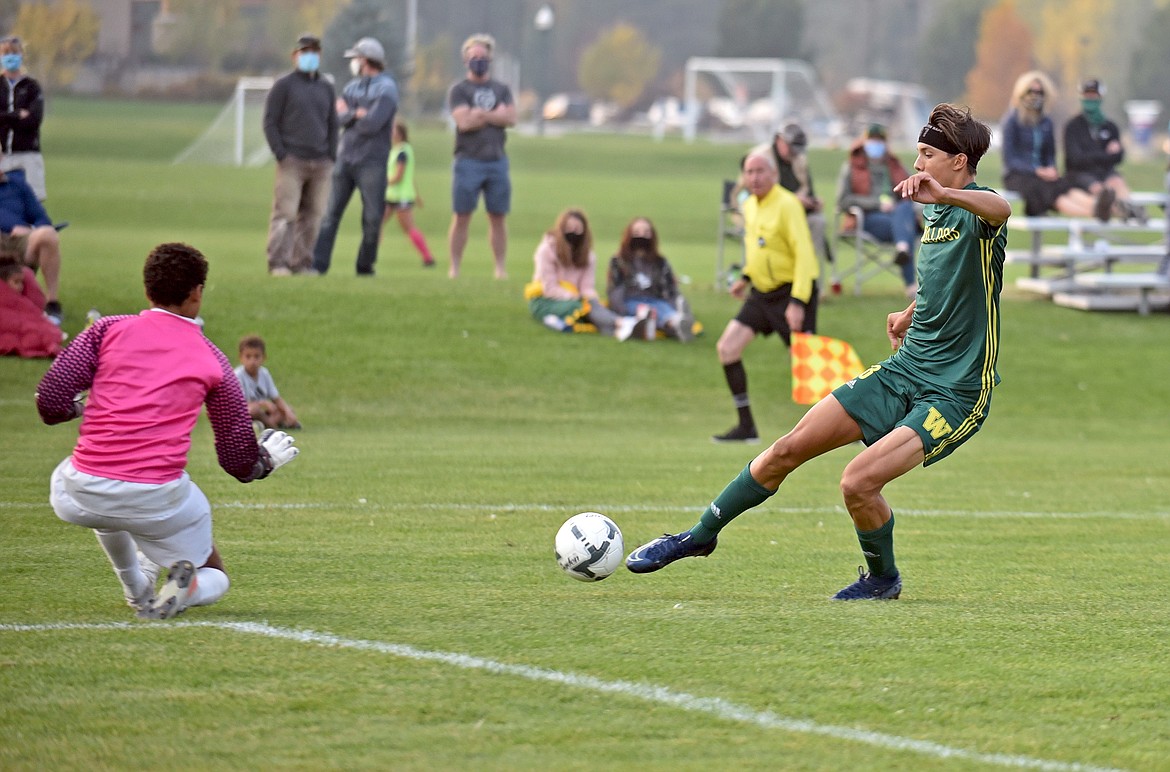 Whitefish's leading goal scorer and senior Brandon Mendoza challenges Pirate keeper Tristian Clifford during a game against Polson at Smith Fields on Thursday, Oct. 8. (Whitney England/Whitefish Pilot)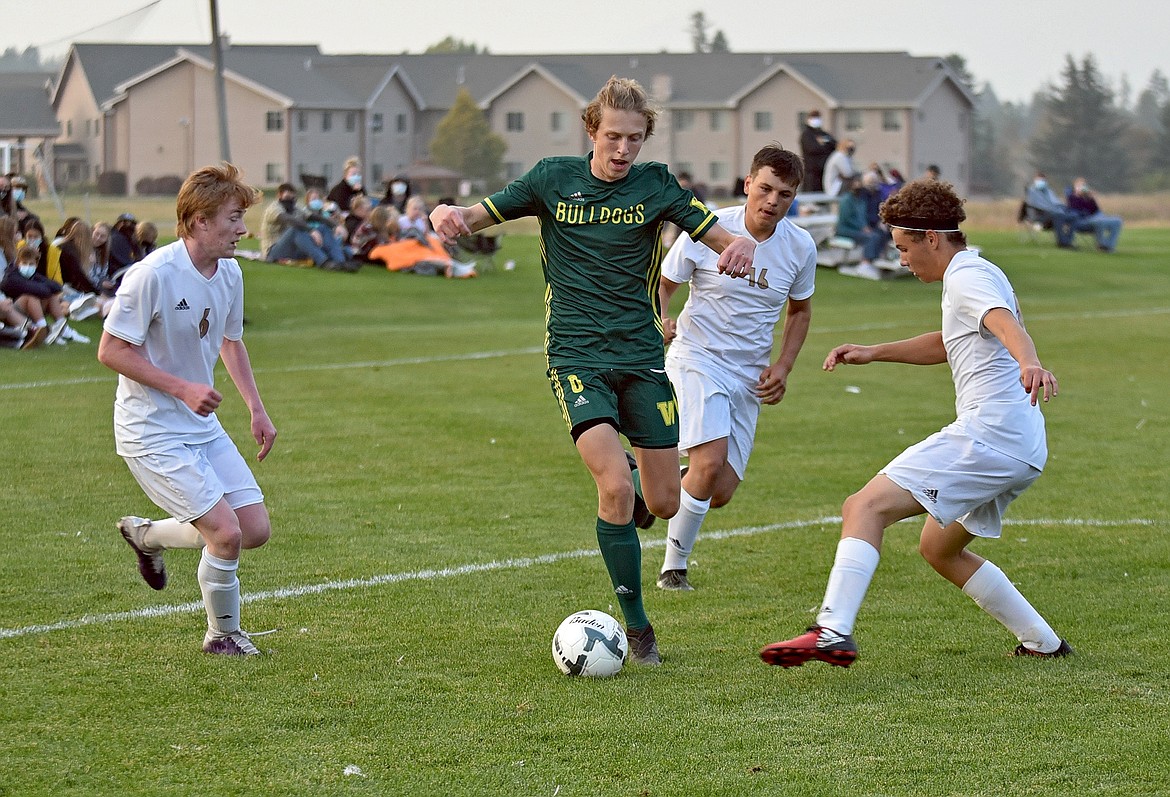 Whitefish junior Darby McCarthy takes on three defenders during a game against Polson at Smith Fields on Thursday, Oct. 8. (Whitney England/Whitefish Pilot)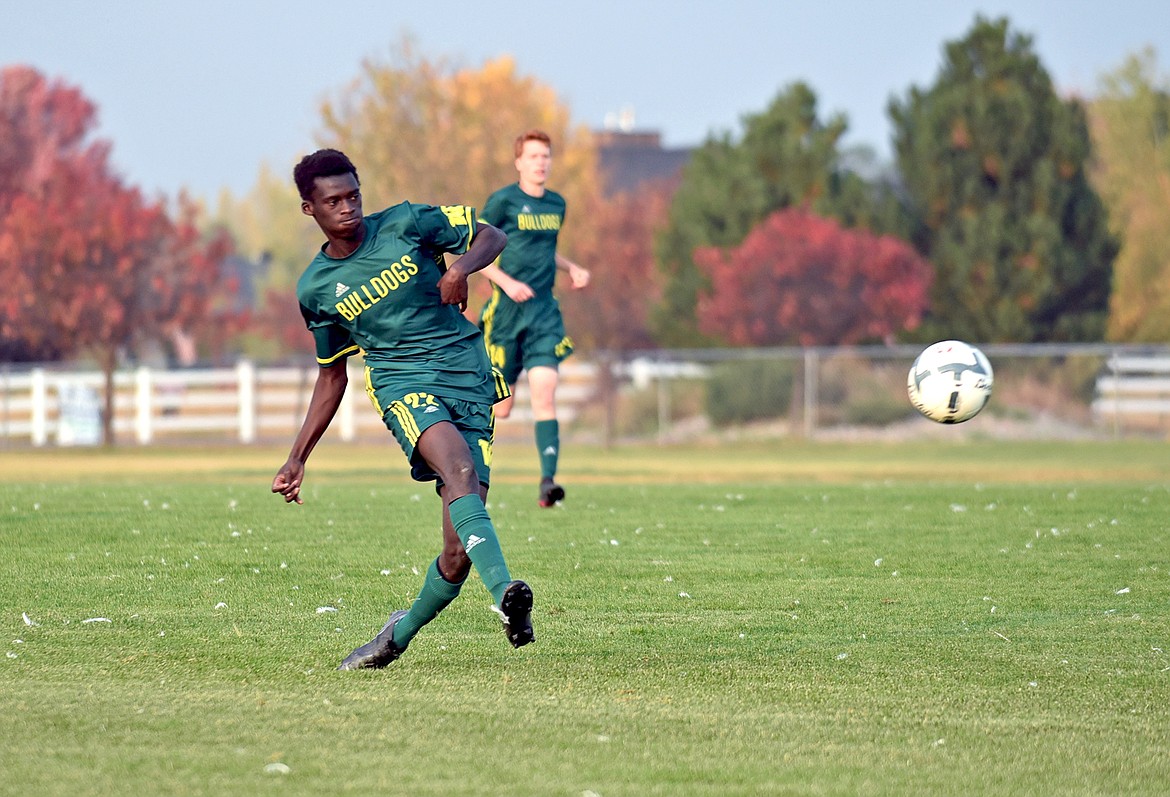 Whitefish senior Marvin Kimera takes a shot in close range during the Bulldogs rout of Polson Thursday, Oct. 8. (Whitney England/Whitefish Pilot)
Previous
Next
by
WHITNEY ENGLAND
Whitefish Pilot
|
October 14, 2020 1:00 AM
It's almost mid October and Whitefish boys soccer head coach John Lacey has said all along this year that his team's season will be defined in October.
So far so good.
The Bulldogs rolled over Polson and Libby both by a score of 6-0 last week and the varsity starters were granted some extra rest while playing about half as much as usual in the games. The match against Libby was the final contest in Whitefish's regular season, finishing 10-0-1 overall and 7-0-1 in conference play; the Bulldogs are also the number one seed in the Western A.
Brandon Mendoza was the top scorer last week as he netted two goals against Polson on Thursday and a hat trick in Libby on Saturday. He is now also the top scorer in all of Montana Class A boys soccer, recording 19 goals, five assists and averaging nearly two goals per game.
Lacey expressed the game against Polson was special because, one, he was grateful to Polson for making the trip despite the challenges the school is facing in regards to the coronavirus, but also it was senior night.
"It was great on Thursday to have the seniors recognized," Lacey said. "They of course have given a lot over the years and had a lot of success, so it was really special to get to celebrate them."
"We got a lot of guys the chance to play and another good result," he added. "It's fun to see that while we're celebrating the seniors the future is also going to be bright here too."
In both games, Whitefish didn't waste any time getting on the scoreboard. In Thursday night's game against Polson, senior forward Marvin Kimera scored off a feed from teammate Gabe Menicke in the 5th minute. Niath Edland tapped one in followed by two by Mendoza before the end of the first half.
Bulldog James Thompson scored in the 50th minute and Kimera enjoyed another goal just five minutes later. Around the 60th minute most starters were taken out of the game and each given a round of applause from the spectators.
Whitefish outshot Polson 14-1 and ruled possession time on the ball in an all around domination of the game.
The Libby match had a similar feel. Mendoza scored off an assist from Kimera in the 4th minute. Kimera found the net himself just a few minutes later; Whitefish's Chase Sabin and Thompson scored as well. Mendoza drove the ball to the back of the net again in the 21st minute and had another just after halftime to complete his hat trick.
The Whitefish Bulldogs are preparing to host the first round of the Class A soccer playoffs this Saturday. The team is expecting senior captain Josh Gunderson's return to the pitch after recovering from an injury sustained a few weeks ago. The soccer teams have played a trying number of games over the last month, and Lacey is hoping to keep everyone healthy.
"One thing we're supremely interested in is everyone's health, both from a public health standpoint, which we know we're all facing, but also just from a soccer fitness standpoint," Lacey said.
In the playoff quarterfinals, the Bulldogs look forward to facing off against Lone Peak out of Gallatin Gateway, Montana. Lone Peak has a record of 2-3-2 this season and occupies the third seed in the Eastern division. Lacey said the Lone Peak program is fairly new to Montana soccer, only in its second year competing in the Class A. Because of this he does not know the team well and his approach to the game is simple.
"We don't know anything about Lone Peak… this will be the first time Whitefish has ever played them," Lacey said. "It's going to be new which makes it all the easier for us to just focus on what we do. If we play well, I think we've got a really good chance against anybody."
The Bulldogs will host the opening playoff game at Smith Fields at 10 a.m. on Saturday, Oct. 17.
Polson 0 0 — 0
Whitefish 4 2 — 6
W - Marvin Kimera (Gabe Menicke), 5:00
W - Niath Edland (Menicke), 13:00
W - Brandon Mendoza (James Thompson), 23:00
W - Mendoza, 25:00
W- Thompson (Kimera), 50:00
W - Kimera, 55:00
Shots on goal - Polson 1, Whitefish 14. Goalie saves - Polson 8 (Tristan Clifford), Whitefish 1 (Will Peppemeier, Rye Duffy). Corner kicks - Polson 0, Whitefish 5. Fouls - Polson 5, Whitefish 6. Cards - Polson 1.
Whitefish 5 1 — 6
Libby 0 0 — 0
W - Brandon Mendoza (Marvin Kimera) 4:00
W - Kimera (Gabe Menicke) 8:00
W - Chase Sabin (Menicke) 9:00
W - James Thompson 18:00
W - Mendoza 21:00
W - Mendoza (Menicke)46:00
Shots on goal - Whitefish 14, Libby 0. Corner kicks - Whitefish 12, Libby 1. Fouls - Whitefish 7, Libby 4.
---