Two Bulldogs earn volleyball postseason honors
by
WHITNEY ENGLAND
Reporter
|
November 18, 2020 1:00 AM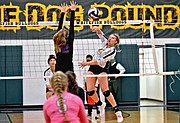 As the high school volleyball season wrapped up last weekend, two Whitefish senior athletes were named to the Class A all-conference selections.
Senior Brook Smith was named to the All-conference first team and fellow senior Mikenna Ells was an All-conference honorable mention out of the Northwest A. Smith and Ells made the postseason honors list amongst 18 girls, five from Columbia Falls, five from Polson, four from Ronan and two from Libby.
All season Smith, a 5-foot-11 player with a wicked swing, was a heavy hitter at the net for the Bulldogs. She consistently led her team in kills, averaging over 10 per match. She also used her length in the backcourt as she often recorded upwards of 20 digs per game.
In addition Smith had a total of 26 service aces and 10 blocks throughout the season. She moved away from Whitefish her freshman year, but made her return this season as a senior. All season Whitefish volleyball head coach Addy Connelly has called out Smith on being a fantastic hitter and player for Whitefish.
Ells had a knack for finding the right hitter at the perfect time while showing her leadership on the court this season. Ells led Whitefish in assists in the majority of matches this year, averaging over 10 assists every time she hit the court. She also proved her skill defensively with nine blocks and 73 digs.
Earlier this season Connelly also commented on Ells leadership on and off the court. She explained that Ells was previously a left-handed hitter, but her shoulder was troubling her and she was able to switch to doing everything on the court right-handed.
"She can serve right handed over the net which is insane, and hits the ball right handed and puts it down on the other side of the court," Connelly said before postseason play began. "So just an incredible athlete all the way around, but she's just a leader, a solid kid on top of everything, and she's just been steady all season for us."
Whitefish's season ended on Nov. 7 after the Lady Bulldogs went 1-2 during divisionals. Whitefish pulled off a straight-set win over Frenchtown in a first-round divisional game before losing to Columbia Falls and then Corvallis, which meant the girls barely missed a trip to the State Tournament. Whitefish finished the year with a 7-9 overall record and 4-5 in conference play.
---