October food drive yields higher than expected donations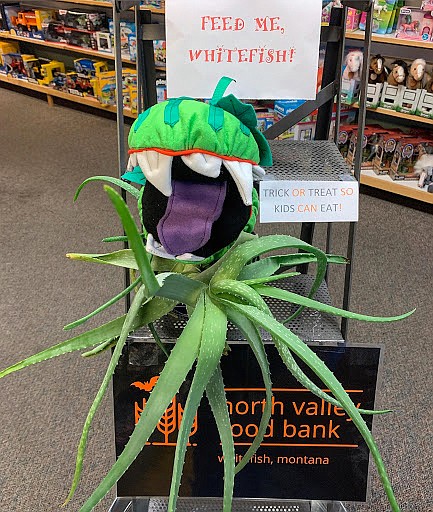 Imagination Station won the food bin decoration contest as part of North Valley Food Bank's October food drive. (Courtesy photo)
|
November 18, 2020 1:00 AM
More than 5,000 pounds of healthy, kid-friendly food was donated to North Valley Food Bank in October for its Trick or Treat So Kids Can Eat! food drive.
This was the first year the food bank held the drive and it surpassed its goal of collections by 1,000 pounds. The food bank plans to distribute the food to families in its regular drive-through distributions in Whitefish, and in its mobile pantries in Evergreen, Essex, Olney and Trego. New ways to target distributions to kids at risk are being discussed, according to a release from the food bank.

The Whitefish businesses that hosted donation tubs during the food drive participated in a friendly competition to see who could collect the most food (by weight) and who could best decorate the metal donation bins provided by the food bank.
Students from Whitefish High School, Whitefish Middle School and Whitefish Christian Academy judged unlabeled photos of the bins to declare the winner. The students picked the Imagination Station's hungry frog bin to be the winner. The first runner-up was Kintla Copy & Creative's monster bin.

Bookworks won the prize for collecting the most food by weight by collecting 270 pounds of food. Fleur Bake Shop collected 169 pounds and Buffalo Café collected 147 pounds, to take second and third place..
Glacier Bank and Whitefish Credit Union sponsored the food drive, allowing the food bank to distribute gift certificates to Bookworks and Imagination Station and to the food bank's volunteers who emptied donation tubs and weighed and organized the food.

---