Whitefish volleyball misses trip to state tourney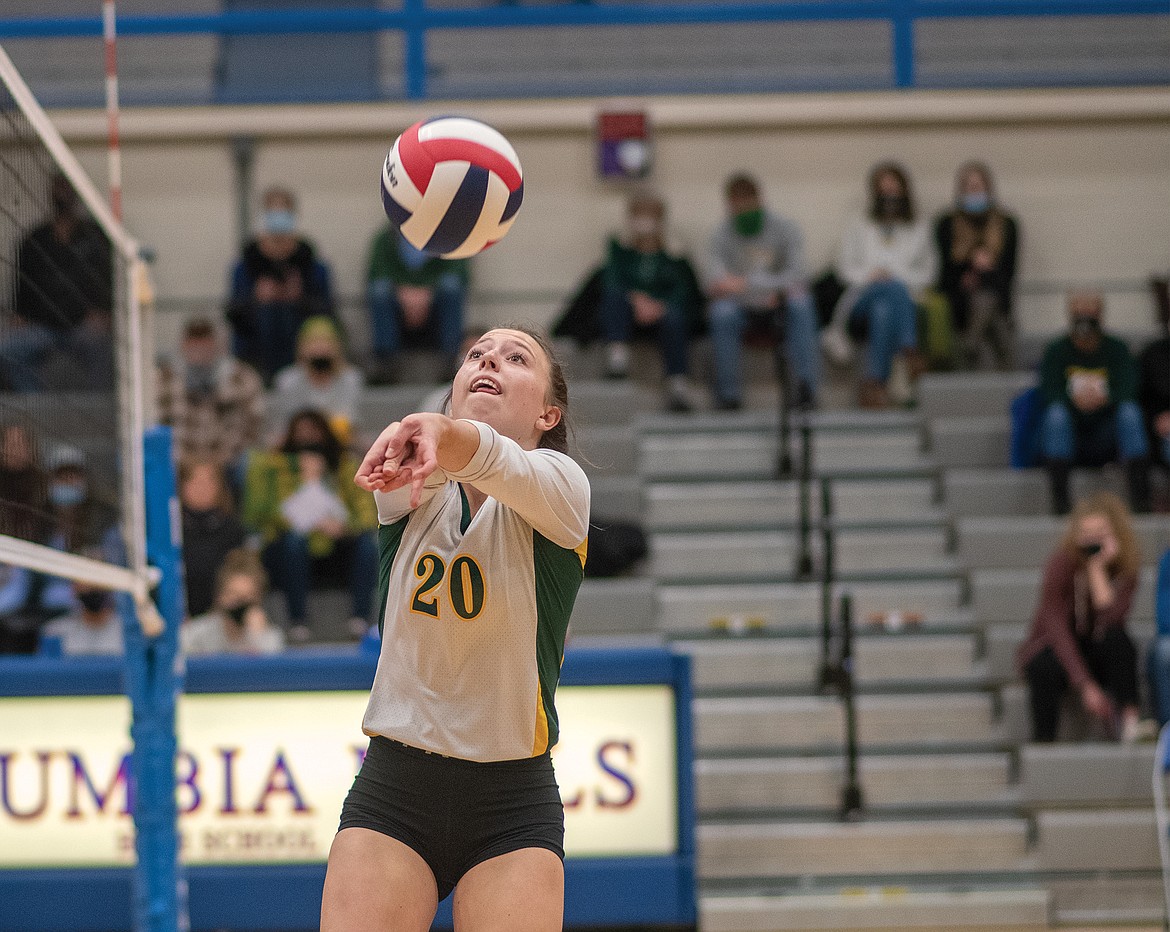 Bulldog senior Mikenna Ells bumps the ball during Whitefish's game against Columbia Falls last week. (Chris Peterson/Hungry Horse News)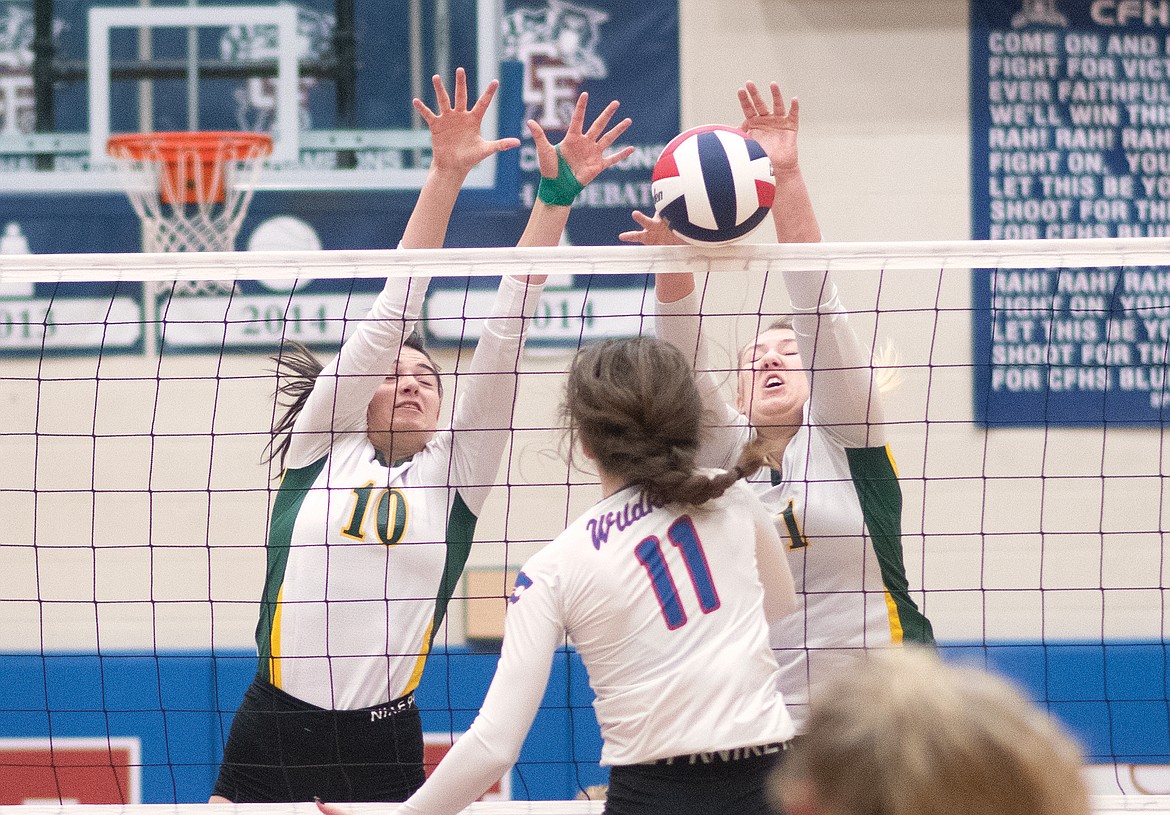 Bulldogs Jadi Walburn and Brook Smith go up for the block against the Wildkats last week in Columbia Falls. (Chris Peterson/Hungry Horse News)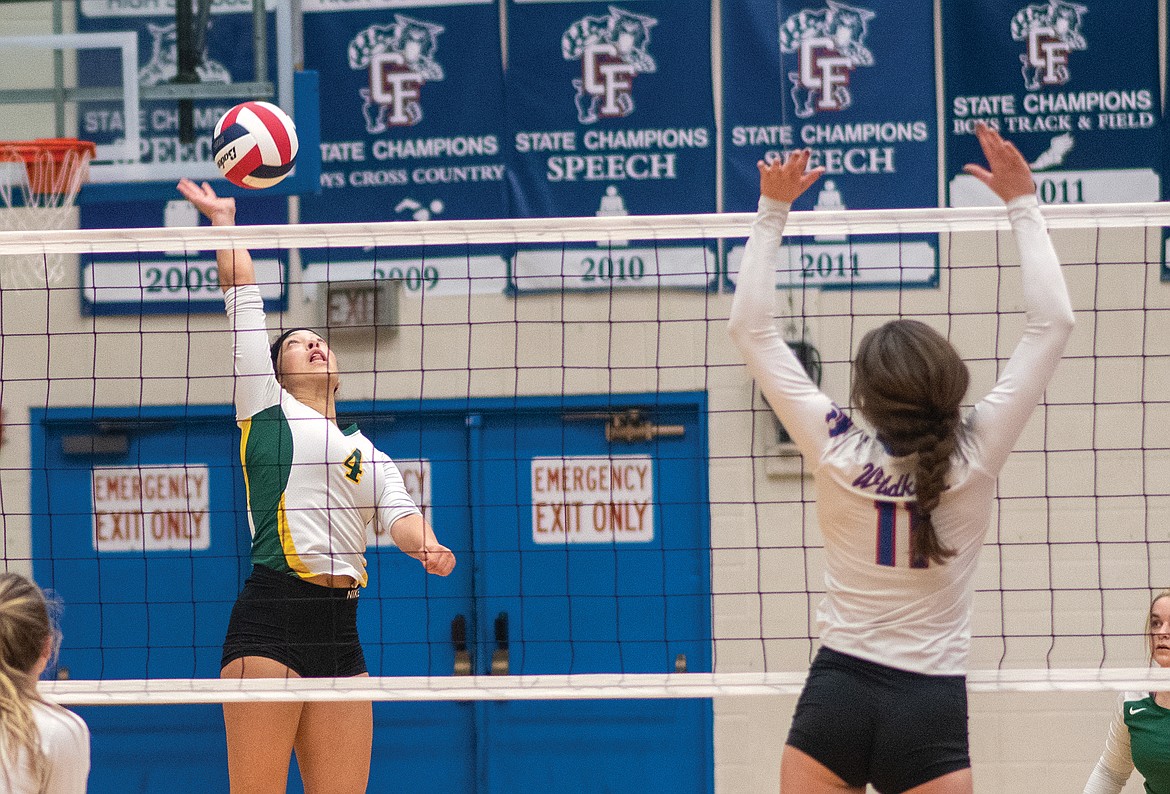 Bulldog junior Emma Trieweiler hits the ball over the net against the Wildkats last week in Columbia Falls. (Chris Peterson/Hungry Horse News)
Previous
Next
by
WHITNEY ENGLAND
Reporter
|
November 11, 2020 1:00 AM
The Whitefish volleyball team began postseason play with a first round divisional victory over Frenchtown in straight sets, but the girls couldn't pull out wins over the next two matches against Columbia Falls and Corvallis.
Going 1-2 in divisional play left them out of the four western teams headed to the state tournament in Sidney this weekend and ended the Bulldogs season. The divisional volleyball tournament was played in a playoff format this year because of COVID-19, which meant Whitefish traveled everyday and played on the road Thursday through Saturday.
Against Frenchtown, the Bulldogs came in and shocked the Broncs with a three-set win, 25-23, 28-26, 25-18. The first two sets were closely matched with the points going back and forth, both sets could have gone either way between the teams. Whitefish stayed consistent and then put away the third set quickly.
Whitefish's Brook Smith had 21 digs and eight kills while also recording four aces. Jenny Patten was a leader on the court setting up her teammates with 14 assists and Whitefish's libero Ashton Ramsey had 23 digs.
The win advanced the Lady Bulldogs to the semifinals where Whitefish visited the undefeated Columbia Falls team. Despite coming out flat, Whitefish put up a good fight in the final three sets. The girls took the second set from Columbia Falls, but Whitefish ended up falling to the Wildcats for the third time this season 25-10, 23-25, 25-18, 25-22.
In the match, Smith led Whitefish again with 12 kills and 16 digs. Ramsey held steady with 24 digs, Mikenna Ells recorded all 19 assists for her team and Brooke Zetooney rose up for two blocks in the match.
Moving on to Saturday, the Bulldogs traveled to Corvallis to compete in a must-win situation. Whitefish couldn't keep up with the Blue Devils and succumbed in four sets, 25-17, 23-25, 25-15, 25-13.
Smith had another big game with 24 digs, seven kills and Emma Trieweiler checked in with 13 digs, four aces and two kills. The result of the match sends Corvallis to the Montana Class A State Tournament and leaves Whitefish narrowly missing its chance at continuing on this season.
From the west, Columbia Falls, Corvallis, Ronan and Polson advance to state in Sidney, which begins Thursday.
The Bulldogs finished the season with a 7-9 overall record and 4-5 in conference play.
Whitefish def. Frenchtown 25-23, 28-26, 25-18
Kills – Whitefish 27 (Emma Triewelier 9, Brook Smith 8, Brooke Zetooney 6), Frenchtown 23 (Rylee Belcourt 10); Assists – Whitefish 23 (Jenny Patten 14, Mikenna Ells 8), Frenchtown (Izzy Cahall 23); Digs – Whitefish 69 (Ashton Ramsey 23, Smith 21), Frenchtown 35 (Cassidy Bagnell 19); Aces – Whitefish 8 (Smith 4), Frenchtown 6 (Maddy Eggers 2); Blocks – Whitefish 2 (Smith 2), Frenchtown 10 (Emily Rehbein 4, Demi Smith 3).
Columbia Falls def. Whitefish 25-10, 23-25, 25-18, 25-22
Kills – Whitefish 21 (Brook Smith 12), Columbia Falls 51 (Mady Hoerner 20, Dillen Hoerner 13, Lauren Falkner 7). Assists – Whitefish 19 (Mikenna Ells 19), Columbia Falls 46 (Hannah Shweikert 45). Digs – Whitefish 72 (Ashton Ramsey 24, Smith 16), Columbia Falls 72 (D. Hoerner 20, M. Hoerner 18, Falkner 11). Aces – Whitefish 4 (no leader), Columbia Falls 6 (Schweikert 4). Blocks – Whitefish 7 (Brooke Zetooney 2), Columbia Falls 5 (Jazzy Marino 4).
Corvallis def. Whitefish 25-17, 23-25, 25-15, 25-13
Full stats unavailable.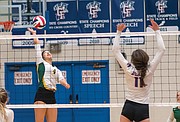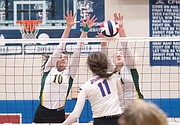 ---