Starbucks coffee shop coming to Whitefish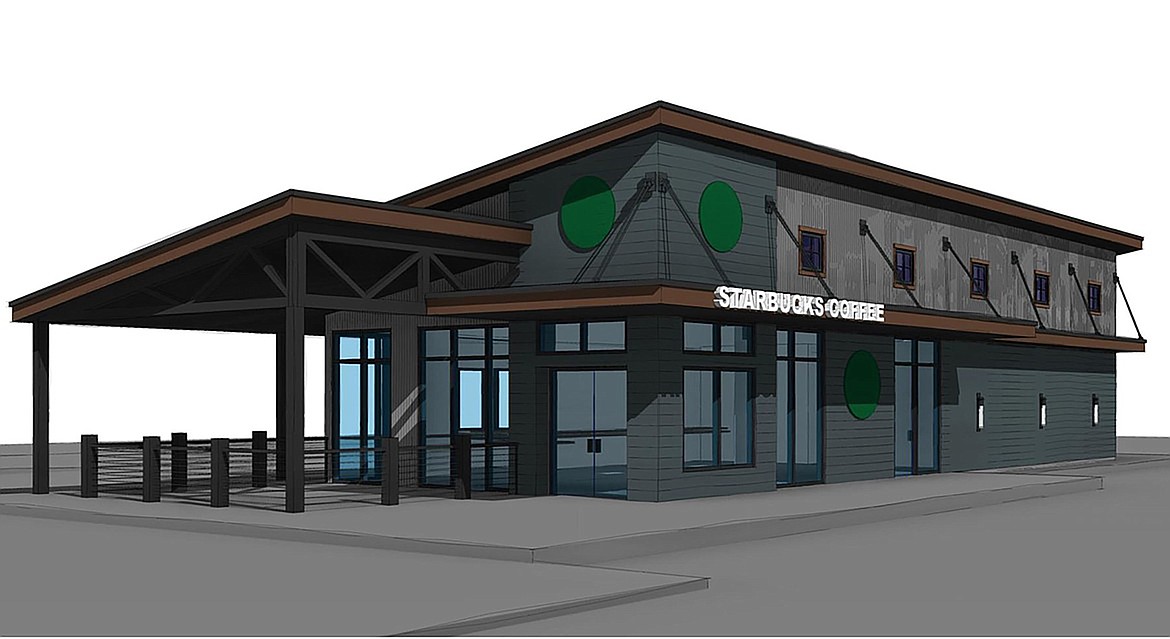 A digital rendering of the new Starbucks Coffee shop under construction on U.S. 93 in Whitefish. (Photo courtesy of Landstar Properties).
by
BRET ANNE SERBIN
Daily Inter Lake
|
November 11, 2020 1:00 AM
The latest addition to the Whitefish landscape will be a Starbucks Coffee on the east side of U.S. 93 North.
Cecil Waatti with Landstar Properties said the coffee shop is expected to open at 6405 U.S. 93 on Jan. 22, 2021, with a drive-thru and a full indoor café.
Tricon Commercial Construction in Kalispell started work on the new building, located just south of Sportsman & Ski Haus in the Whitefish Mountain Mall, in June. Despite the COVID-19 pandemic, Waatti said the construction crew has not experienced any delays on the project. "It's been pretty quick," he noted.
The building will have ample indoor dining space—although Waatti recognized it might be a little while before that area can be fully utilized. Fortunately, Waatti said the drive-thru component of the build was the main motivator for the project. That part of the business, at least, should be fully functional when the new Starbucks opens in the beginning of the new year.
The incoming coffee shop is less than a half mile away from the Starbucks inside the Whitefish Safeway, a short drive north on U.S. 93. That in-store Starbucks isn't going anywhere, Waatti promised, but the company was interested in adding a stand-alone shop in the area as well, particularly one with a drive-thru.
"Starbucks has been looking in that market for a while," Waatti said. "They've always been interested in Whitefish."
The new Starbucks was not always destined to be a coffee shop, according to Waatti. He said the building could have become the future home of a fast-food restaurant or some other business, but the Seattle coffee company won out in the end.
Local customers seem to have "mixed feelings," about that choice so far, according to Waatti. He said he had heard some feedback, particularly on social media, from locals expressing dismay that the new business is not a locally owned operation.
However, he pointed out the construction for the new building employed a number of local workers, and local jobs will be added once the coffee shop opens, too. The nearby Starbucks inside Safeway grocery store currently employs five people.
Recent Headlines
---