Tailwaggers settles in at new Central Avenue shop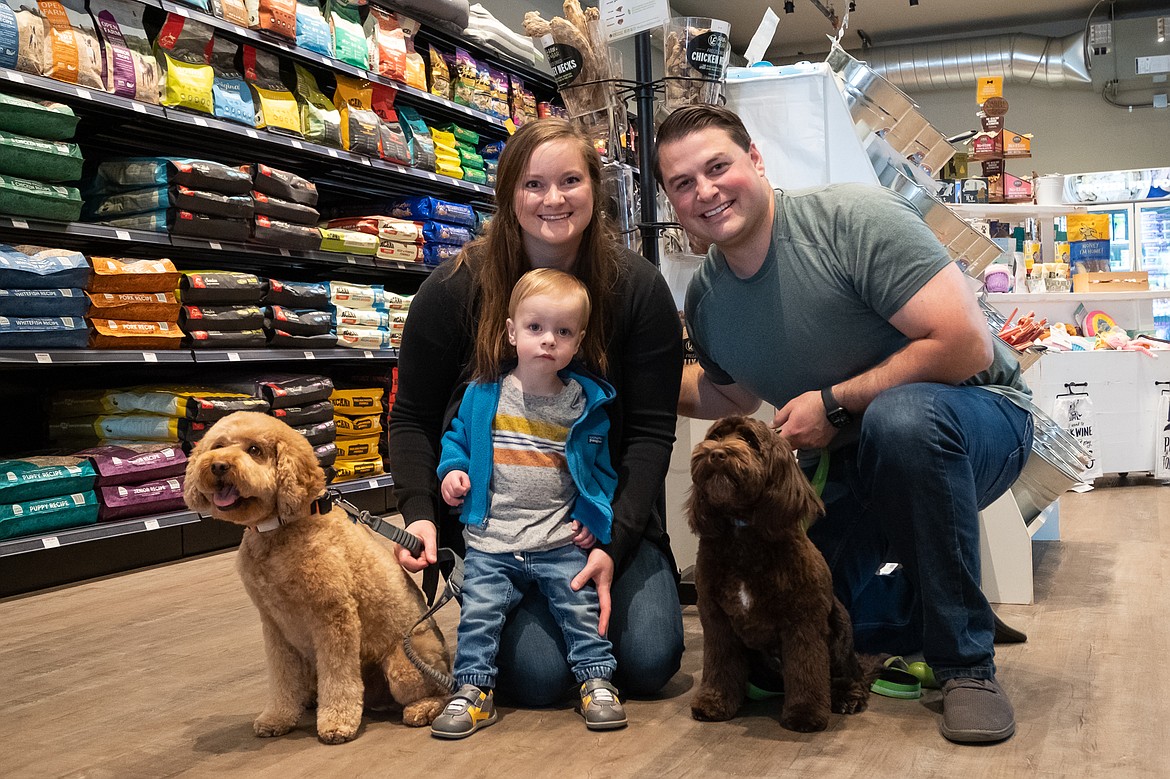 Abby and Chase Pierce, pictured alongside their son, Linden, and dogs, Scout and Mocha, recently relocated Tailwaggers to Central Avenue. (Daniel McKay/Whitefish Pilot)
by
Daniel McKay
Whitefish Pilot
|
May 20, 2020 1:00 AM
When Chase Pierce decided to move Tailwaggers Pet Store from its original location on Third Street to its new Central Avenue home, he hadn't quite anticipated what this spring would hold.
So far, though, the coronavirus hasn't halted people's needs for pet food.
"It's one of those things where we moved and obviously you can't plan for having a virus hit the whole country, but we were lucky to be an essential business and be open and we're happy to be in our new space," Pierce said.
The new Tailwaggers location can be found in the newest set of buildings on Central Avenue's 300 block, next to Wild Coffee Company and Trovare, among other stores. Pierce runs the store alongside his wife, Abby, after the pair took over the business in 2016.
In moving, Pierce said the location gets a roughly 50% boost in space, allowing for more inventory and new dog wash stations.
"I think what was important for us behind the scenes is we wanted a bigger space to have more inventory and a bigger variety of inventory and a bigger wash area. So we said, 'Do we move further away from town or go to Central Avenue?' I think there's a lot of benefits to being in downtown Whitefish," he said. "Customers have really enjoyed it."
Pierce says he's intrigued to see how being downtown will affect summer traffic, when he already saw a boost during the warmer months in the old location.
Likewise, he's excited to see what else fills the new storefronts along the rest of the block.
"It's been really refreshing being in a new space. Since we chose to be on Central, we're excited to see what other great local businesses pop up around us, because there's still spaces being built out," he says.
In the new location, Pierce says he's been able to add to their existing frozen raw food selection, which is now up to eight freezer doors-worth of choices.
The improved dog wash station is one of the most exciting improvements, however.
The station is made up of two raised tubs with built in side drains, floor mats so dogs won't slip, and more.
"One of the biggest enhancements has been the self-serve dog wash. That has been a huge improvement for us, we had these awesome new dog wash stations built for us, so the enhancements with that while keeping the prices the same, I think customers have been excited about that," Pierce says.
In looking at the move, Pierce says it just came down to the right time to make a change, and the space opened up in time.
While the timing could've been better in regards to the global coronavirus pandemic, Pierce says everything going on has made him grateful for his customers' support.
"It's been really nice in the near time with everything going on with COVID-19, one thing I think has been really positive is we've seen customers looking to support us as an independent pet store. We're not a franchise, so it's been really nice and refreshing even though it's been challenging with the timing," he said. "We're just trying to meet customers where they're at, whether that's local home delivery, curbside pickup, and obviously the store is open."
"It's just really nice to see Whitefish supporting Whitefish," he added.
For more information, visit tailwaggerspet.com.
---