Governor issues stay-at-home order beginning Saturday morning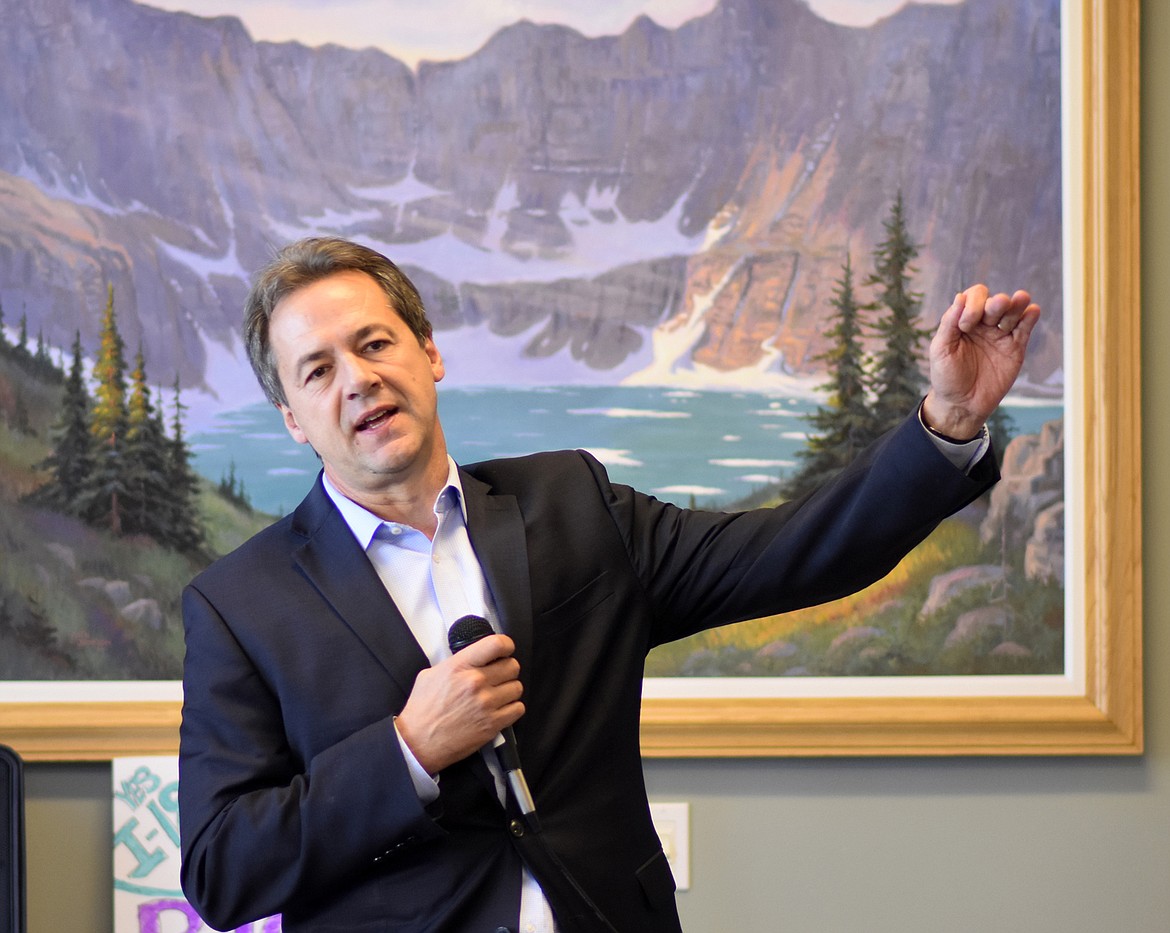 Montana Gov. Steve Bullock speaks at North Valley Hospital at an event in 2018. (Heidi Desch/Whitefish Pilot file)
by
HEIDI DESCH
Whitefish Pilot
|
March 26, 2020 5:59 PM
Montana Gov. Steve Bullock on Thursday afternoon issued a stay-at-home order beginning on Saturday, March 28, in an effort to curb the spread of the coronavirus.
The order goes into effect at 12:01 a.m. on Saturday and runs through April 10.
"I'm taking these measures today because we need to stay in front of this pandemic," he said. "And stay in front of this so our healthcare system isn't overwhelmed."
Only essential businesses such as grocery stores and pharmacies are allowed to operate, and restaurants through carry-out service. The directive also prohibits all public and private gatherings of any number of people occurring outside a residence.
Folks will be allowed to leave home for essential activities such as visiting the grocery store.
Public parks and open outdoor recreation areas, including public lands in Montana provided will remain open, but those outdoors must abide by social distancing rules keeping a distance of 6 feet from others.
As of Thursday afternoon, Montana had 90 confirmed cases of the coronavirus in the state with more than 2,600 tests completed.
"I am taking these measures today because we need to stay in front of this pandemic and slow the growth of infections," Bullock said. "In order to have a healthy economy we need a healthy population. We cannot rebuild our economic strength without doing everything we can now to flatten the curve and slow the spread of this virus."
Bullock on Tuesday afternoon also extended the closure of Montana schools through April 10.
Businesses with questions can contact a state line at 1-800-755-6672. More information on what is considered an essential business is also available at https://www.cisa.gov/publication/guidance-essential-critical-infrastructure-workforce.
Heath officials continue to encourage social distancing — avoiding others by staying at least 6 feet apart and staying home — to slow the spread of the disease. Folks are also asked to wash hands frequently and avoid touching their face, and regularly clean and disinfect touched objects and surfaces.
Symptoms of the coronavirus include fever, shortness of breath and coughing, and these may occur up to 14 days after exposure, according to the U.S. Center for Disease and Control. Those with signs of illness, in particular, are asked to remain at home and contact their healthcare provider by phone.
The Flathead City-County Health Department has established an information-only hotline for the community to learn updates, which can be reached at (406) 751-8188. A website has also been established to provides guidance to the general public at https://flatheadhealth.org/novel-coronavirus-covid-19/.
The state has also established a website with information related to the coronavirus, visit https://covid19.mt.gov/
Recent Headlines
---