Governor extends school closure, requires social distancing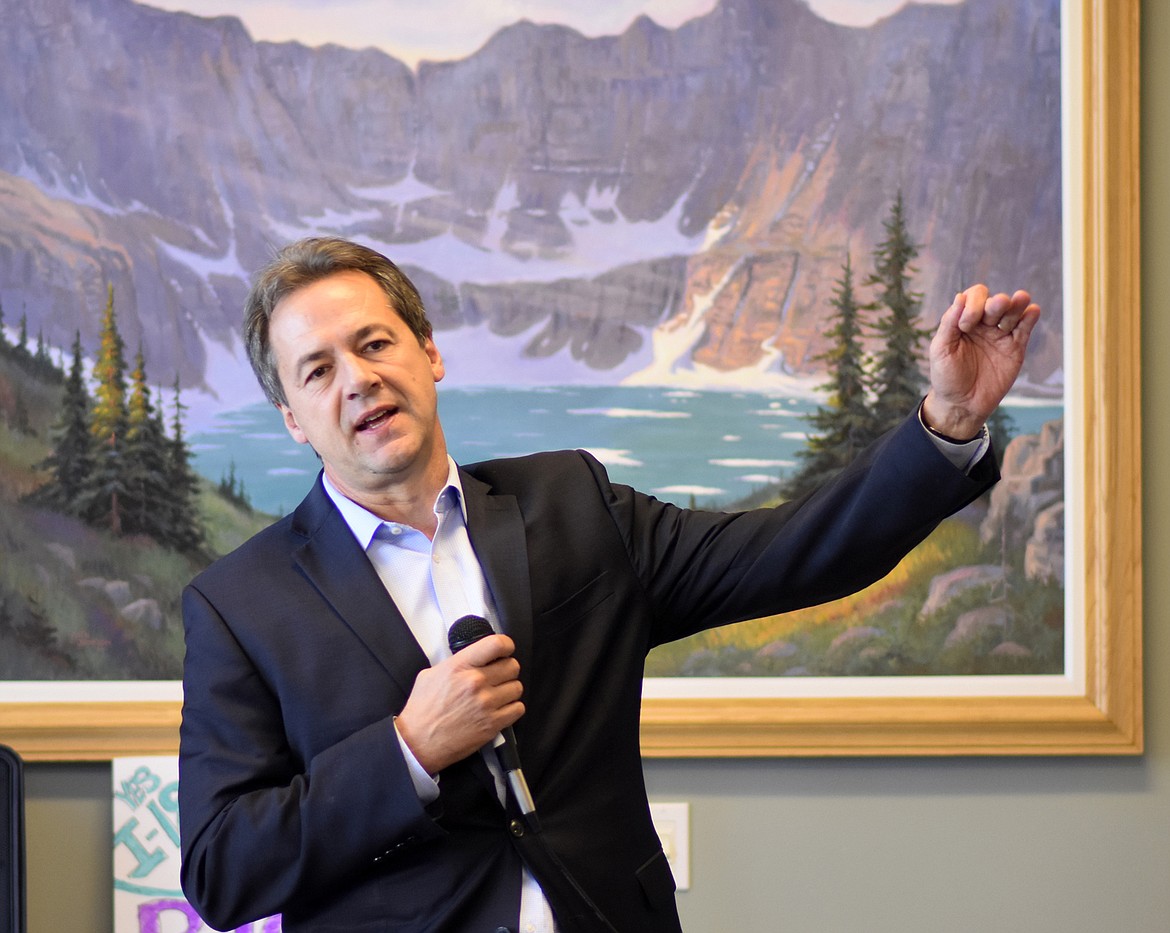 Montana Gov. Steve Bullock speaks at North Valley Hospital at an event in 2018. (Heidi Desch/Whitefish Pilot file)
Montana Gov. Steve Bullock on Tuesday afternoon extended the closure of Montana schools through April 10, and also continued other restrictions on businesses and public gatherings, in an effort to slow the spread of the coronavirus.
Bullock said the situation revolving around the pandemic is quickly evolving and closures may be extended if the need arises.
"It's the actions we're taking today, and the actions of individuals and businesses are taking and in the immediate future that will lessen the spread in Montana," he said.
Bullock announced that effective immediately, gatherings outside of the home that involve more than 10 people are prohibited, if a distance of at least 6 feet can't be maintained.
Bullock said he would not be issuing a shelter in place directive for the state at this time, but instead has taken measures to limit gatherings. In case of further directives, he noted, that the state has not yet defined which businesses would be considered an "essential service."
"We're stressing the importance of every Montanan to take this seriously," he said. "We hope that all Montanans avoid large crowds, and only going out for walks and to the grocery store or pharmacy. I certainly hope that they are taking this seriously."
Retail businesses effective March 28 are also required to enforce social distancing policies to keep space of 6 feet between customers. The requirement does not apply to grocery stores, pharmacies or medical offices.
"We're asking businesses that are still open to practice social distancing," Bullock said. "Limit the number of people that are in your establishment and have them 6 feet apart."
Montana on Tuesday afternoon had 51 confirmed cases of the coronavirus with 2,000 tests being administered statewide. Four cases have been confirmed in Flathead County. Bullock also announced a directive aimed at preparing for a potential increase of patients at hospitals. The directive temporarily waives the bidding process to procure or distribute emergency supplies or contract for additional space to care for patients.
Additionally, the directive streamlines the process for releasing patients and discharging patients to free up beds.
Local governments, through another directive from the governor, are also being provided flexibility to allow for limited closures where they cannot operate within social distancing guidelines.
Bullock encouraged continued social distancing to slow the spread of the virus.
"The obligation to slow the spread rests with each and everyone of us," he said.
Schools were originally set to be closed through March 27, and a statewide closure of businesses like bars, gyms and theaters had already been implemented, while still allowing restaurants to remain open only for takeout or delivery.
Bullock said on Tuesday that he chose to extend the school closure and restrictions on businesses for two weeks, noting that the date still may be extended again, if necessary.
Heath officials are encouraging social distancing — avoiding others by staying at least 6 feet apart and staying home — to slow the spread of the disease. Folks are also asked to wash hands frequently and avoid touching their face, and regularly clean and disinfect touched objects and surfaces.
Symptoms of the coronavirus include fever, shortness of breath and coughing, and these may occur up to 14 days after exposure, according to the CDC. Those with signs of illness, in particular, are asked to remain at home and contact their healthcare provider by phone.
The Flathead City-County Health Department has established an information-only hotline for the community to learn updates, which can be reached at (406) 751-8188. A website has also been established to provides guidance to the general public at https://flatheadhealth.org/novel-coronavirus-covid-19/.
The state has also established a website with information related to the coronavirus, visit https://covid19.mt.gov/
Recent Headlines
---