Joyce Edena Hedman Emmert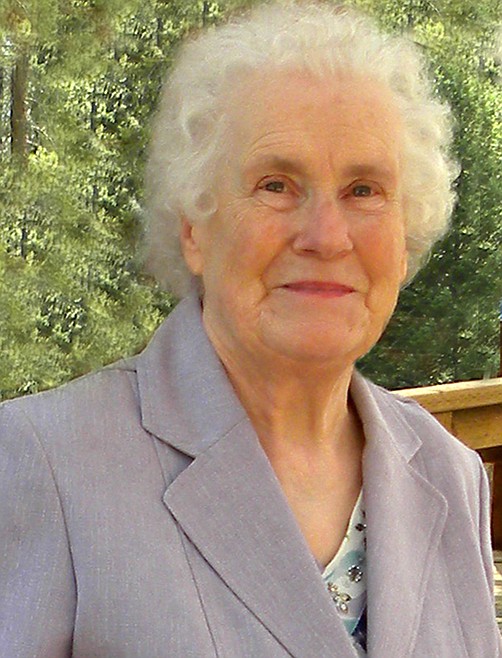 |
March 13, 2020 11:02 AM
June 27, 1937 — Feb. 14, 2020
Joyce Edena Hedman Emmert was a prayer warrior who loved Jesus Christ, music, babies and holiday meals with family. She prayed daily (and often into the night) for her family, friends and even the people she met on the street. She never knew a stranger because she loved to talk with everyone and learn their stories. She was born on June 27, 1937 to Edena (Cleave) and Verner Hedman in Whitefish, Montana.
She left this earth on Feb. 14, 2020 just in time to spend Valentine's Day with the first loves of her life, Jesus and her husband of 63 years, Donald, who graduated to heaven in 2018. In her Bible, the family found a dime store Valentine she had written over 20 years ago that said, "Honey, I don't just love you on Valentine's Day. I love you every day, 365 days a year." Their marriage modeled that love through good times and hard times. They married while Don was on leave from the Korean War and they spent most of their first year of marriage apart. Joyce worked as a teletypist in San Francisco while she waited for Don to return. They raised their six children in Whitefish and Columbia Falls surrounded by loving Hedman and Emmert grandparents, aunts, uncles and cousins.
Joyce played piano and organ at nearly every church in the Flathead and in Hot Springs, Montana, when they retired. She had a God given ability to play a tune by ear. After hearing a song just once she would add her own improvisations to make it uniquely hers. She didn't just play with skill, she played with her heart and her soul. Over the years she taught hundreds of students to love piano and singing.
Don worked as a logger and a trucker while Joyce raised their children on a small ranch in Columbia Falls. She was diagnosed with multiple sclerosis (MS) when the children were young, but after years of limited mobility, Joyce was miraculously healed and rarely suffered from symptoms again.
She worked at the Cross Currents Christian school in Whitefish, the florist in Hot Springs and taught private music lessons. Everyone who knew Joyce commented on her sweet spirit and loving ways. Her grandchildren all talk about her legacy of love and faith in Jesus that they hope to pass down to their children and future generations.
Joyce is survived by her children Rodney Emmert, Gary and Jane Emmert, Randy and Melody Emmert, Donita and Dave Toavs, Gordy and Susy Emmert, Darlene and Scott Meehan along with numerous grandchildren and great-grandchildren. She is also survived by her siblings Gene and Lenore Hedman, Carol Hedman Newbury, Allan and Vernice Hedman; Shirley and Evan Speer, Audrey Hedman, Helen Hedman, Marie Hedman, and Bud Koppy.
She was preceded in death by her parents Edena and Vern Hedman, siblings Wayne Hedman, Cleave Hedman, Barbara Koppy; daughter-in-law Laurie Emmert and grandsons Baby Randy Emmert, Erin Emmert, Wesley Emmert and Travis Vandersloot.
A memorial service in honor of Joyce will be held on Saturday, March 7 at 11 a.m. at Canvas Church located at 255 Summit Ridge Drive in Kalispell, Montana. In lieu of flowers the family asks that you make a donation to St. Jude's Children's Hospital or bless a child with music lessons in honor of Joyce.
Recent Headlines
---