Council approves construction for long-planned Baker Ave. underpass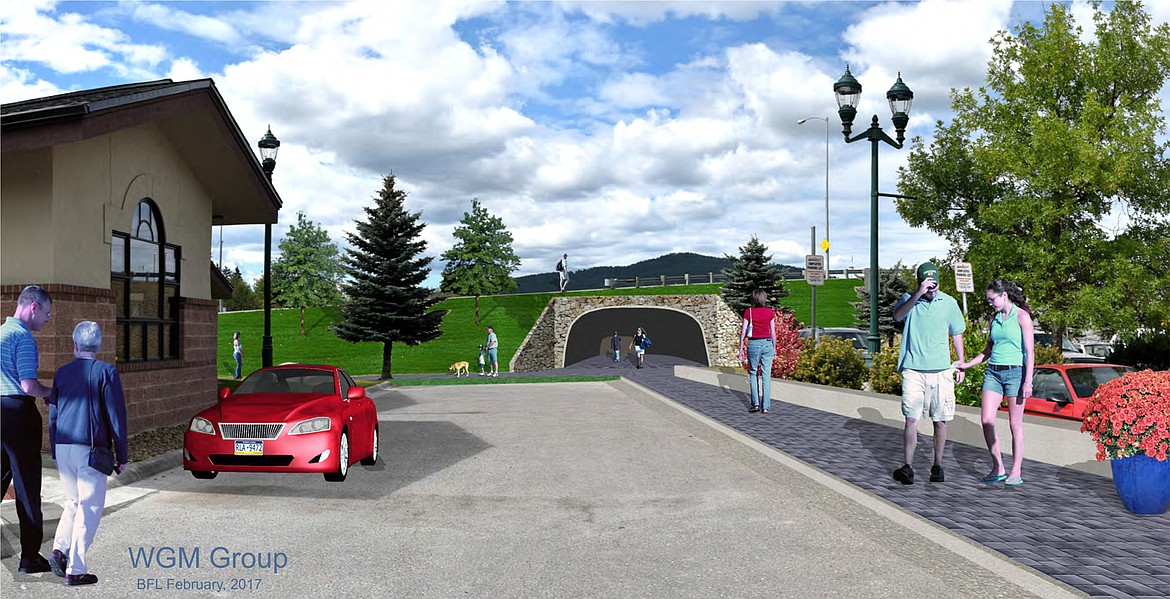 An artist rendering of an pedestrian underpass for Baker Avnue near the O'Shaughnessy Center.
by
Heidi Desch
Whitefish Pilot
|
June 23, 2020 1:23 PM
Construction of a pedestrian underpass for Baker Avenue near Depot Park is set to begin this summer following years of planning.
City Council last week approved a contract for construction of the project with LHC, Inc. The cost of the project is $1.6 million.
The underpass will span under Baker near the O'Shaughnessy Center connecting the city's path off of Railway Street to Depot Park.
Three bids were received for the project with LHC's being the low bid.
The city's downtown master plan and bicycle and pedestrian master plan both call for the construction of the Baker Avenue underpass to serve as a link connecting the Railroad District to Central Avenue, and also as a critical link in the city's bike path system.
Public Works Director Craig Workman said many pedestrian-oriented enhancements have been constructed over the years to enhance the character of downtown and also achieve a pedestrian-friendly environment.
"The Baker Avenue underpass is one of the important elements that has not been built yet, although it has been a priority project in several city planning documents for more than a decade," Workman said.
The city is using tax increment finance funds to pay for the underpass. It had originally budgeted $1.4 million for the project, but City Manager Dana Smith says the city had additional funds in the account to cover the higher cost.
The city was required to be under contract for the project before its TIF district sunsets on July 15 to use the money.
The design calls for a concrete underpass spanning 20 feet wide with wing walls designed to have a stone look. The underpass will also include lighting for safety and to accent the decorative stone.
The project also incorporates security cameras linked to 24-hour surveillance.
WGM Group is the engineering firm that designed the project for the city based on input from City Council and the public during meetings in February.
BNSF last year granted the city access to construct the underpass, and Council subsequently authorized city staff to design the project.
---