Neff's 33 years spent building better students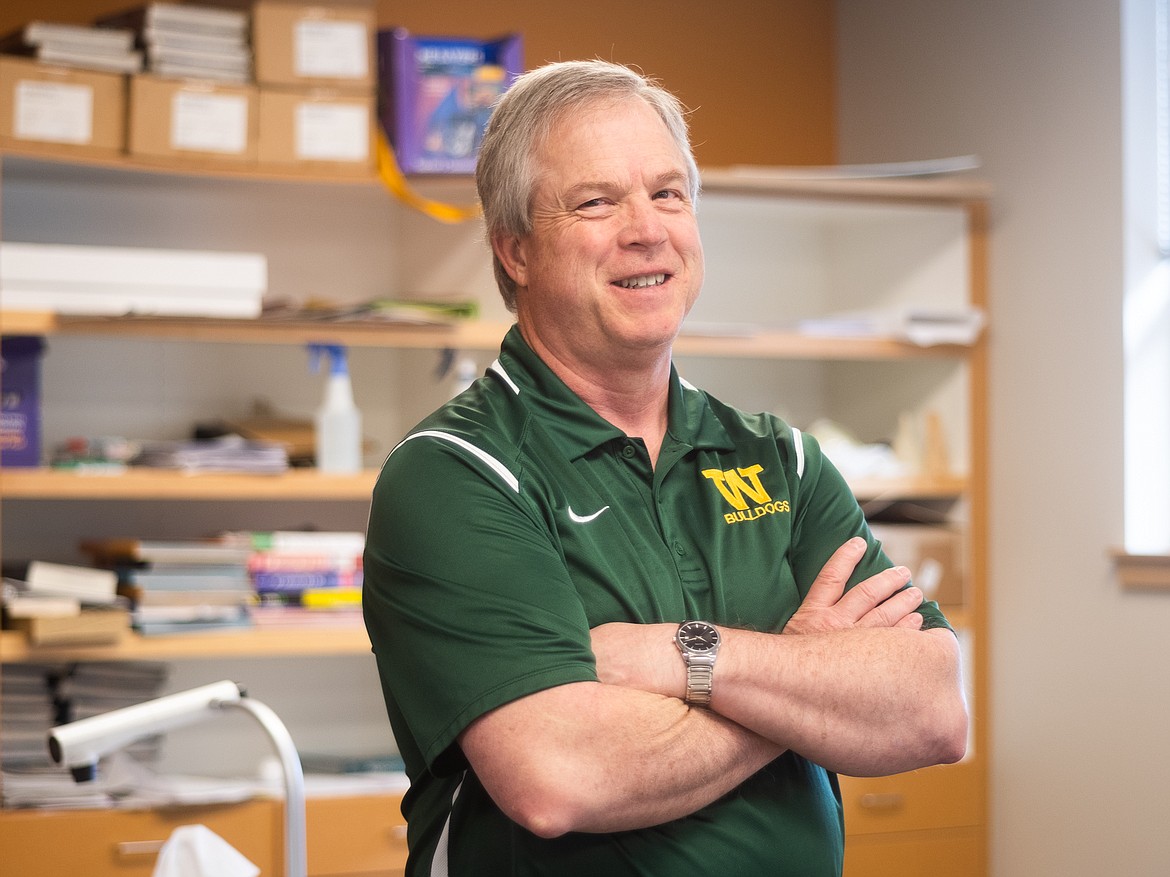 Whitefish High School teacher Tim Neff is retiring after 25 years with the district. (Daniel McKay/Whitefish Pilot)
by
Daniel McKay
Whitefish Pilot
|
June 10, 2020 1:00 AM
At the age of 25, Tim Neff was at a crossroads.
A former National Merit Scholarship Finalist then working a "dead end job," Neff saw the different branches of opportunities ahead of him, but could not make a choice.
"I decided it was time to make a decision," he said. "I looked at the teachers and coaches I'd had that were influences on me as a young man, and decided if I could be that influence for other people then that would go a ways in paying back what they gave to me."
Neff is retiring this month after 33 years of teaching, 25 spent in the Whitefish School District.
In his time at Whitefish, he's taught math and coached wrestling at the high school, most recently coaching alongside son and Bulldogs head coach Danny Neff.
Originally from Plentywood, Neff graduated from Whitefish School District and Montana State University on the way to becoming a teacher.
In his time at the front of the classroom, Neff said the students have always been the best part.
"It doesn't matter what I'm teaching, whether it's a freshman class or seniors, football or the wrestling team. It's establishing rapport with the students, and everyday is a new adventure," Neff said.
Since returning to Whitefish in 1995, Neff said new technologies and the ways they've been integrated in the classroom have been the biggest changes for his daily life.
"The advent of smartphones and connectivity lead to a bit of a disengaged situation with students — they have so much at their fingertips, instantaneous feedback with nearly anything they do. I've had to adjust with the times," he said.
The tech divide has been most evident in his final year, he said, which has seen a sudden shift to remote learning caused by the closures of Montana schools in an effort to slow the spread of the coronavirus. Whitefish Schools closed in mid-March in accordance with a directive from Gov. Steve Bullock.
"It's certainly different than anything we ever trained for, expected, dreamed about. I'm sitting now in an empty classroom, I'm communicating with students by phone calls and emails, and it's just different," he said. "The whole point of teaching is interacting with students and the relationships you develop."
The transition to remote learning involved a lot of training for technologies and softwares he wasn't used to, Neff said, but he's getting along.
He started at "ground zero," he added, but adaptation is just part of the job.
"We have to be versatile. That's one essential thing to be successful in the field of education," he said. "You can not be set in your ways, you need to be adaptable."
In his time as a teacher, Neff said he focused most on building relationships with students and teaching them life skills.
In this case, Neff said it didn't really matter what the subject was, or whether the teaching happened on the field or the wrestling mat.
Looking back over his career, he said he feels he had his priorities focused on making better citizens.
"Overall, I think I had my finger on what was important, and that was a work ethic and responsibility and being prepared, and establishing a respectful relationship with students where they could look at me and know that I was telling them the truth," Neff said. "It doesn't matter what you're teaching. We have in our hands very impressionable young people, and we want to leave the right impression. We want to not just say the right things, but show them too, how to get along in life and treat people."
And while his final semester as a teacher was not the end he'd had in mind, Neff says he's been living the highlight of his career for the last three years — coaching alongside his son.
"The biggest highlight for me has been being able to work with my son for three years. I've been able to go in and be his assistant and helper. I coached him when he was coming through school, and to go in and work side by side with my son, you just get a different rapport with those kids than outside the classroom."
---