ATV tours allowed to Red Meadow Lake, but not North Fork Road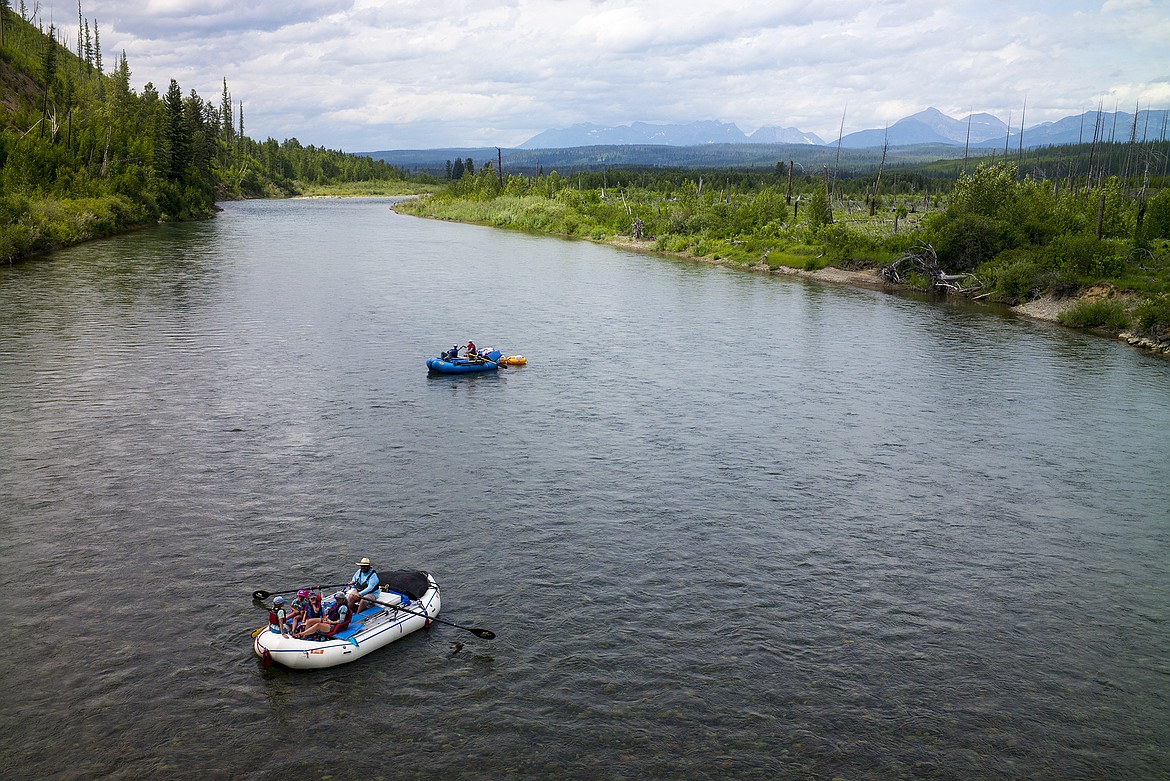 Floaters glide down the North Fork of the Flathead just above the Camas bridge. (Hungry Horse News file photo)
by
Daniel McKay
Whitefish Pilot
|
July 28, 2020 2:16 PM
The Flathead National Forest gave North Fork residents a preview of some controversial recreation permit requests for the area.
Rob Davies, Flathead National Forest District Ranger for the Hungry Horse/Glacier View region, presented on a number of subjects to North Fork residents at the summer Interlocal meeting last week, including recreation permits and a future river management plan for the three forks of the Flathead.
Separately, in April, the Flathead National Forest opened for public comments concerning expanded guiding and outfitting in the North Fork region, which included bike, ATV and van tours in the area. Applicants included Spotted Dog Cycles, Whitefish Shuttle Livery and Guided Services, Whitefish Bike Retreat Livery, and Northwest Adventure Sports Guided ATV Tours.
Davies said he received over 150 comments on the applications, and while the organization has yet to make public announcements on their decisions he gave a preview of what's to come.
The proposed ATV tours will not reach the North Fork Road, and the three bike tour companies that had applied have all dropped their applications due to low numbers after the coronavirus outbreak. Whitefish Shuttle will be permitted, he said, but they will likely be operating at a third of their proposed 250 people volume due to the pandemic as well.
"I had no idea I hit a potential nerve with the ATV [tours] up here so we are not doing that. The ATV company will still operate on the west side, mostly on Stillwater State Forest, they have a permit for that. We are going to allow them to come to Red Meadow Lake and turn around and go back, but they're not going down Red Meadow Road," Davies said.
Davies also gave a preview of a future comprehensive river management plan for the Flathead River, based on data collected by cameras over the last three years.
"We're able to actually see how many boats are going by at certain points. We had a feeling that this upper North Fork was starting to bump up against this old plan with this encounter data," Davies said. "We're definitely seeing an increase, and our camera data now tells us exactly how many boats per day."
The plan will not be prescriptive, he said, and will look for other options other than permits for river users as the rivers become more crowded.
Limiting use in one part of the river, no matter how primitive and backcountry it is, has effects on the rest of the system, he said.
"We are trying to protect one of the outstanding, remarkable values for the entire Flathead system. It's a comprehensive river management plan - North Fork, Middle Fork, South Fork — and so one of the reasons recreation was designated for outstanding values is the diversity of quiet solitude and primitive reaches and busy, recreation where you expect to see lots of traffic. If we limit use up here in the North Fork, it's probably going to push people somewhere else, so we're trying to think of that big picture," he said.
Based on the data they've received so far, Davies added he's seeing big spikes on the weekends and holidays in the North Fork area, as well as through the rest of the river.
This was met with no surprise by North Fork residents, who have been counting the number of trailers carrying rafts that pass by the road.
"I have a feeling when you see this data, if you like to float the river, you're probably never going to go on the weekend again," Davies said. "It's four-fold, five-fold on weekends."
---