Patrick Joseph Sullivan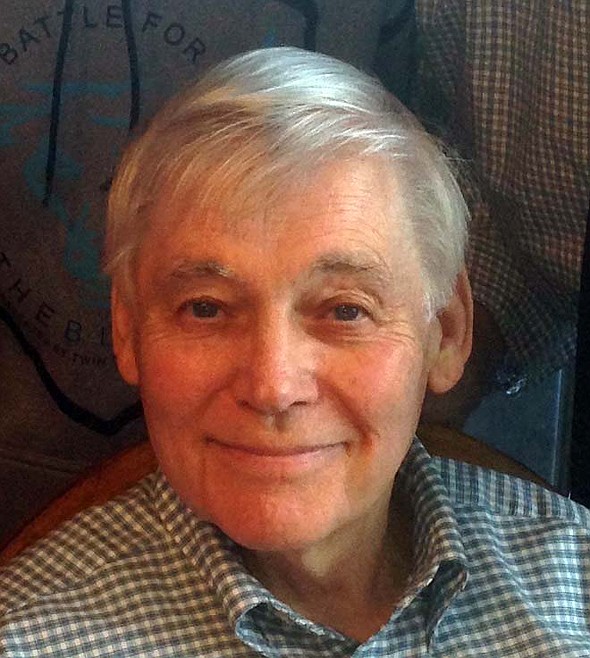 Pat was born April 21, 1941 in Minneapolis to Joseph James and Esther Susanna (Stuedemann) Sullivan. Pat passed away on June 26, 2020 in the hospital in his old neighborhood. In between, Pat enjoyed a life of many adventures and laughs.
Pat was memorable for being one of those unique characters that God created full of goofy jokes and fun pranks. Pat was always full of little accents, improvisations, nicknames, fake teeth, wigs or whatever to get someone to laugh and enjoy the moment.
Pat grew up poor in an apartment building where the tenants shared one bathroom amongst the 10 apartments. Pat met his wife Sandra (Videen) at South High where they were honored as the senior prom royalty and cutest couple of Class of 1959. Pat then played football at Augsburg College in Minneapolis where he had a stellar career along with many jokes and fun with his fraternity brothers. Legendary Augsburg Coach Ed Saugestad shared his memories of Pat with the attendees during his 75th birthday celebration in 2012. Coach remembered Pat's story from 50 years ago of the poor kid from the neighborhood with a big heart, toughness, strong work ethic, shifty moves and speed.
Pat and Sandy were married December 1962. Pat embarked on a career in retail sales taking assignments from Chicago to Montana and in every state in between. In 1981, Pat realized his dream of becoming a business owner purchasing Sandra's on main street in the resort town of Whitefish, Montana. Pat built life-long friendships with the other business owners creating several of the special events that helped transform Whitefish from railroad town to the thriving resort town it is today. Pat became a serial entrepreneur starting several businesses between working for several retail businesses. During his career, Pat visited probably every mall and main street in America. Until his passing, Pat had a keen memory of all the people, his pranks and towns across America, and of course all his favorite restaurants. Pat and Sandy lived their final years in Alexandria, Minnesota, near their daughter KrisAnn.
Pat always dreamed of his legacy being his business career, but near the end of his life came to appreciate that his legacy is his family. Pat loved watching all his seven grandkids play sports, especially the youngest, Matthew who just finished his high school career as the football starting quarterback, hockey all-star and baseball player who will play in college. Five of Pat's grandkids followed in his footsteps playing sports in college as well as all graduating (or will graduate) from college with honors. Most importantly, Pat and his family grew in their faith to realize that being a compassionate, loving, faith filled person was most important.
Pat is preceded in death by his parents and wife Sandy in 2010. Pat is survived by his daughter KrisAnn and Dr. Brian Carlsen of Alexandria and their children Eric, Anna (and Mike McClouth) of Denver, Karina (and fiancé Josh Saucy) of Fullerton, California, and Matthew; son Rick and Judi of Boise, Idaho, and their daughters Emily, Natalie and Helen; and brothers-in-law and their kids from the Videen clan — Dave and Barb, Lee and Cheryl, and Steve and Elizabeth. The family would like to give a special thanks to Pat's friend of the last few years Yvonne Solvie of Alexandria for her compassion and love.
A graveside celebration of life for both Pat and Sandy will be held at Glenhaven Memorial Gardens in Crystal, Minnesota, on Thursday, July 9, 2020 at 9 a.m. Special memories can be shared to: www.washburn-mcreavy.com/obituaries.
---