Opportunity Wednesdays give teachers, students time to collaborate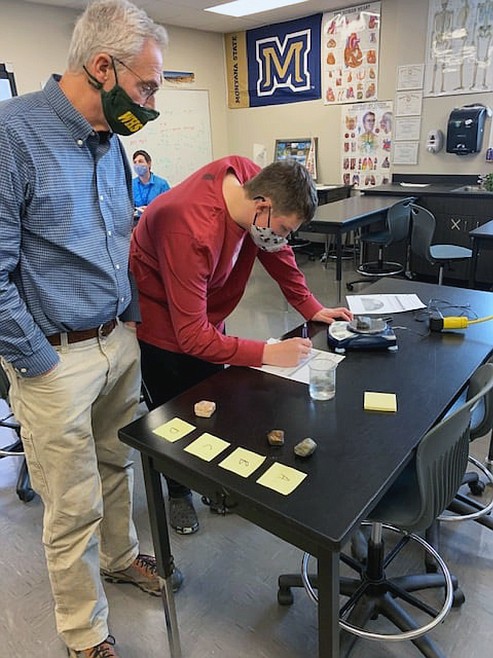 Whitefish High School freshman Brec Gibson works on Earth science with high school librarian Dan Kohnstamm on a recent Wednesday. (Photo courtesy of Whitefish School District)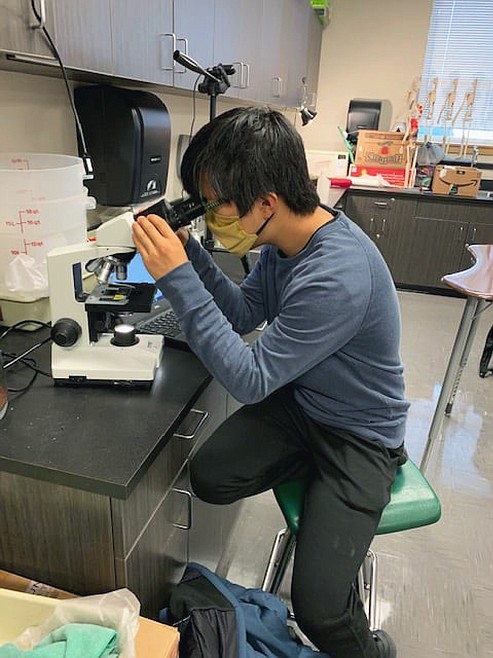 Whitefish High School sophomore Joshua Pitchford uses a microscope as he gets assistance in his biology class on a recent Wednesday. (Photo courtesy of Whitefish School District)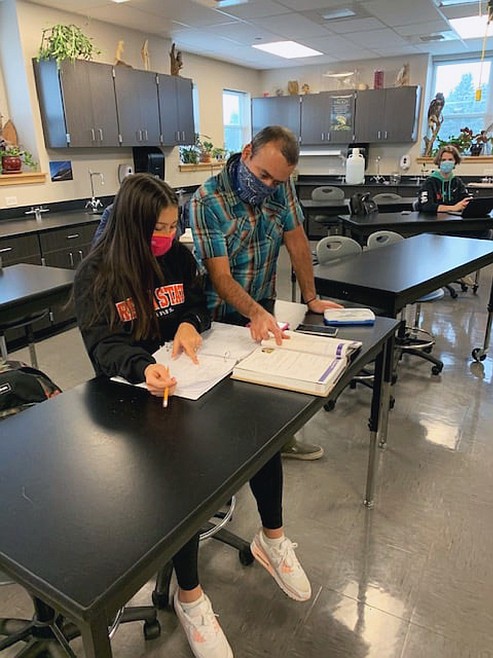 Whitefish High School sophomore Ava Mendoza works on geometry with her math teacher Damian Estrada on a recent Wednesday at the high school. (Photo courtesy of Whitefish School District)
Previous
Next
by
WHITNEY ENGLAND
Reporter
|
December 16, 2020 1:00 AM
Wednesdays at Whitefish Schools have flourished into an educational opportunity that many administrators, teachers and students alike hope to see stick around long after the COVID-19 pandemic.
Each week Wednesdays have been filled with time for teachers and school staff to collaborate, teachers to reach students both virtually and in-person to offer one-on-one assistance and mentoring, and a time for educators to connect some students with extra enrichment activities. According to the principals and several teachers at all three schools, this opportunity block is proving to be far more beneficial than anyone even anticipated.
Dubbed "Opportunity Wednesdays" by the district, the day was born because of the hybrid in-person and online learning model that the Whitefish School District implemented for the first three months of the school year in light of COVID-19. This meant that in-person student attendance was split alphabetically by last names, with students attending two days in-person and two days remotely each week. Wednesdays were reserved for deep cleaning, staff meetings and for the occasional student who needed extra help catching up on school work to come into the school building.
"Opportunity Wednesdays are incredibly important, and I hope this model continues post-Covid," high school English teacher Al Hammel said. "We now have enough time to provide high-quality individualized instruction."
Wednesdays have evolved into an adaptable, multifaceted day of education for all involved. All three schools, grades kindergarten through 12th, use the day in some similar, but varying ways.
At all three schools, Wednesdays have provided the chance for teachers to meet with each other, administrators and other school staff members. Educators at all the schools are a part of specific professional learning communities, and the ability to have extra, uninterrupted time to meet is invaluable, according to several teachers.
"Early release for professional learning communities was helpful, but [Opportunity Wednesday] has been a game-changer — there's a lot to be said for truly feeling part of a teaching team," Hammel explained, echoing sentiments from a handful of teachers. "Traditionally we had struggled to find time in the school week to collect our thoughts and seek instructional advice or feedback from our closest colleagues."
"Regular social, emotional and professional support from colleagues is essential to meet student needs, and we all agree that students come first," he added.
Meetings that would have previously pulled teachers away from their students are now part of Opportunity Wednesdays, but there are numerous other benefits to having this unordinary day. At Muldown Elementary School, Principal Linda Whitright said the students are thrilled as they come in and out of the building on Wednesdays.
Several teachers from Muldown mentioned a progressive use of the "extra" day, saying that originally they used it as a way to catch up students who were falling behind. Although that is still going on, now it is so much more.
"Today, I use it to reach all my students," third-grade teacher Britney Lavina said. "Wednesday's in my class are used to reach out to small groups of students and focus on skills we are learning in class, but also to build teacher-student relationships — building this relationship is especially important during this traumatic time of Covid."
Another Muldown teacher, Pam Morgan, said first-grade teachers run a Google Meet in the morning that introduces expectations for remote learning for the day. Following that teachers meet in-person with some students and also connect with students via the online learning enrichment program called Seesaw, which helps meet the needs of both high-achievers and those struggling to learn.
She added that having a day to communicate with parents, work out technology issues and better prepare both virtual and in-person lessons is helpful for her to be successful in this current social environment.
Muldown teacher Jen Hilder took a different approach to Wednesdays since by teaching a special education program she normally already works with students in small groups. Her class was able to acquire used bikes and she leads outside biking adventures with her kids on many Wednesdays; other times they are able to dedicate a full day of work on a large class project.
Whitefish High School is approaching it similarly, although better geared toward that age group's needs.
High school special education teacher Sarah Scott says this block is being used by her and many of her colleagues as a way to meet with students individually. She added that it's been neat to see many students taking ownership of their education with this opportunity.
"I feel Opportunity Wednesday has been the best intervention we have implemented at the high school in years," she said. "We know that flexible and timely one-on-one or small group instruction is the most effective instructional model, but have struggled to find a way to fit it into a traditional school day schedule."
Hammel also added that a workshop model during a normal class period does not even provide the same benefits as the opportunity block does because with less kids around at a time, he's observed that even students who rarely speak up feel more comfortable asking for help.
"[Opportunity Wednesdays] allows me to be more accountable to students who would normally 'fly under the radar,'" he said.
Ross Lingle, who is both a teacher and counselor at the high school, often uses Wednesdays to meet with many of his students preparing for college applications as well as collaborate with his colleagues.
"Wednesdays have given teachers time to share our successes and struggles and support each other," he said. "It's that chance to catch our breath, regroup and feel confident about the rest of the week."
At Whitefish Middle School, Principal Josh Branstetter said he's had overwhelmingly positive feedback from teachers about the day. He is pleased that the middle school has been averaging 100-plus in-person sessions with students and around 10 to 20 remote sessions per teacher on Wednesdays since early October.
"A lot of the questions we had going into this school year, is last quarter we were 100% remote so how are we going to make sure we meet the needs and fill the holes," Branstetter said. "That was a big concern, still is, and this Wednesday (block) is one of those ways that we're filling those gaps and meeting those needs."
Last month the school district returned to in-person learning four days per week at all schools, but administrators recommended keeping Opportunity Wednesdays as part of the schedule to continue to provide that set aside block of time to students and teachers.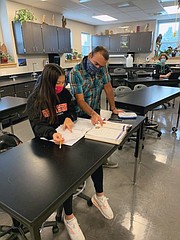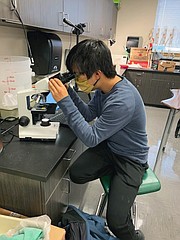 ---