Base Lodge Clinic at resort provides medical care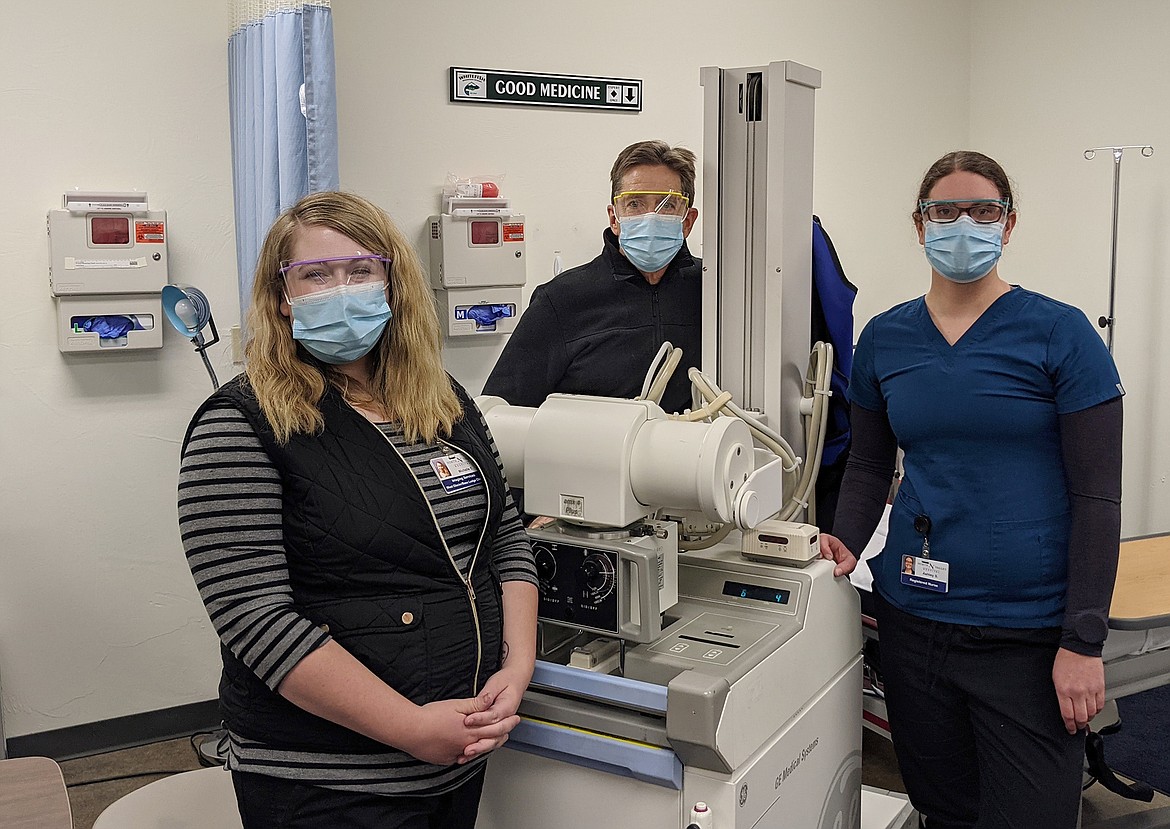 Imaging Tech Michelle Edwards, Physician Assistant Kelley Price and Registered Nurse Ashley Short at the Base Lodge Clinic on Big Mountain.
|
December 16, 2020 1:00 AM
Vacationers typically do not list an emergency room on their list of places they wish to visit. Yet when your vacation involves skiing and snowboarding, accidents can happen. Thanks to an enduring partnership between the ski area and North Valley Hospital, there is a way to avoid a trip to the emergency room, and still receive quality urgent care.
For 21 years North Valley Hospital has staffed a small clinic at the base of Whitefish Mountain Resort. Currently located next door to the Base Lodge with ski-in access, the clinic resembles a small emergency room with three bays. Open daily, the clinic's staff of three is at the ready to receive patients brought in by ski patrol or any walk-ins needing medical attention.
Prior to the 1999-2000 ski season, ski patrol would provide the initial response to an injured skier or snowboarder, and transport them to the base area. There they were either met by the ambulance to be taken to the emergency room, or left with a family member to their own devices. Although the relationship between the ski patrol, ambulance service and the hospital was strong thanks to excellent communication and coordination, there was a gap in the continuum of care for patients, especially those from out of town.
"The mountain was becoming more of a resort and a destination ski area," said Maura Fields who was the director of clinical services at the time. "We always had a good relationship with the ski patrol and ambulance service, so when the ski area approached us with the idea of opening a clinic, the hospital was happy to make the commitment to providing urgent care with the understanding that some injuries would be transferred to the hospital."
"Patients could get treated on the spot for low-level urgent care needs right on the mountain where they were staying," Maura explained. "North Valley was able to take healthcare beyond the hospital and create more access to the community—it filled a community need."
Based on the urgent care model, the clinic first opened with a physician assistant and a radiology technologist that operates a portable digital X-Ray system that can be rolled up next to a patient, and provide an initial assessment of the injury. Orthopedic surgeons are available on call. A North Valley Hospital Board Certified emergency physician provides oversight and direction.
In addition to the patients brought in by ski patrol, the Base Lodge Clinic also can respond to other walk-in patients with medical needs. In past years the clinic has worked with the ski area to provide healthcare for mountain employees.
The clinic was such a successful venture that North Valley Hospital decided in 2010 to open a summer clinic, this one based in West Glacier, to serve visitors of Glacier National Park. This created a sustainable model allowing staff and equipment to be shared between the two clinics. This past summer the West Glacier Clinic served as a respiratory screening facility for COVID-19. Although the opening of the clinic was later in the summer due to the delayed opening of Glacier National Park, the clinic remained open until the end of September, later than the typical Labor Day closure, to serve visitors and surrounding communities.
Prior to opening the Base Lodge Clinic this winter the team led by today's Director of Critical Care Judy Smith, collaborated with Whitefish Mountain Resort on a plan for how to adjust care in light of COVID-19.
It was decided to add a third person, a registered nurse, to assist with the complexities of caring for patients with risk of COVID-19.
"We will screen patients outside the building for covid symptoms prior to bringing them in the clinic and all patients will wear a mask," Judy said. "We also designated an isolation room with a HEPA filter so that we can provide care to a patient with covid symptoms."
The clinic will be able to swab a patient for COVID-19 however, there is no rapid testing on site. Swabs will be sent to North Valley Hospital and on to Kalispell Regional Medical Center to be run. Turnaround time is expected to be 72 hours.
"Our intent is to provide our full services to guests, workers and residents of the mountain community, and we welcome locals too," Judy said. "We have a great team of long-term staff that partner with the mountain's ski patrol to provide care. They go above and beyond for patients that are visiting, by helping them navigate the local health care system, or get them home safely with the initial assessment and referral they need to continue care in their own home community."
"It was a great idea and a solid partnership that has sustained 21 years," Maura added. "We were very fortunate to have skilled professionals to bring these clinics to fruition. It's a testament of how our community works together."
The Base Lodge Clinic is open daily 10 a.m. to 5 p.m. seven days a week through the end of the ski season.
Riley Polumbus is the Marketing and Community Relations Manager for North Valley Hospital.
---