Whitefish Theatre Company announces 2020-2021 season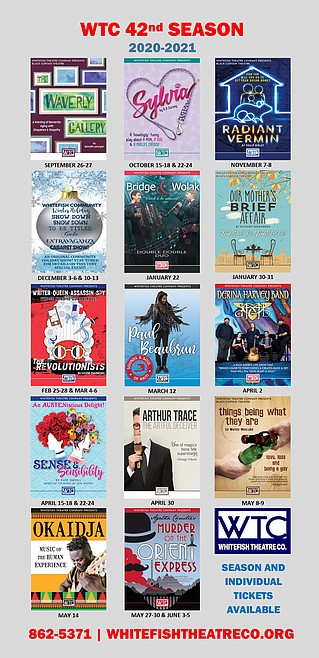 |
August 26, 2020 1:00 AM
Whitefish Theatre Company, celebrating 42 years of quality community theatre, world music and more, is proud to introduce its 2020-2021 season.
With 14 shows, WTC's season is diverse, inspiring and fun, offering entertainment for all to enjoy.
"I couldn't be more excited about our upcoming year," says Artistic Director Kim Krueger. "WTC is so happy to be back doing what we do best and we are thrilled to offer such a superb season. If all goes as planned, this year's line-up will include nine theatre productions, four music concerts, and one fabulous illusionist show in hopes that we showcase something for everyone."
WTC Executive Director Jennifer Asebrook said the theater company has spent the last few months thinking outside of the box to bring theatre and music back to life at the O'Shaughnessy Center.
"While changes to this season may occur, WTC is thrilled to offer two ways to view shows this year. First, we will continue to offer live shows with limited occupancy and socially distant seating."
Until directives change from the state of Montana, all viewers will need to wear a mask when attending a live show. At the same time, WTC is also offering a live stream option to view shows at home for those who are not quite ready to return to our indoor theatre space.
"As this 'new normal' may continue for a while, we ask that our patrons tune into our website and social media sites for details on how to view and buy tickets to all of our shows this season," Asebrook said.
Whitefish Theatre Company's 2020-2021 season:
• The Waverly Gallery (Black Curtain theatre): Sept. 26 and 27
"The Waverly Gallery" is a touching story about family matriarch Gladys Green whose less-than-thriving art gallery on Waverly Place is being replaced with a coffee shop _ all at the same time that her world is shrinking through loss of memory and hearing. A finalist for the 2001 Pulitzer Prize for drama, this "wrenchingly beautiful" play sheds a lasting and humorous light on how Gladys's family struggles to cope with her fading faculties while quietly challenging us to examine how we look after each other.
• Sylvia (mainstage theatre): Oct. 15-18 and 22-24
"Sylvia" is a hilariously over-the-top comedy about empty nesters Greg and Kate, who upon their move to Manhattan, find themselves on differing paths. Enter Sylvia, a lab/poodle pooch whose every thought is brought to life by a real-life actor. Greg is immediately smitten with the dog, while a slobbering mutt is the last thing that Kate wants. Will Sylvia tear Greg and Kate apart — or is she the key to their reconciliation? Find out in this modern romantic comedy about unconditional love, the need for connection, and how a dog may be just the ticket to save a marriage.
• Radiant Vermin (Black Curtain theatre): Nov. 7 and 8
"Radiant Vermin" follows Jill and Ollie who are expecting their first baby and are desperate to find a home for their new family. When a mysterious stranger offers the young couple an ideal house, it prompts the question: at a time of crisis in the housing market, how far would you compromise your principals to secure a home for you and your family? Be prepared to be appalled at yourself for laughing aloud at this pitch-black satire about consumerism, gentrification, and inequality.
• Community Cabaret Show (mainstage variety show): Dec. 3-6 and 10-13
Just in time for the holiday season, WTC is creating a one-of-a-kind, still-to-be-titled Community Cabaret Show that will be fun for the whole family. A variety show filled with the talents of community members of all ages, this original cabaret production will feature singing, dancing, comedy skits, juggling and other talents that people bring to our stage. The finished performance piece will be tied up with a big holiday bow by our team of talented writers who will put a theme to this fun showcase!
• Bridge & Wolak (music): Jan. 22
Called a "double double duo," internationally acclaimed music and comedy pair Bridge & Wolak integrate traditional acoustic instruments with modern digital technology to perform their own uniquely re-imagined repertoire of classical, world and jazz fusion. With Michael Bridge playing accordion and piano and Kornel Wolak playing clarinet and piano, these classically trained musicians with seven music degress between them will bring inventive flair and exceptional entertainment to our stage.
• Our Mother's Brief Affair (Black Curtain theatre): Jan. 30 and 31
On the verge of death for the umpteenth time, Anna makes a shocking confession to her grown children: an affair from her past that just might have resonance beyond the family. But how much of what she says is true? Called an "everyday detective story," this witty play with a left hook considers the sweeping, surprising impact of indiscretions both large and small.
• The Revolutionists (cabaret theatre): Feb. 25-28 and March 4-6
In this new and fast-paced comedy, a quartet of beautiful, strong women raise hell in Paris during the French Revolution. The Revolutionists are real-life characters that include playwright Olympe De Gouge, assassin Charlotte Corday, Haitian rebel Marianne Angelle, and the one-and-only Marie "Let Them Eat Cake" Antoinette who conspire to avoid losing their heads — literally — during the insanity of the Reign of Terror. This bold and blisteringly funny play is about violence and legacy, art and activism, feminism and terrorism, compatriots and chosen sisters, and how we actually go about changing the world.
• Paul Beaubrun (music): March 12
A scion of Haitian musical royalty, singer and multi-instrumentalist Paul Beaubrun and his four-piece band play a smooth melange of roots/blues music, woven with reggae and rock and roll. With songs sung in English, French and his native Creole, Paul weaves impeccable guitar skills, rich vocals, musical ingenuity and cultural history together in a unique and transfixing sound.
• The Derina Harvey Band (music): April 2
With a show that offers a fresh take on traditional folk songs as well as a few originals, the Derina Harvey Band has a rocky, rhythmic undertow layered with guitars, fiddle, and topped by Derina's powerful voice and vibrant personality. A Celtic rock sensation from Edmonton, Canada, the band offers high-energy live shows "bringing color to your cheeks and creating music and joy that will fill your heart and soul."
• Sense & Sensibility (mainstage theatre): April 15-18 and 22-24
Based on Jane Austen's famous novel, the Dashwood sisters — prudent Elinore and impulsive Marianne — find their world turned upside down after their father's death, which robs them of their wealth, social standing, and most importantly, chances for marriage. Mix in a few dashing love interests and a gaggle of gossipy socialites, the sisters must learn to mix sense with sensibility, their opposite temperaments, to find true happiness.
• Arthur Trace (illusionist): April 30
Highly acclaimed by his peers as "one of the most unique acts in the world of magic today," Los Angeles-based Arthur Trace has performed on Penn & Teller's "Fool Us" and has been featured on the hit TV series "Master of Illusion." Combining original magic, audience participation, and ingeniously humorous scenarios, Arthur's show astonishes and entertains the mind, senses, and funny bone with his masterful sleight of hand and creative wit.
• Things Being What They Are (Black Curtain theatre): May 8 and 9
The minute Bill moves into his new condo, anxiously waiting for his unfaithful wife and his furniture, his nosy neighbor Jack appears at the door ­— looking for some beer and sympathy. At first Jack appears to be a nightmare neighbor — intrusive, needy, boorish - but gradually Bill begins to understand the background of Jack's life. This wistful and off-beat comedy follows an unlikely bond between two regular guys as they debate the meaning of love, loss, masculinity, and the needs that bring people together and drive them apart.
• Okaidja Afroso (music): May 14
Back by popular demand, WTC's music season closes with a return concert by Okaidja and his three-piece band. Okaidja is an Afro-pop singer-songwriter and multi-instrumentalist from West Africa who combines the spicy, native rhythms of Ghana with diverse, unexpected cross-cultural flavors of folk, blues, and pop. Although Okaidja sings most of his hypnotic arrangements in his native language, the meanings of the songs shine through as he tells stories of his people, their journeys, and the African Diaspora. Okaidja's smooth compositions, soulful vocals, and spirited dancing promise an unforgettable and joyful evening of music.
• Murder on the Orient Express (mainstage theatre): May 27-30 and June 3-5
Finally, WTC's 42nd season comes to a close with Agatha Christie's "Murder on the Orient Express". Ten passengers board the luxurious Orient Express that is travelling from Istanbul to Western Europe. When the train unexpectedly stops in the isolated mountains, however, only nine of them are still alive leaving renowned detective Hercule Poirot to find the murderer. Adapted for the stage by Tony-nominated playwright Ken Ludwig, this masterpiece mystery promises a suspenseful and thrilling ride that is sure to have everyone in the audience guessing just who did it!
All shows are at the WTC's O'Shaughnessy Center in Whitefish. Currently, Season Passes and Build-Your-Own-Season Passes, offering 10% to 15% discounts off regular ticket prices, are available by calling the box office at 406-862-5371, ordering through the brochure order form that is on the website, or visiting us at 1 Central Avenue in Whitefish. Box office hours are Monday through Friday, 11 a.m. to 3 p.m. After Aug. 29, individual tickets for all shows can also be purchased on at www.whitefishtheatreco.org.
---