Effort seeks ski goggles for use by medical professionals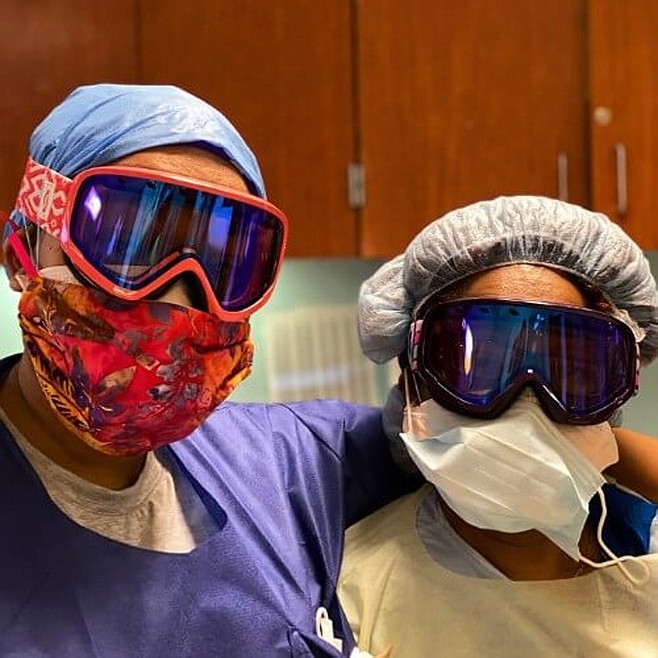 Goggles for Docs is an effort to get used or new goggles into the hands of health-care workers who currently have no eye protection as they treat COVID-19 patients. (Courtesy photo)
by
HEIDI DESCH
Daily Inter Lake
|
April 15, 2020 1:00 AM
A major effort has sprung up around the United States to get ski goggles to health-care workers who are without eye protection as they treat patients with COVID-19.
The Goggles for Docs program began in late March in Massachusetts and is collecting donations of ski and skate goggles that are being distributed to healthcare personal who need personal protective equipment.
More than 27,000 goggles have been donated already, but organizers are looking for more. Health-care providers wear face shields over masks while treating patients to protect against respiratory droplets, such as from coughs and sneezes, that can transmit the coronavirus, but some places are coming up short on those face shields.
Anna Atwell, regional coordinator for Montana with Goggles for Docs, says goggles are being distributed to hospitals all around the United States, Canada and Europe as a result of the effort.
"We're taking donations of ski or skate goggles that can be used as a reasonable alternative for those that don't have personal protective equipment," Atwell said, who is coordinating the Montana effort from Bozeman. "We're setting up drop off locations in ski towns and trying to get the word out."
Two donation sites for the program have been set up in Whitefish — at Kintla Copy and Wheelie Creative. Sites in Montana are also located in Bozeman, Belgrade and Big Sky.
There are currently no Montana hospitals on the list requesting goggles, but that could change moving forward.
"As the situation gets worse in certain areas hospitals tend to then request goggles," Atwell said. "Hospitals and others aren't always aware yet that we're doing this, so we're trying to get the word out."
Whitefish Mountain Resort has already stepped up to support the program by promoting Goggles for Docs on social media and making a donation of goggles to the cause.
Nick Polumbus, Director of Marketing and Sales for the resort, said the resort wanted to do what it could to assist the effort, including by making sure the community is aware of the Goggles for Docs.
"We donated a case of brand new goggles that we didn't sell this winter," Polumbus said. "This is just one of those things we could do during this crazy time to help. It's a small contribution we can make, but something that we can do to give back to health-care workers."
Atwell said other ski resorts in Montana are also assisting the effort by making donations often from their lost and found bins.
"The outdoor industry has been great in helping us," Atwell said.
The Goggles for Docs program, according to The Berkshire Eagle newspaper in Pittsfield, Massachusetts, began when Jon Schaefer received an email from a New York City emergency room doctor searching for ski goggles for medical staff because personal protective equipment supplies were running low.
Schaefer owns the Catamount Mountain Resort in Hillsdale, New York, and Berkshire East Mountain Resort in Charlemont, Massachusetts, both ski resorts that ended their seasons early due to COVID-19, according to The Berkshire Eagle. So Schaefer invited medical facilities to request goggles and used his connections in the ski industry to solicit donations kicking off the program.
Any ski-style goggle can be donated, including those used for motorcycles and snowmobiles. However, swim goggles are not acceptable.
Both used and new goggles are OK for donation, included those that are tinted or clear.
Donations can be made at drop off locations, but they are also being accepted through the mail.
More information on shipping or making donations to a drop off site is available on the group's website at https://gogglesfordocs.com.
In Whitefish, Kintla Copy, at 503 Railway Street, has a drop box located just inside the store's front door. At Wheelie Creative, at 130 Lupfer Avenue, a donation bin is located on the front porch of the office.
In addition to goggle donations, Atwell noted, volunteers are still needed for the effort, including picking up goggles from donation sites or promoting the program.
"A lot of people are tired of watching everything that's been happening and not being able to do anything," she said. "I heard about this because my parents work in the ski industry and most other volunteer opportunities are shut down because of the coronavirus, so I volunteered for this."
For more information on how to donate goggles, visit https://gogglesfordocs.com/
Recent Headlines
---