Jack Fletcher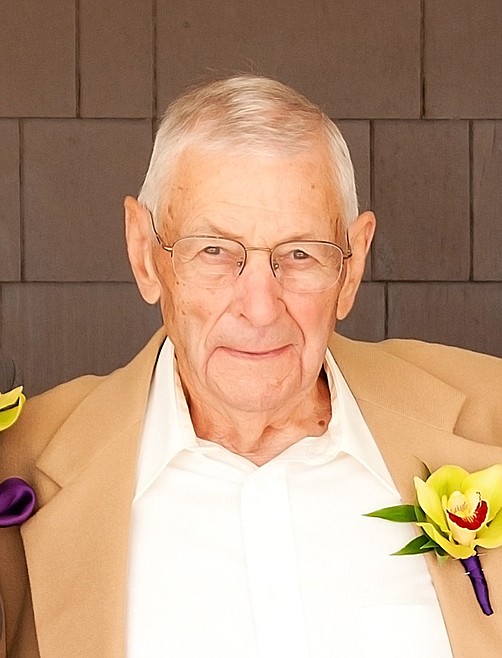 Jack K. Fletcher of Whitefish passed away peacefully on June 8, surrounded by family and friends. He was 92.
He was a long-time resident of Whitefish and was significantly involved in this community.
Born in Tulsa, Oklahoma in 1926, Jack grew up in Kansas City, Missouri. He enlisted in the Navy at age 17, completed flight training in Pensacola, Florida and was assigned to an air wing aboard the aircraft carrier USS Yorktown as pilot of a Dauntless SB2C dive bomber. He flew many missions and was once shot down over China, rescued by members of the Chinese Army and eventually returned to the Yorktown.
After the war, Jack returned to Kansas City, where he worked for his father who owned one of the first Packard automobile dealerships. He received a degree in Civil Engineering from Finley Engineering College in Kansas City and was hired by Lumbermen's Underwriting Alliance where he worked for 38 years throughout the United States, Pacific Northwest and California. During his career Jack lived in Redding, California; Kansas City, Kansas; and Portland, Oregon, before retiring in 1988 and moving to Whitefish.
After relocating to Whitefish, Jack became involved in many community, civic and recreational programs. He was one of the early members of the Stumptown Historical Society — the organization that purchased the Whitefish Train Depot and created the Stumptown Museum. He also took part in renovation of the depot in the early 1990s and volunteered for many years at the museum. He worked to help pass the Whitefish Resort Tax, which to this day funds many community needs. Jack attended The First Presbyterian Church of Whitefish and was a member of the American Legion, Moose Lodge and an early member of the Whitefish Lake Institute. He participated for 13 years of the Over-The-Hill Gang and participated in countless hikes throughout Glacier National Park. He was an avid outdoorsman who enjoyed hiking, fishing and cross-country skiing.
Jack is survived by Florence his wife of 65 years; three sons — Steven Fletcher, Beaverton Oregon; Ross Fletcher, Seattle, Washington; and Robert Fletcher, Portland, Oregon; eight grandchildren and one great-grandchild.
A celebration of life will be held on July 27 at the First Presbyterian Church of Whitefish. Please contact the church for more information.
Recent Headlines
---