Whitefish Review celebrates 28th edition 'Into the Unknown'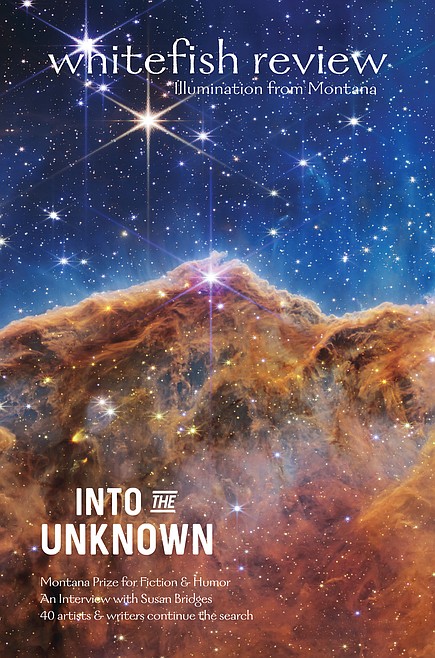 The cover of Whitefish Review's "Into the Unknown" edition.
|
September 20, 2023 12:00 AM
Whitefish Review will celebrate the publication of its 28th issue on Thursday, Sept. 28 with an event featuring the photography of Susan Bridges. The celebration will be held at the Second Story at 101 Central (formerly Casey's).
"Artists and writers have a special way of helping us better find our way in these unknown times, and we are thrilled to present such a variety of creative spirits at this special event," said Brian Schott, founding editor of Whitefish Review.
Susan Bridges is an accomplished photographer and philanthropist who has spent her life championing many causes. An interview with Susan is featured in the newest issue where the editors discuss a wide range of cultural and environmental issues with her including food insecurity, grizzly bears, community, and family — as well as the near-death scare and illness of her husband, the actor Jeff Bridges.
During the event, Susan will discuss her collection of black and white photographs taken on the set of the American Western epic, Heaven's Gate, written and directed by Michael Cimino and filmed in and around Glacier National Park in 1979. The story revolves around a dispute between wealthy cattle ranchers and European immigrants in Wyoming in the 1890s.
The event will also feature live music. Author Rick Bass will introduce The Montana Project and a guitar built from a 300-year-old spruce cut down in a logging operation. Musicians include Gibson Hartwell, Nate Biehl, Ben Palmer, and Angelo Chiavarini, as well as Review fiction editor Matt Holloway and his daughter Harper. The players will sing songs of celebration as the guitar speaks for the health of old-growth forests.
Badge Busse is also a featured guest, one of the youth representatives in the recent landmark climate case, where the court re-established the people's constitutional right to a healthful environment and that the state must consider potential climate damage when approving projects. Additional poets and authors who will share their work include Craig Thomas Naylor and Ashly Ananda, winner of the Montana Prize for Humor in non-fiction.
Whitefish Review has also announced that with the publication of this issue, the journal has now published over 1,000 artists and writers since its founding in 2007.
"Over time and a lot of hard work, we have formed a creative community of more than 1,000 artists and writers from 46 different states and 25 different countries," says Schott. "Working with each of them has been an honor as we continue to build this creative community."
Doors open at 7 p.m. with live music and the event will begin at 8 pm. Susan Bridges will sign special art posters that will be offered for sale at 9 p.m. Additional music will conclude the evening.
Whitefish Review is a literary journal that explores the landscapes of the human condition, our connection to the natural world, and illuminates the confluence of art, storytelling, society and science.
For more information, visit www.whitefishreview.org or call (406) 261-6190.
Recent Headlines
---