Cross country teams in top-3 at time trials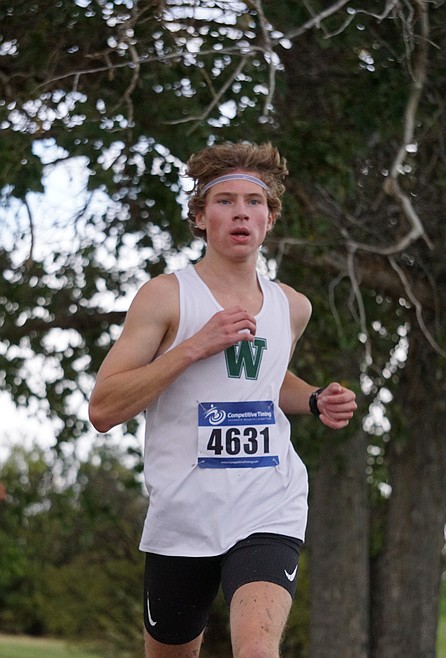 Whitefish Junior, Ethan Amick, was the number three Bulldog runner on the day and placed 6th overall at the Mike Reynolds Time Trials in Cut Bank on Friday. (Matthew Weller photo)
by
JULIE ENGLER
Whitefish Pilot
|
September 13, 2023 12:00 AM
Despite a one-hour delay due to lightning, the Bulldogs competed well at the Mike Reynolds Time Trials in Cut Bank on Friday. The runners had to take special care while waiting, after having been warmed up and ready to go.
The race was technically a time trial event, but team scores were tabulated.
For the boys teams, Columbia Falls took first place with Browning in second, and the Whitefish Bulldogs in third.
The same teams were in the top three on the girls side with Columbia Falls winning, Whitefish coming in second, and Browning in third.
Whitefish Coach Richard Menicke said the teams from Columbia Falls and Browning are stout and have incredible depth.
Bulldog Deneb Linton finished in first place in his return to the lineup for Whitefish. Mason Genovese was third and Ethan Amick finished in sixth place. Koru Larimore ran a personal best race.
"Deneb and Mason ran like the veteran seniors they are, leading the race most of the way after the first kilometer," said Menicke. "Ethan Amick continues to run so well at a very high level, placing 6th overall as our number three.
"We had really solid runs from Azure Stolte and Koru Larimore as our fourth and fifth runners," Menicke added. "Those two guys are super important to our team scoring, so it's awesome to see them have a successful day on a tough, hilly course."
Menicke said the Whitefish girls are continuing to gel and the energy of the team's senior leaders is benefitting the younger athletes.
The top runner in the girls race was Bulldog Morgan Grube and a handful of her Whitefish teammates were close behind.
"Morgan Grube won the race in a season-best time – just an impressive run," Menicke said. "She took the lead in the second half of the race and increased her lead over one of the most lethal kickers in the state.
"Our no. 2 was freshman Grace Inabnit, who ran a PR and placed 11th and is still learning how good she can be. She competes ferociously," Menicke added. "Our other freshmen, Sierra Gibb and Sophie Douglas, were solid, as was senior Hazel Gawe."
Having a week before their next race gives the team time to recover and train. The Bulldogs are looking forward to having the injured Maeve Ingelfinger and infirmed Charlotte Wallace back in the lineup.
The Bulldogs race Tuesday, Sept. 19 at the Thompson Falls Invite.
Results:
Boys Team: Columbia Falls 57, Browning 61, Whitefish 68, Bigfork 101, Cut Bank 154
Whitefish Boys: 1. Deneb Linton 17:14.60, 3. Mason Genovese 17:16.60, 6. Ethan Amick 17:39.24, 20. Azure Stolte 19:07.07, 53. Koru Larimore 21:23.68, 75. Zachary Chiarito 23:04.53, 93. Jack Flink 24:32.19
Girls Team: Columbia Falls 24, Whitefish 55, Browning 79, Cut Bank 98, Lethbridge Collegiate 113
Whitefish Girls: 1. Morgan Grube 20:59.43, 11. Grace Inabnit 22:33.03, 14. Sierra Gibb 23:42.97, 16. Hazel Gawe 23:53.90, 17. Sophie Douglas 24:20.74, 18. Maren Cromie 24:22.80, 29. Maci Brennan 25:25.79, 38. Lillian Nelson 28:27.56, 60. Astir Pulsifer 34:58.02
Recent Headlines
---