Whitefish goes full throttle in cross-country championship race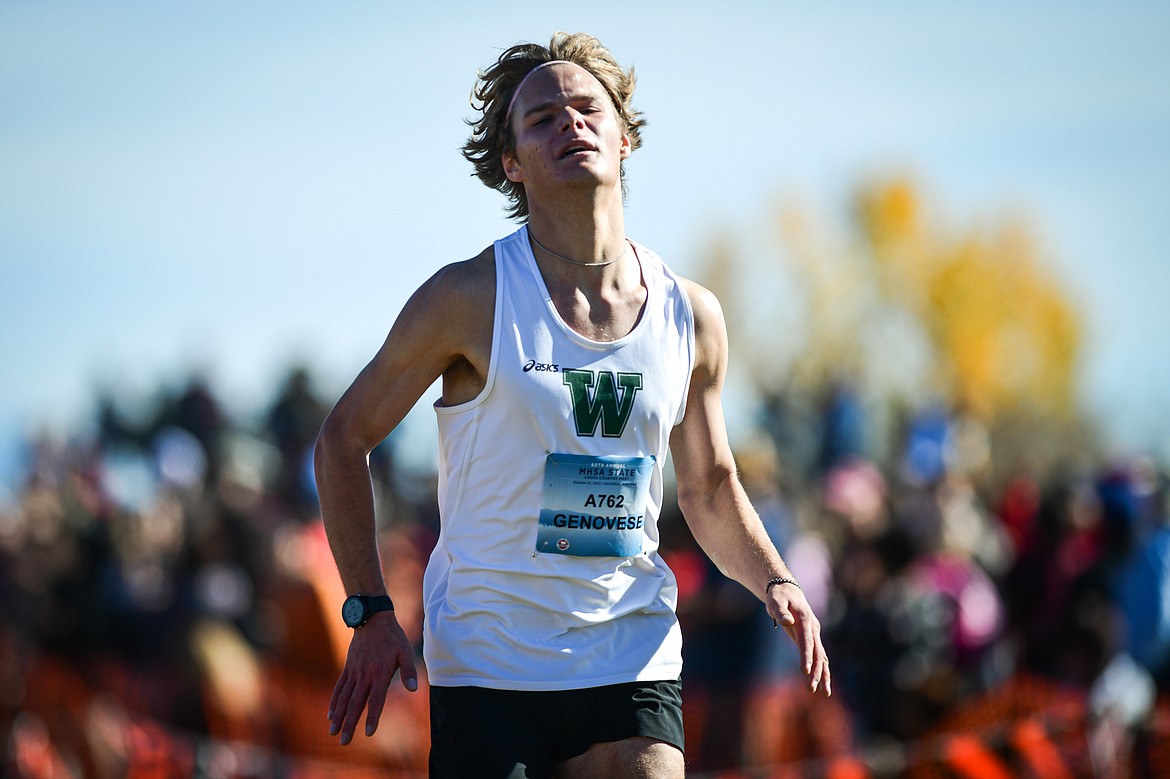 Whitefish's Mason Genovese nears the finish line in the Class A boys race at the state cross country meet at Rebecca Farm on Saturday, Oct. 21. (Casey Kreider/Daily Inter Lake)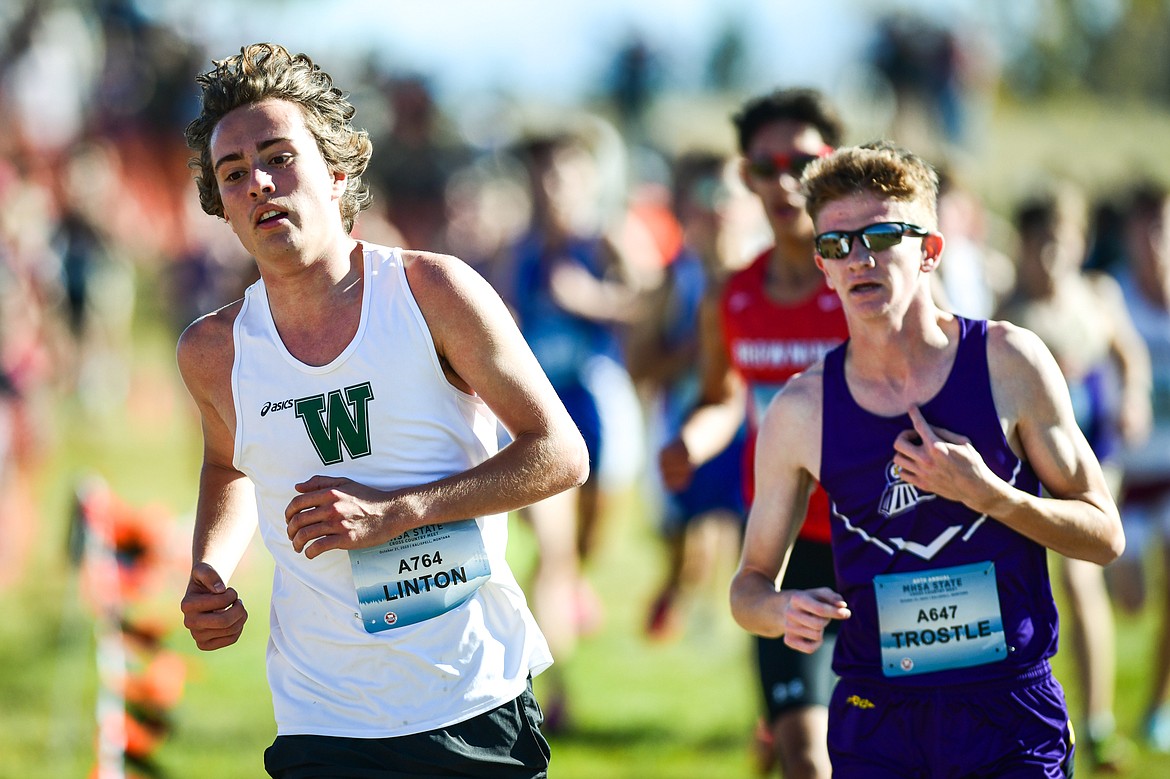 Whitefish's Deneb Linton runs the course in the Class A boys race at the state cross country meet at Rebecca Farm on Saturday, Oct. 21. (Casey Kreider/Daily Inter Lake)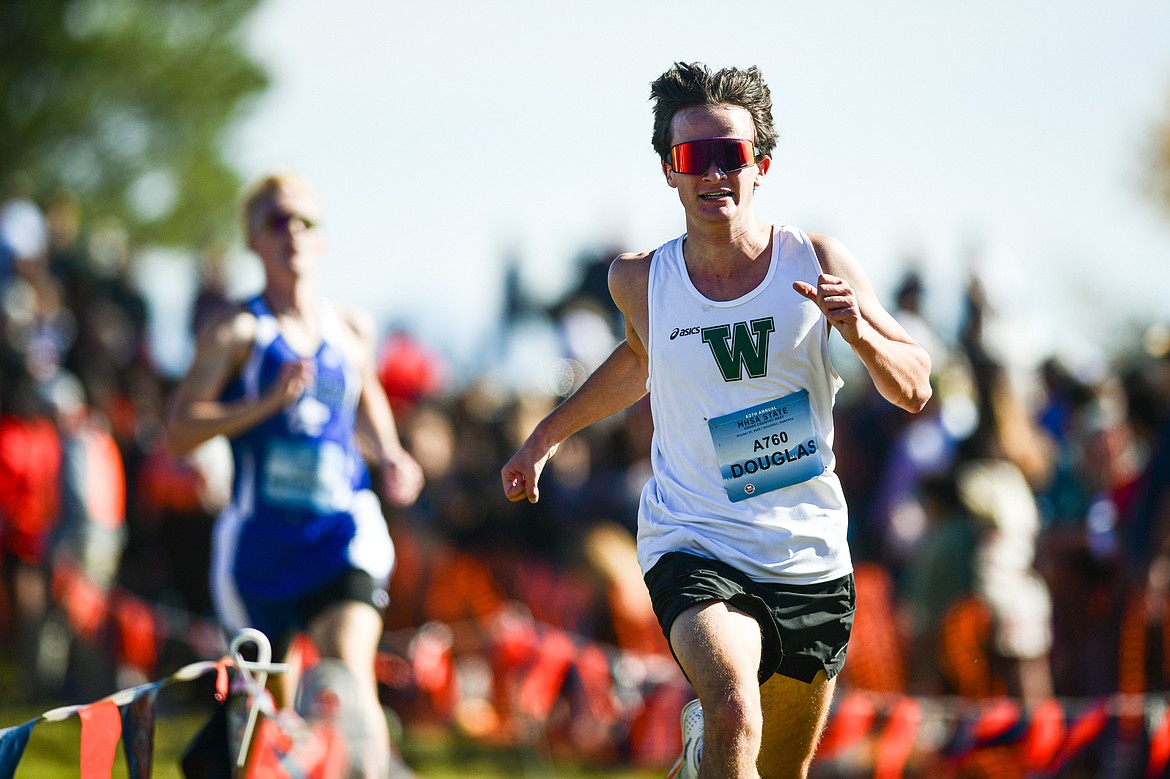 Whitefish's Simon Douglas nears the finish line in the Class A boys race at the state cross country meet at Rebecca Farm on Saturday, Oct. 21. (Casey Kreider/Daily Inter Lake)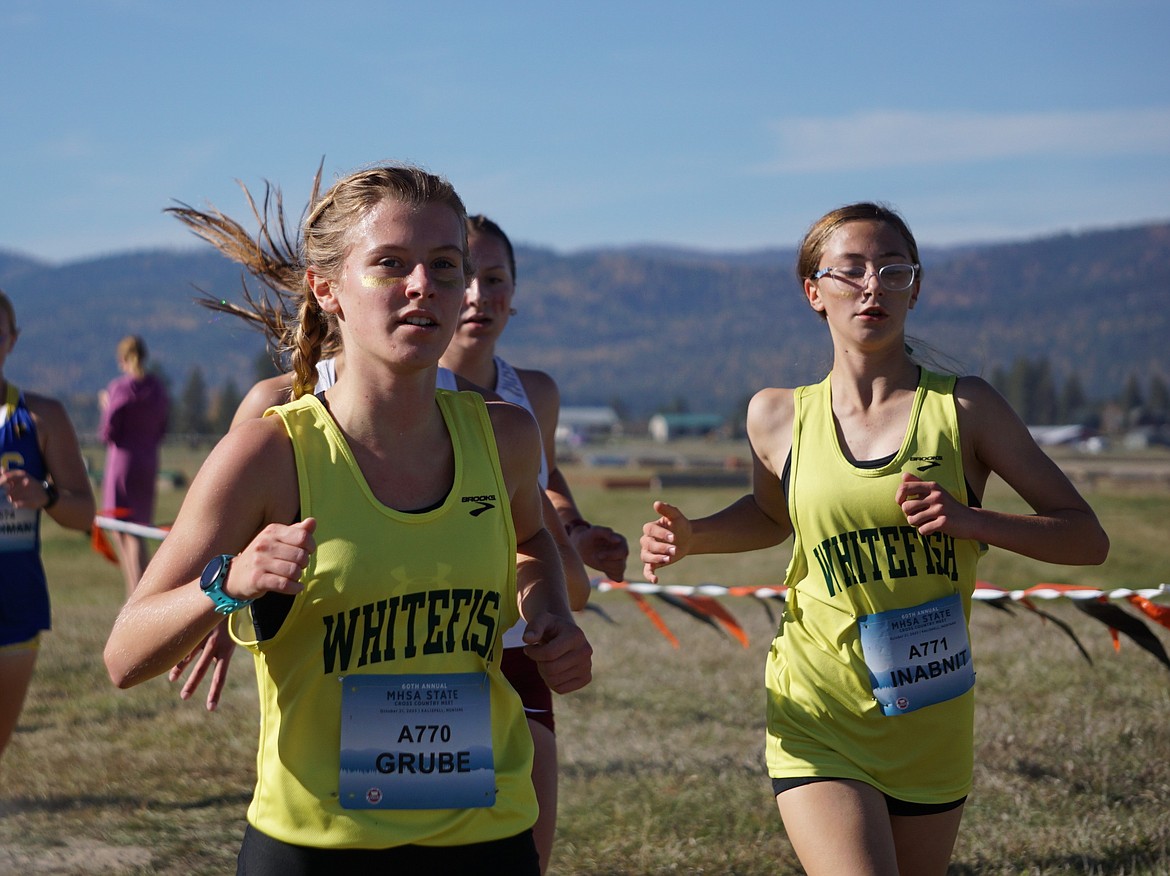 Lady Bulldogs Morgan Grube (left) and Grace Inabnit (right) settling into their pace at the MHSA State XC Championship at Rebecca Farm on Saturday. (Matt Weller photo)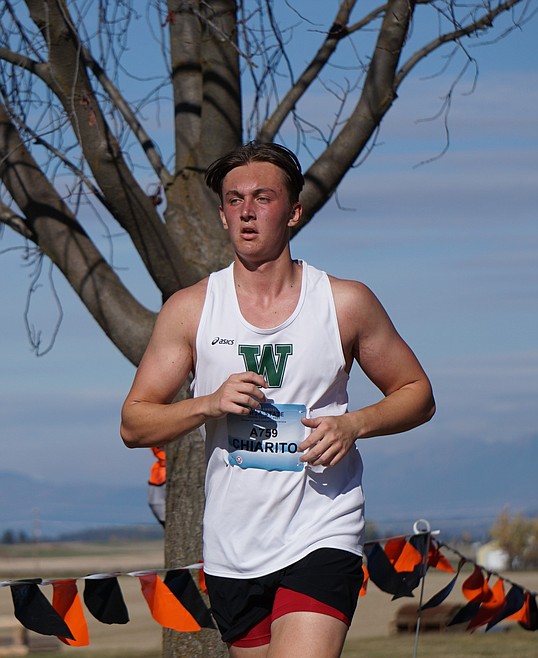 Whitefish Senior Zach Chiarito ascends the final hill at Rebecca Farm in Kalispell on Saturday. (Matt Weller photo)
Previous
Next
With a backdrop of golden larch trees and a clear blue sky, the all-class state cross country championships were held at Rebecca Farms in Kalispell on Saturday. The Whitefish runners pushed themselves and fared well as they met the challenges inherent in the sport.
"Our state championship race was challenging for both the boys and girls," said Whitefish Coach Richard Menicke. "Lots of emotion and lofty ambitions; both teams went for it and had good days. We needed great days from several to exceed our projected place of finish."
Both the girls and the boys teams finished one slot shy of their goal. The boys finished in sixth place and the girls, seventh.
The boys team from Browning and the girls team from Hardin each won first place in the Class A division.
"There were a few casualties of the 'go for it' approach, which happens, but is also valuable learning for future championship races," Menicke said. "There's a sweet spot to hit an aggressive opening pace that can be sustained for the entire 5K. Kudos to those who succeeded."
Among those who did succeed were Finn Schretenthaler from Park who won the boys race with a time of 15:27. Ten seconds later, Hardin's Ben Bird crossed the finish line in 15:37, for second place.
Whitefish Bulldog senior Mason Genovese earned All-State honors and his time of 16:38 secured 13th place in the race. Junior Simon Douglas also finished in the top 20.
"Our top five boys ran so well, as they have all season – in particular, Mason and Simon who closed well and got into the top 20," Menicke said. "Ethan and Deneb were in the right position mid-race then had troubles holding onto the closing pace.
"Shout out to Zach Chiarito who ran his season best time to be our No. 6." Menicke added.
First place in the Class A girls race was Karis Brightwings-Pease from Hardin who crushed the field and turned in a time of 18:38. Laurie Davidson of Corvallis earned second place with a 19:00.
Whitefish senior Maeve Ingelfinger returned from injury to finish 20th with a time of 20:49. Sophomore Maren Cromie, along with freshmen Grace Inabnit, Sophie Douglas and Sierra Gibb finished in the top 50.
"The girls ran so well, especially our three freshmen, who all finished in the top 50. That was a huge experience for them and I'm excited for their collective futures on the team," Menicke said. "Maeve returned to be our top finisher; so impressive she ran sub-21 without having run the past four to five weeks.
"Maren was a surprise No. 2 in a big PR. She is a very smart competitor and it was so cool watching her move up in the pack during the second half of the race," Menicke added.
It was a speedy season for the hometown harriers and Whitefish is sure to have more thrilling cross country seasons in the future.
Results
Boys Team: Browning 96, Laurel 146, Columbia Falls 150, Hardin 157, Park 172, Whitefish 178
Whitefish Boys: 13. Mason Genovese 16:38.00, 18. Simon Douglas 16?56.18, 22. Ethan Amick 17:04.51, 24. Deneb Linton 17:08.42, 148. Zachary Chiarito 21:16.54, 162. Koru Larimore 23:10.69
Girls Team: Hardin 37, Corvallis 94, Hamilton 159, Columbia Falls 162, Custer County 169, Havre 180, Whitefish 205
Whitefish Girls: 20. Maeve Ingelfinger 20:49.40, 39. Maren Cromie 21:41.73, 47. Grace Inabnit 22:15.27, 49. Sophie Douglas 22:15.85, 50. Sierra Gibb 22:17.89, 75. Morgan Grube 23:11.69
Recent Headlines
---