Whitefish volleyball top seed for conference tourney
Hailey Ells is announced in the starting lineup for Bulldogs volleyball Senior Night on Tuesday, Oct. 24. (Avery Howe photo)
Avery Howe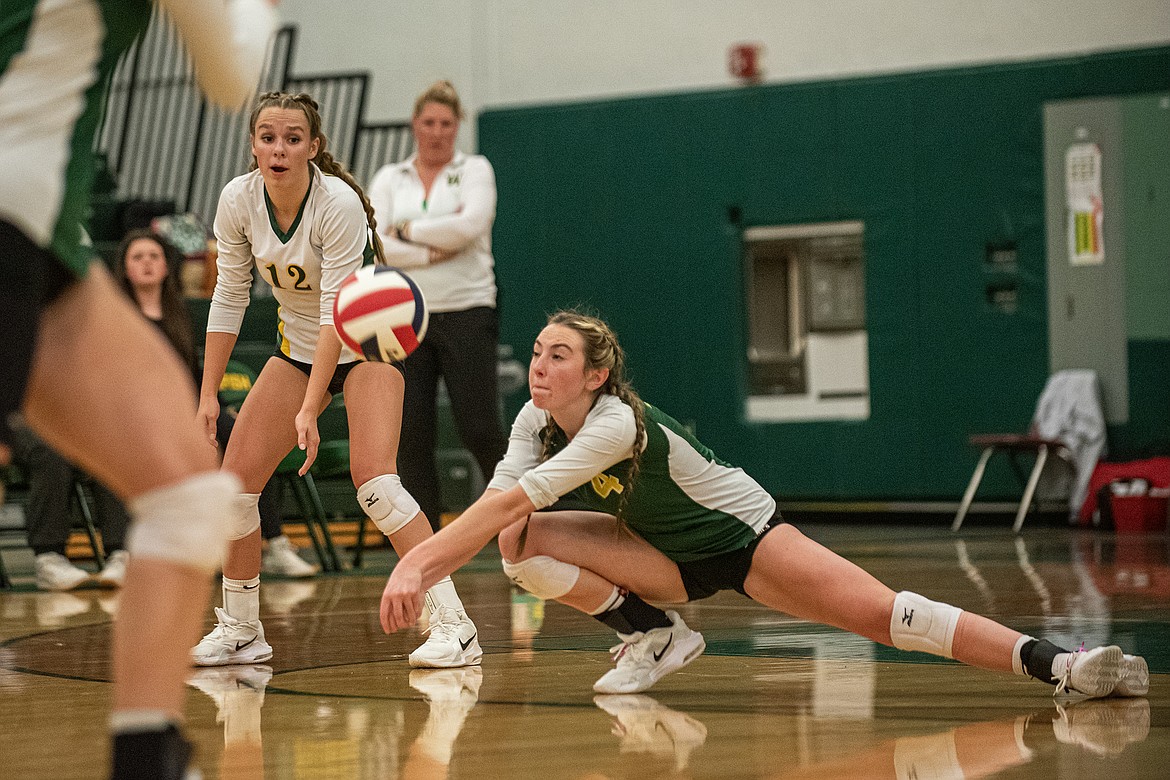 Myli Ridgeway makes a dig for the Bulldogs against Columbia Falls on Tuesday, Oct. 24. (Avery Howe photo)
Avery Howe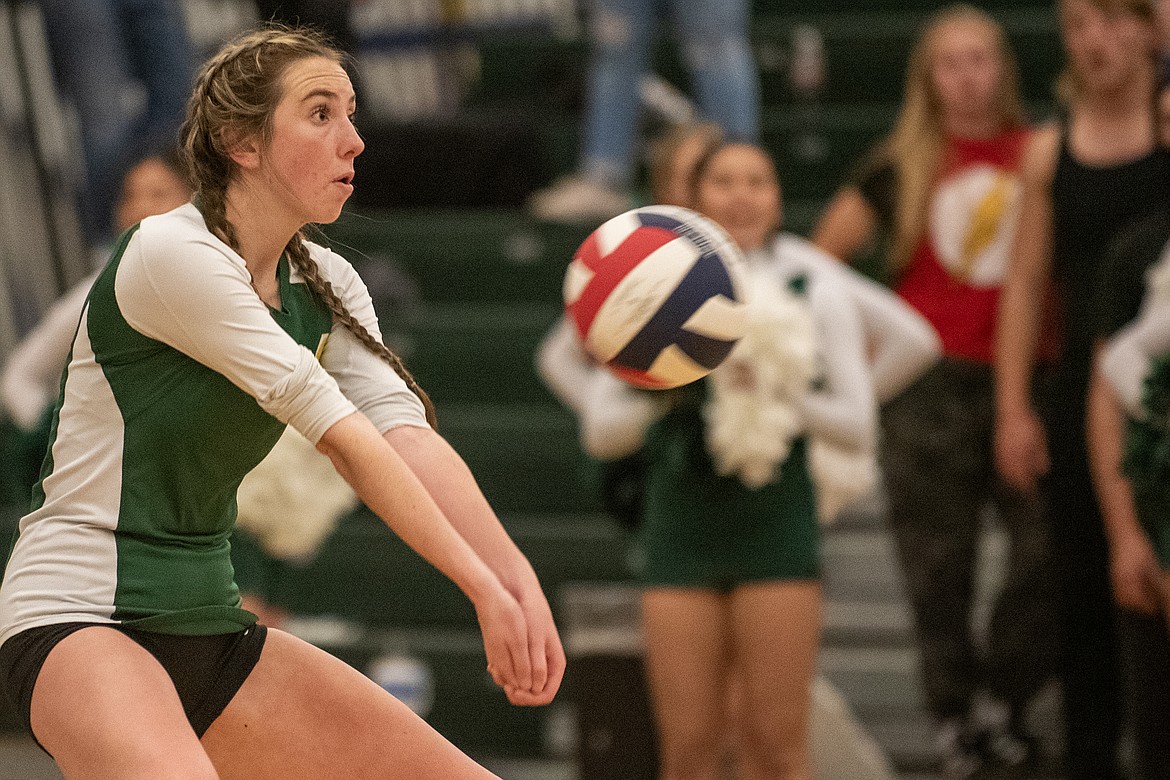 Myli Ridgeway sends a pass to target for the Bulldogs on Tuesday, Oct. 24. (Avery Howe photo)
Avery Howe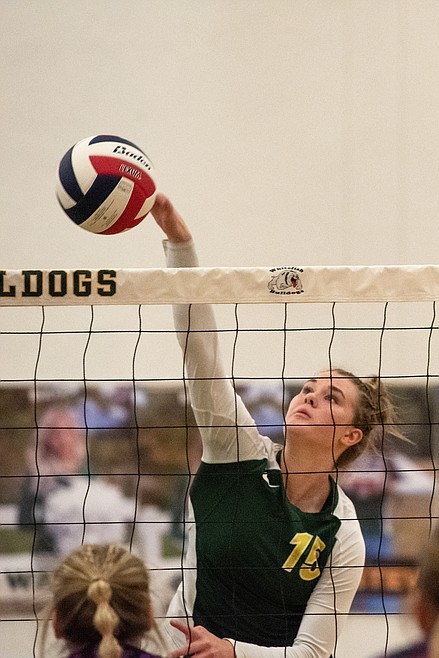 Bailey Smith takes a swing for the Bulldogs during Whitefish's Senior Night on Tuesday, Oct. 24. (Avery Howe photo)
Avery Howe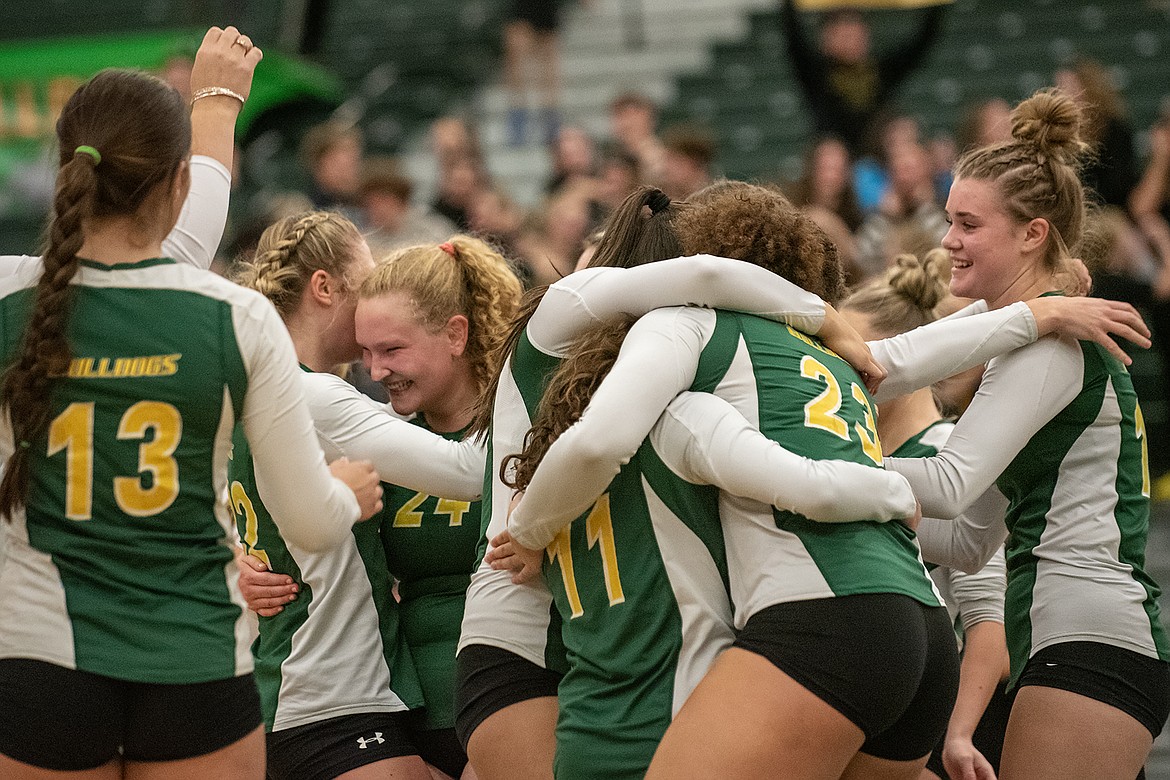 The Bulldogs celebrate their Senior Night victory over Columbia Falls on Tuesday, Oct. 24. (Avery Howe photo)
Avery Howe
Previous
Next
Whitefish put an exclamation mark on a regular season that earned them the No. 1 seed in the Northwest A Conference Tournament this weekend, as last Tuesday they defeated rival Columbia Falls with a comeback five-set victory at home.
Whitefish won the first set 25-15, while Columbia Falls would win the next two sets 25-16, 25-16. The Lady Bulldogs didn't falter, though, and won the fourth set 25-15 and the fifth set 15-13.
"It was in a dramatic fashion," Whitefish Head Coach Addy Connelly said. "We came out ready to go and then let down a bit. I was proud of the girls for making a change in their play at the beginning of game 4. Despite the game not mattering for divisional seeding, it was nice to take care of business and prove that our earlier win this season was because of grit and teamwork."
Brooke Zetooney and Isabella Hartwig had 14 kills each, while Ainsley Scott had 27 assists. Maggie Mercer led the team with 23 digs, while Myli Ridgeway had 16 and Scott had ten.
Mercer, Zetooney, and Scott had two aces apiece. Zetooney had four blocks, while Ridgeway and Hartwig had three blocks.
"Having five seniors and a lot of emotions playing into the game, I felt our upperclassmen focused in on taking care of business," Connelly said. "They could have easily let emotions get in the way of playing like a team, but they decided in the huddle they weren't going out in game four and took care of business."
Whitefish will now play at the Western A Divisional Tournament at Polson, facing off against Corvallis at 2 p.m. on Thursday with the Northwest's No. 1 seed.
"Last week, we had the best practice I have seen them in," Connelly said. "They are working hard for a common goal, and as long as we focus on that and being team players, these ladies have an excellent chance of heading to state after this weekend." 
Recent Headlines
---