Bulldog baseball goes undefeated last week; preps for state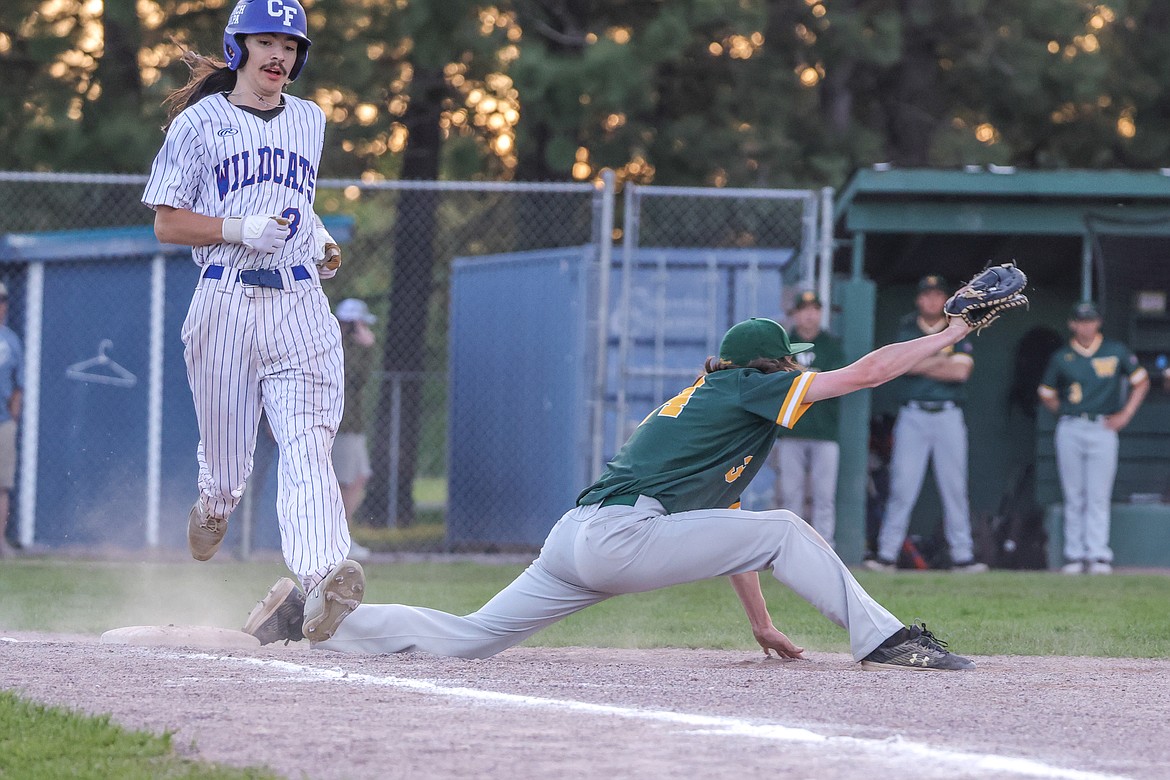 Josiah Ruther stretches to make an out at first base in Columbia Falls last week. (JP Edge photo)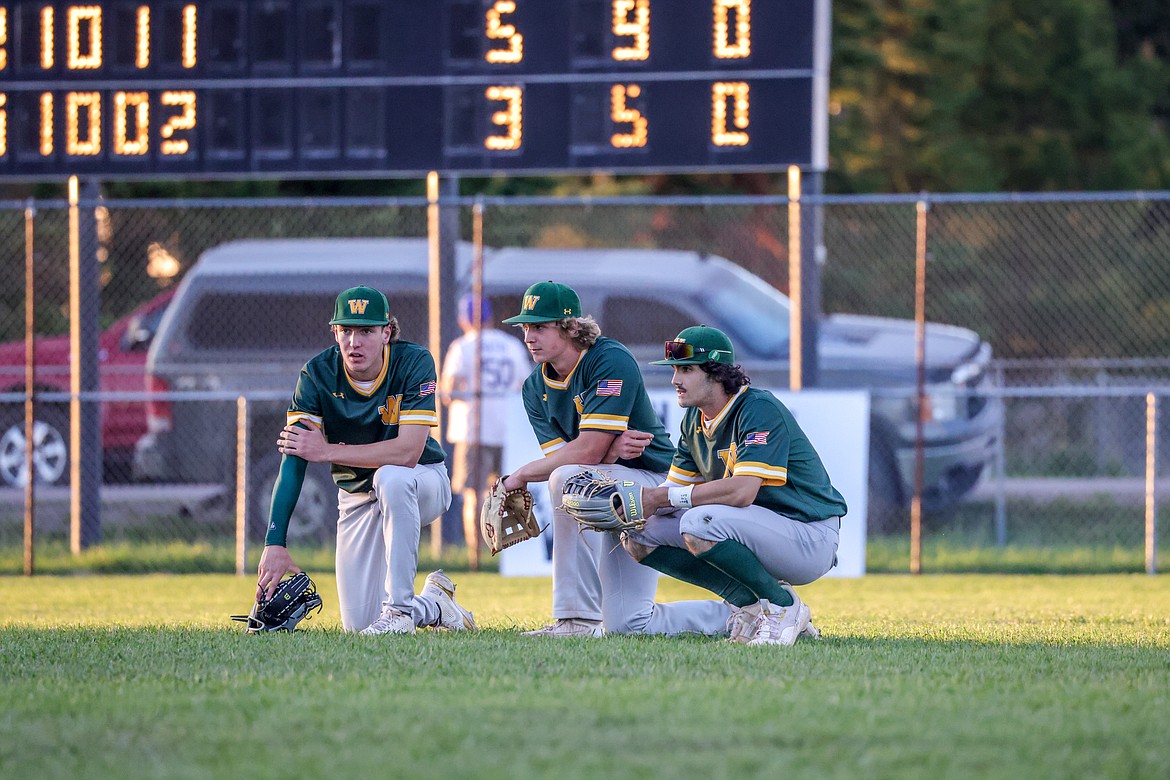 Outfielders Christian Schwaderer, Jake McIntyre and Jacob Polumbus eye the infield while the Bulldogs switch pitchers. (JP Edge photo)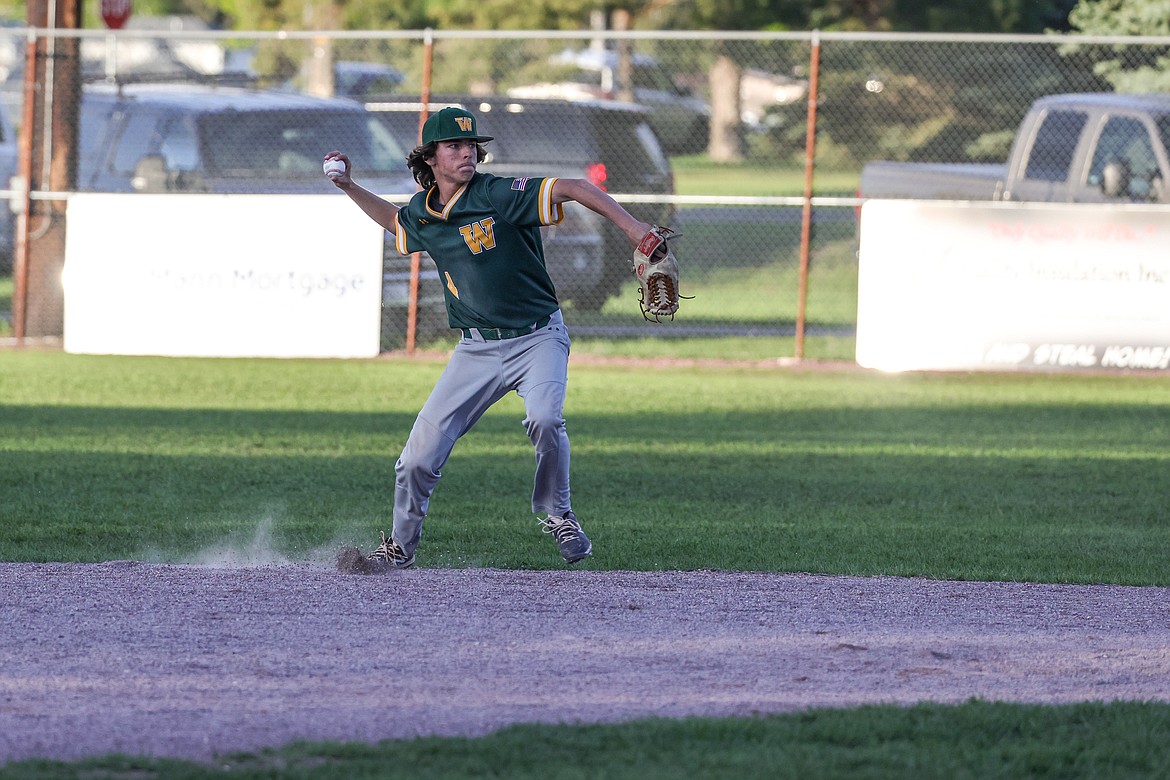 Maddox Muller throws to first in Columbia Falls last week. (JP Edge photo)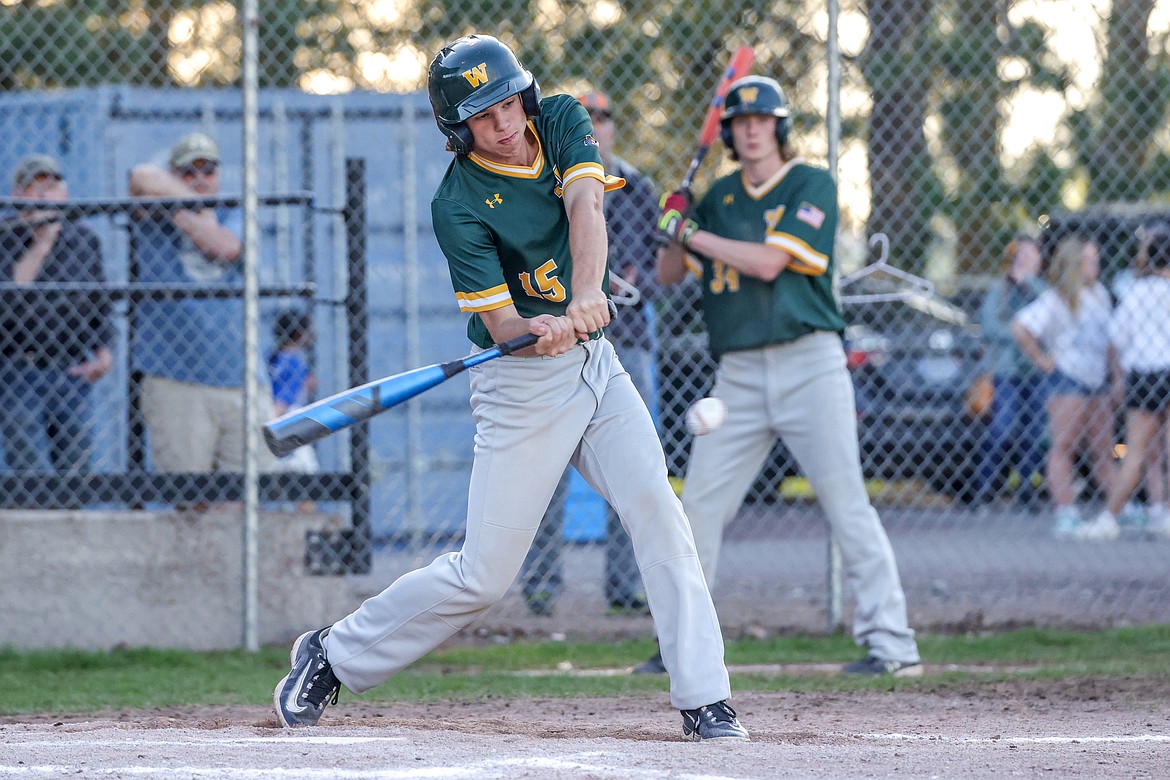 Logan Kunz swings over the plate in Columbia Falls last week. (JP Edge photo)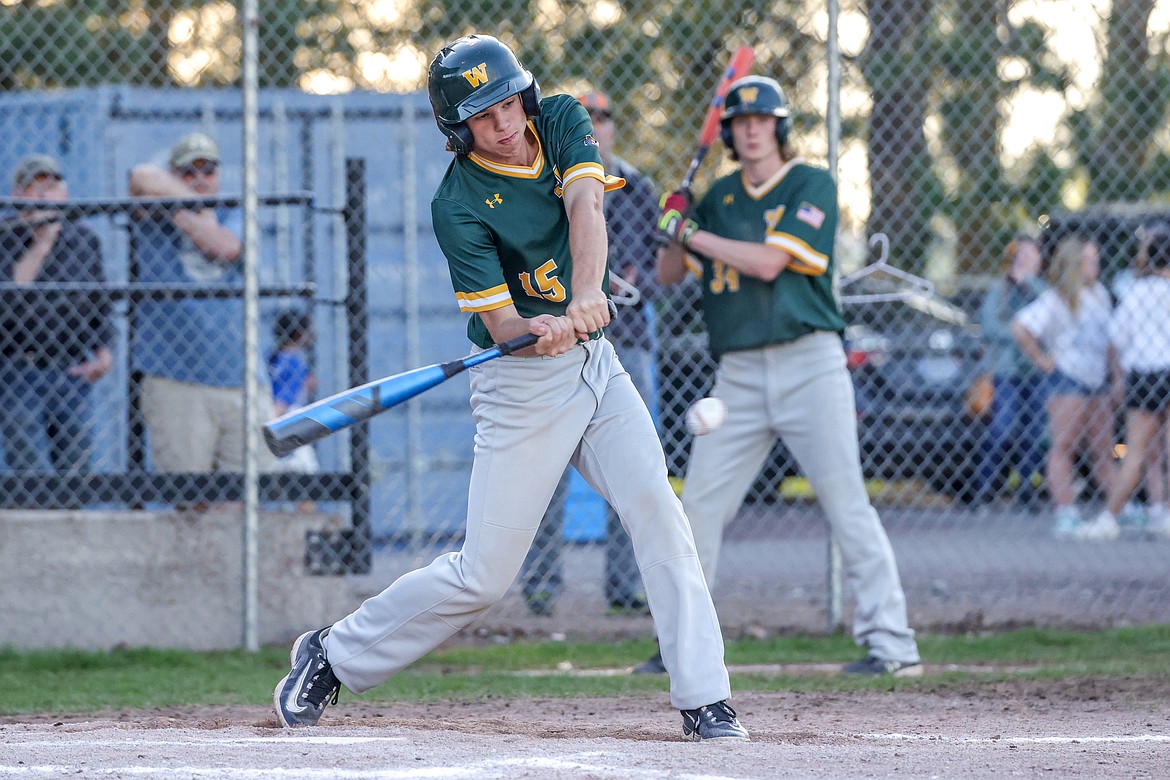 Logan Kunz swings over the plate in Columbia Falls last week. (JP Edge photo)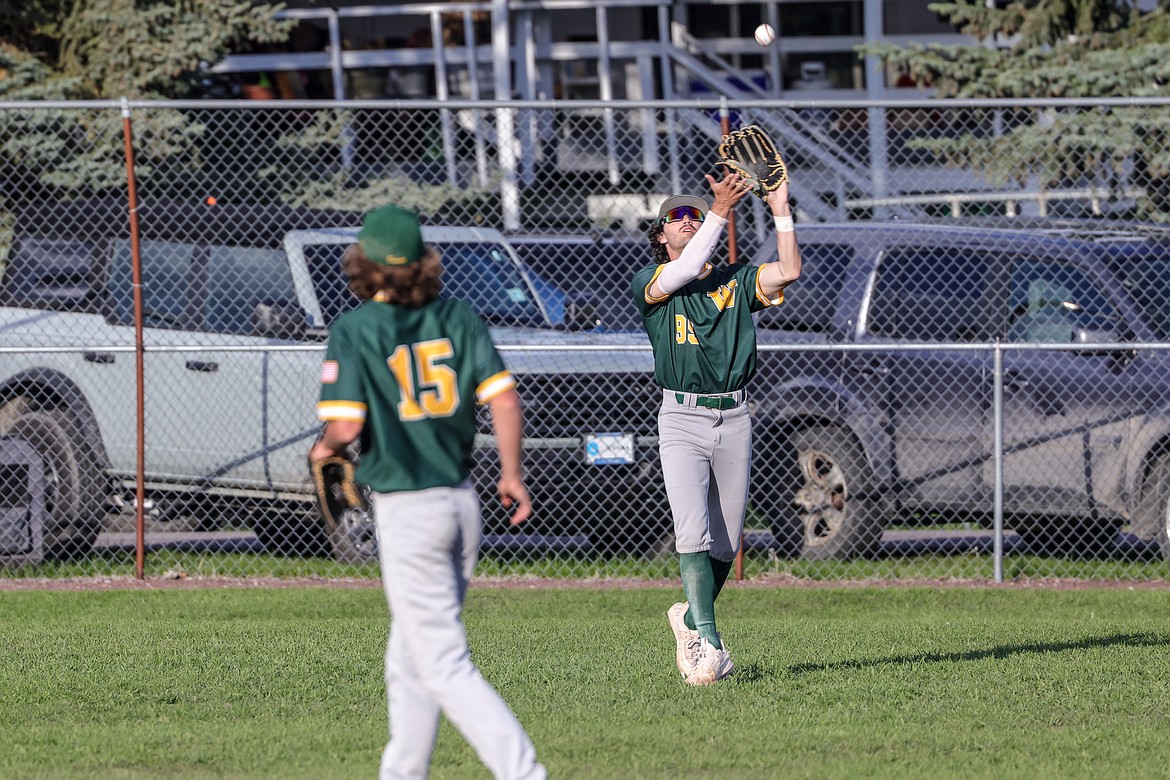 Whitefish senior Jacob Polumbus catches a fly ball to the outfield in Columbia Falls last week. (JP Edge photo)
Ty Schwaiger on the mound in Columbia Falls last week. (JP Edge photo)
Previous
Next
by
WHITNEY ENGLAND
Whitefish Pilot
|
May 17, 2023 1:00 AM
Closing out the regular season, the Whitefish baseball team went undefeated over five games in a five-day stretch.
To start out the week, Whitefish narrowly defeated two Northwest A conference opponents. The Bulldogs took down Eureka on Tuesday, May 2, with a score of 13-11. Then The Dogs on Thursday defeated Columbia Falls 5-4.
Friday, Whitefish had a make-up game against Troy, winning 19-4. Then in the first-ever Whitefish and Columbia Falls combined invite, the Bulldogs won over two more quality opponents — they beat Frenchtown 5-0 and Hamilton 8-2 on Friday and Saturday at home.
Throughout the busy week, Whitefish continued to have great success from the mound with several pitchers stepping up to the challenge. The Bulldogs allowed limited runs in the last four games. On the other hand, the Bulldogs are still looking to find their stride offensively. Whitefish head coach Kyler Blades says he hopes that going into state, the bats start heating up.
The game against Columbia Falls was a tight one. Whitefish senior pitcher Ty Schwaiger started on the mound, lasting five innings, allowing no hits and one run; he struck out nine players. Jake McIntyre came in for part of an inning, before Logan Kunz closed it out.
Offensively, Whitefish left a lot of players on bases each inning, managing just one run per inning for all but two innings. The Bulldogs had 10 hits in the game, led by three hits by Jacob Polumbus.
"We played a really tight game against Columbia Falls, Ty Schwaiger pitched really well for us," Blades recalled. "We ended up not being able to break through on offense, left a lot of base runners on, but able to pull out a close win."
Hamilton and Frenchtown both brought excellent programs to town according to Blades. Whitefish's pitching again helped the Dogs to a low-scoring win over Frenchtown. Bulldog senior Fynn Ridgeway pitched just his second game this season, he's normally the catcher, and he lasted almost four innings allowing just one hit and zero runs.
In the bottom of the third, McIntyre homered on a line drive to center field, which scored one run. In the sixth inning, Whitefish put three more runs on the board off RBIs from Kunz, Mack McLaughlin and Polumbus.
A huge sixth inning helped the Dogs secure the win over Hamilton on Saturday. McIntyre had an RBI home run in the inning to lead his team's scoring run. Polumbus handled things well from the mound.
"We're playing really crisp in terms of our pitching and defense. Our hitting is starting to come around, but we still have so much potential on offense," Blades said. "If we get that lined up and squared away, we're going to be a dangerous team at state."
This week is the inaugural Class A Baseball State Tournament and Whitefish is entering the competition as the top seed out of the Northwest A. Whitefish has a record of 13-2 overall this season. They will face Frenchtown in the opening round and it is a single-elimination tournament.
"We have as good of a chance as anyone to run the table, but it's single-game elimination, anything can happen," Blades added.
The state tournament is in Butte and will stretch from Thursday through Saturday. Whitefish gets things started against Frenchtown at 12:30 p.m. on Thursday.
Recent Headlines
---