Whitefish Theatre Company holds auditions for 'Suite Surrender'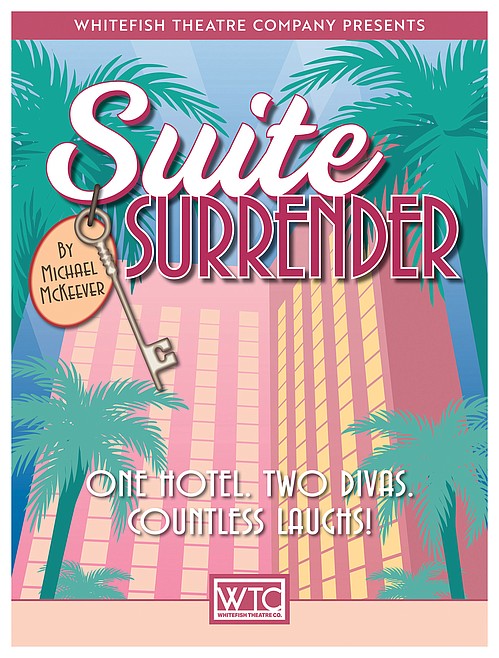 WTC presents Suite Surrender
The Whitefish Theatre Company is holding auditions for "Suite Surrender", their final show of the 2022-2023 season. Auditions will be held on March 26 and 27 at 7 p.m. at the O'Shaughnessy Center in Whitefish. Please arrive early to fill out an audition application and review the script. Please enter at the north side of the building near WTC's parking lot and conference room.
It's 1942 and two of Hollywood's biggest divas have descended upon the luxurious Palm Beach Royale Hotel to perform at a USO benefit. Complication number one: the two ladies have a legendary ongoing feud that turns violent if they come near each other. Complication number two: the performers both wind up booked into the same Presidential Suite! Throw in a beleaguered general manager trying to keep the peace, two easily confused bellhops, a nose-rubbing society matron, and a gossip columnist looking for dirt, this play of mistaken identities, overblown egos, double entendres, and a lap dog named Mr. Boodles is a hilarious, laugh-out-loud romp. "Suite Surrender" is a true love note to the classic farces of the '30s and '40s.
The cast is comprised of five women and four men with a variety of ages ranging from 20s to 70s. No experience or preparation is necessary. Pages from the script will be provided at the audition. If you would like to familiarize yourself with the script, it is available at the theatre and valley public libraries.
Scarlett Schindler is the director for this production. Rehearsals begin the week of April 10 and will be held Monday through Friday from 6 p.m. to 9 or 10 p.m. There are seven performances over two weekends on June 1-4 and 8-10.
For more information, call the Whitefish Theatre Company at 862-5371.
Recent Headlines
---