Metropolitan Opera Live in HD airs romantic drama 'Lohengrin' in Whitefish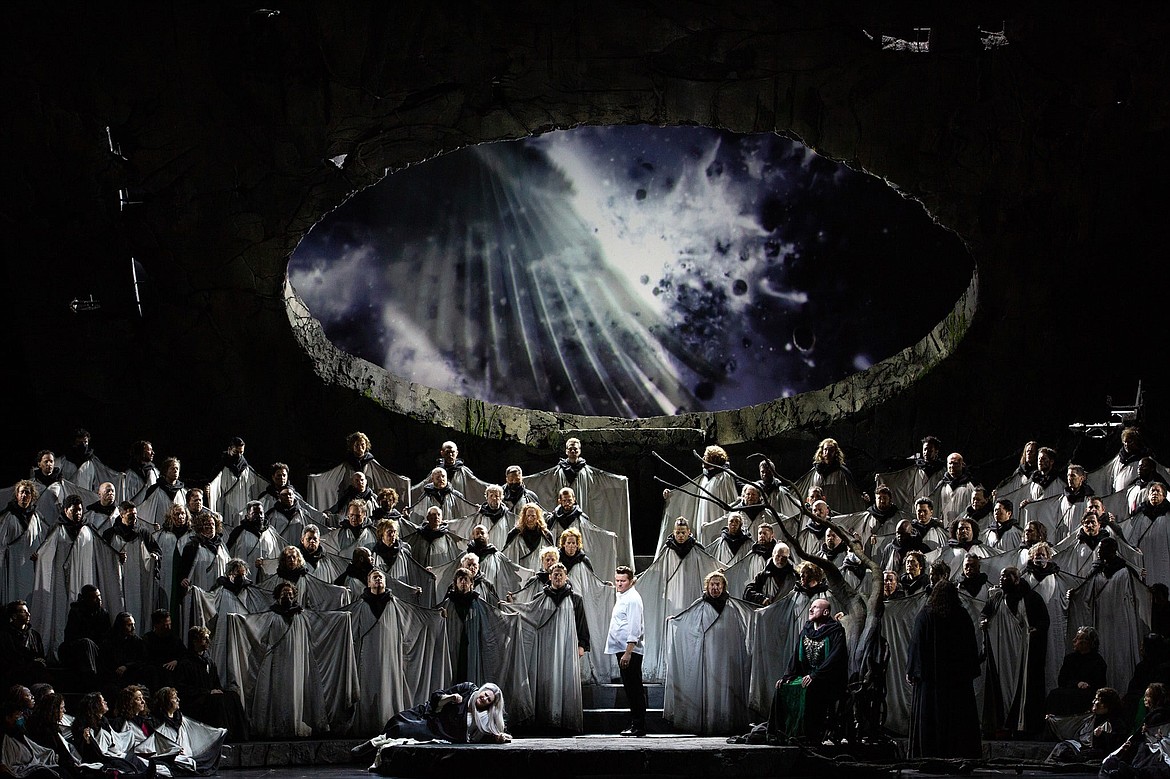 Richard Wagner's romantic tragedy "Lohengrin" will be shown on Saturday, March 18 as part of The Metropolitan Opera Live in HD season series. (Photo courtesy of MET OPERA).
Whitefish Theatre Company and the Whitefish Performing Arts Center are co-presenting the fifth live on-screen performance of the Metropolitan Opera Live in HD 2022-2023 season. Richard Wagner's romantic tragedy "Lohengrin" will be shown on Saturday, March 18 at 10 a.m. at the O'Shaughnessy Center in Whitefish. Approximate run time is 4 hours and 45 minutes, including two 35-minute intermissions. Tickets are sold only at the door which will open at 9:30 a.m. Tickets are $20 for adults and $10 for students, paid by cash or check only. Please call 406-862-5371 to inquire about 10 student scholarships.
Sung in German with subtitles, Wagner's soaring masterpiece makes its triumphant return to the Met stage after 17 years. In Act 1, King Heinrich goes to visit the Duke of Brabant in Antwerp. However, when he arrives the Grand Duke has already died. The deceased duke had two children, Elsa and Gottfried, who were placed under the guardianship of Count Telramund. Upon King Heinrich's arrival, Count Telramund has accused Elsa of murdering Gottfried in the forest and insists that he should become the successor of the Duke. Elsa argues she is innocent and recounts a dream she had the night before where she is saved by a knight in shining armor who travels by a boat drawn by swans. She asks that her innocence be determined by the outcome of battle. Telramund, an experienced and skilled fighter, is thrilled to accept her terms. When asked who her champion will be, Elsa prays and a real knight, Lohengrin, appears. Before Lohengrin fights for her, he has one condition: Elsa must never ask his name or where he came from. She quickly agrees. After defeating Telramund in combat, but sparing his life, Lohengrin asks Elsa for her hand in marriage. Overcome with joy, she says yes.
In Act 2, the dejected Telramund and Ortrud, a pagan witch who is his wife, begin crafting a plan to gain control of the kingdom. Knowing that the mysterious knight asked Elsa to never ask of his name or where he came from, they decide that it would be best for Elsa to break her promise. As Ortrud tries to spike Elsa's curiosity about the knight's name, Elsa instead offers Ortrud friendship, making Ortrud even angrier. Meanwhile, King Heinrich has enlisted the knight as the Guardian of Brabant. Telramund convinces four of his friends to join him in taking control of the kingdom, and they meet outside of the wedding hall along with Ortrud. In an effort to stop the wedding, Ortrud declares that the knight is an imposter and Telramund states that the knight practices sorcery. The King and the knight banish Ortrud and Telramund, and Elsa proceeds with the ceremony.
Finally, in Act 3, Elsa marries Lohengrin, introducing the famous song "Here Comes The Bride". In the night, Elsa wants to know his name and his origin, and she finally asks him. But before Lohengrin can tell her, they are interrupted by Telramund who has just broken into their room with several henchmen. Without delay, Elsa hands the sword to her husband and he kills Telramund with a swift swing of the sword. Upon bringing Telramund's body to the King, Lohengrin sadly tells the King that he can no longer lead the kingdom against the invasion of the Hungarians. He tells them that his name is Lohengrin, his father is Parsifal, and his home is within the temple of the Holy Grail where he must return. The magic swan boat appears by the river, however, when Lohengrin releases the swan, the swan changes into Elsa's brother, Gottfried. Ortrud is the one who turned him into a swan, and when seeing Gottfried again, she dies. Lohengrin leaves on the boat and no one knows where he goes. Elsa is heartbroken as a result and dies in her brother's arms.
Tenor Piotr Beczała, one of the most sought-after tenors of our time, sings the title role of the mysterious swan knight. Sopranos Tamara Wilson, as the virtuous duchess Elsa, goes head-to-head with soprano Christine Goerke as the cunning sorceress Ortrud. Bass-baritone Evgeny Nikitin is Ortrud's power-hungry husband, Telramund, and bass Günther Groissböck is King Heinrich. Director François Girard unveils an atmospheric staging that once again weds his striking visual style with Music Director Yannick Nézet-Séguin's keen insight on Wagner's breathtaking music.
Food and beverage will be available for purchase during the performance. This opera is the fifth of ten Metropolitan Opera Live in HD performances offered from November 2022 to June 2023. Four operas are being shown at the O'Shaughnessy Center and six operas are being shown at the Whitefish Performing Arts Center. Please go to www.whitefishtheatreco.org to read about the entire Met Opera Live in HD season or call 406-862-5371 for more information.
Recent Headlines
---